Do you like playing basketball? This is one of the most interesting sports to engage in. Most people engage in this sports activity as it comes with a number of benefits. This includes improving your motor coordination and flexibility to enhancing cardiorespiratory fitness among others. Although this sport has several benefits, the chances of getting ankle injuries are very high. This is because the player normally relies mainly on joint stability and leg stability to get up and down the court. As a result, you might suffer from an ankle sprain from time to time. To avert this problem, you should consider investing in an ankle brace. In this article, we shall discuss the various ankle brace for basketball that you should consider so as to remain safe when playing this game.
Can You Wear An Ankle Brace While Playing Basketball?
Yes. Currently, most basketball players wear ankle braces when playing basketball. By wearing this brace, they are able to minimize the chances of getting ankle injuries. Like we have mentioned above, an ankle sprain is one of the common basketball injuries that most players get when playing this sport.
Also, you will be able to stabilize your ankle. Consequently, you will prevent muscle weakness as the weight will be managed well on the affected muscles. Generally, these braces help in balancing weight and improving the endurance of your ankle.
How Can I Protect My Ankles When Playing Basketball?
Like we have mentioned above, basketball players are very vulnerable to ankle injuries whenever they are playing on the court. In fact, most people believe that ankle injuries usually occur when their feet are on the ground. However, this is not always the case.
Typically, ankle injuries happen when the player is in mid-air. For instance, if you turn your ankle swiftly while you are jumping, chances of getting a knee sprain are very high.
Therefore, to avert this problem, you should;
Wear supportive shoes. Although these shoes might not essentially guarantee total ankle injury prevention, they will technically reduce the chance of getting them whenever you are playing basketball. For optimal results, choose the shoes that fit you well and are comfortable to wear.
Besides wearing supportive shoes, you should wear an ankle brace. In fact, these braces are ideal for people suffering from plantar fasciitis, stress fracture or sprain, Achilles tendonitis, among other conditions.
You can also perform some exercises that can help strengthen your ankles. A good example is single leg balances, inverted hamstring stretches, clock toe touches, and so on. These exercises play a pivotal role in improving your tendons, muscles, and ligaments around the ankles.
Finally, take a rest. After playing basketball for longer periods, you can take a rest to give your ankles a rest as well. You can even soak your feet and ankles in warm water after playing this game. By doing this, you will soften the muscles and enable them to relax well.
Best Ankle Brace For Basketball
1. McDavid Bio-Logix Ankle Brace
McDavid Bio-Logix Ankle Brace is our number one ankle brace. It offers you top ankle protection when playing. The brace's flex link hinge expands when you are in motion. The designers use molded plastic to craft in and out of the brace. This is an advantage because it gives you stability and comfort on your foot.

The memory foam padding surrounding the ankle joint cushions it making it fit well on your foot. This brings a snug feeling when moving. The ankle brace has anchor straps that you can adjust as you desire. This is to ensure that the player doesn't waste time making adjustments in the middle of the game. The straps keep the brace tight with the internal stirrup wraps giving the foot support. The anti-slip silicone sole keeps it from forward and backward shifting. All these elements combined give you security and comfort when playing.
Many ankle braces are bilateral but McDavid Bio-Logix Ankle Brace is not. It is specifically designed to accommodate the left ankle or right ankle. This makes the selection easy for the shopper.
PROS
It is lightweight
It has a wide range of sizes to accommodate small and big footed
Designed with padding and holes that give comfort.
Low profile construction fits into most shoes
Expandable while in motion
CONS
Takes time to put on and off.
2. McDavid 4 Way Elastic Ankle Sleeve
McDavid 4 Way Elastic Ankle sleeve gives your ankle a supportive compression. The sleeve is one of the most recommended because of its minimal heat retention. This brings comfort especially when running. The ankle sleeve prevents or helps those who have ankle pain and soreness.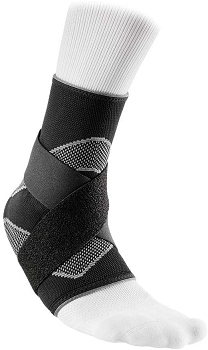 Constructed from a four-way stretch elastic material, this ankle sleeve can stretch as far as your foot can. The good news is that the material used isn't neoprene which is allergic to some people. Those who use compressed ankle sleeves will tell you there is a lot of heat retained which might be a bit uncomfortable.
McDavidankle sleeve is normally worn over your socks and not skin. The design resembles a figure-eight which gives you greater comfort when moving. It also supports you when running. Also, the McDavid 4 Way Elastic Ankle Sleeve provides stability to your ankle. The gel buttresses support your soft tissue when compressing. It is neither left nor right ankle specific, so you can wear any sleeve on either foot.
PROS
It is a good alternative for those allergic to neoprene
The eight-figure strap design gives more comfort, stability, and support
The gel buttresses provide supportive compression targeting the soft tissue
Four-way stretch elastic material offers better fit and compression without retaining heat
It is not ankle specific
CONS
Sizes sometimes are not always correct.
3. McDavid 195 Ankle Brace
McDavid Ankle Brace is more protective than most McDavid models. It is one of the most recommended ankle braces by doctors when you have an ankle sprain. Apart from healing ankle sprains, the MD195 also protects you from getting them. Additionally, it gives you incredible support to heal ankle sprains and injuries.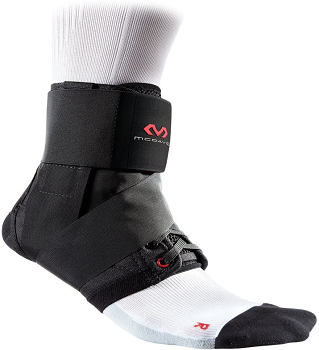 McDavid 195 has a figure-six strapping system that allows you to adjust to your fitting. You can tighten it easily without removing the shoes. It has laces and straps that protect your ankle. The reinforced closures and padding lining aids you with compression which gives you a comfortable fit. Like most braces, you wear it over socks.
The MD195 is lightweight because of the single-layer polyester fabric material. The material facilitates full support as well as the weight for the ankle when you are in movement. Actually, the construction mimics the function of the athletic tape. It fits well with even small shoes.
PROS
Gives great support and stability for ankle sprains
It has an adjustable figure-six strapping system
It helps in preventing ankle injuries
The top strap provides custom fit and compression comfort
It is lightweight
CONS
It is a bit bulky
It is a bit hard to wear
4. Liomor Ankle Support Breathable Ankle Brace
Liomor Ankle brace is a pocket-friendly protection brace. It actually comes with a no-frills brace that slips seamlessly into your shoes. This strengthens and defends your ankle from getting injuries. Liomor ankle brace coils around your ankle joint for protection of both ankle and foot.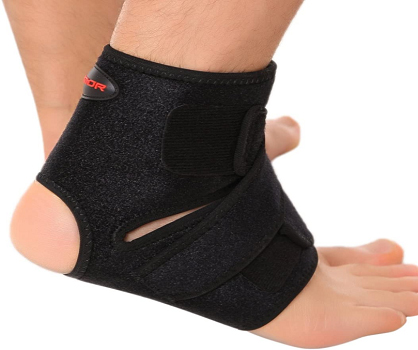 The Liomor Ankle brace helps you in alleviating tension and muscle pain. These two are very dangerous to any athlete because of the strain they cause in your ankle. This is super good because it gives you comfort in your ankle region. Most people recovering from injuries get a lot of help from the compression feature which is fast rehabilitation.
The material used in making the brace is elastic SBR that gives your skin a gentle touch. It has sections of lightweight nylon and flexible Lycra. They make the bracelet flexible and fit on your foot. The fabrics are breathable so they will protect you without scratching you. The breathability also eliminates bad odor and rashes which is encouraging.
Out of the good features it has, make sure that your foot is 11.8 inches because it only comes in one package.
PROS
It gives the ankle stability and support
It has Velcro straps
It comes with high-quality elastic material which can fit well in the body
It is in an open heel design
Has moisture-wicking material that keep your foot dry during workouts
CONS
Distributed in one package no variable sizes
The Velcro straps tend to lose
5. Ankle Brace Men Women Compression Support
This ankle brace is comfortable, lightweight, and flexible. This makes it a useful pick for those who favor discretion. They have low-profile sleeves that offer firm and steady compression to your ankle. You will actually get the flexibility when you are moving. Additionally, the have low-cut and open-heel design also gives you flexibility.

This product does not have laces and straps which makes it easy to slip into socks and shoes. The material used to make the brace is soft giving you comfort.
Additionally, the ankle sleeve remains dry because of the moisture-wicking. The drying is also enhanced by the mesh-vented neoprene material. One advantage of this sleeve is they are available in a wide range of sizes. This allows you to choose from the product that suits you properly.
PROS
You can choose from a variety of available sizes
Comfortable to wear because they do not have laces and straps
Breathable and odor resistant
They are flexible
Gives you ankle stability and support
CONS
Not comfortable with injured ankles
6. Zamst A2-DX Strong Ankle Brace Active Ankle Stabilizer Brace
Zamst A2-DX is another well-put ankle brace. Its design is superb because of the 4 Velcro fasteners around the heel. Besides, it has another anchor strap above the ankle. The two features make sure that your foot is secure. You can adjust the ankle brace to fit your size. People may see it as bulky but still remains comfortable. It has plastic supports splints and added padding on the inside that makes it fit well in your foot. This increases your foot comfort when wearing this ankle brace.

Although it is expensive, Zamst is the best option if you have recurring ankle problems. The product is highly reputable which makes many basketball athletes go for it.
Its design gives you the stability you need and also prevents your ankle from rolling. It will prevent the twisting of your foot when you are on movement. By using Fit technology, the brace ensures that the brace anatomically adapts to your ankles.
PROS
It has an excellent lateral stability with a molded exoskeleton
A Fit technology allows brace fit ankles anatomically
It is durable
It can fit on any ankle size
It has a highly personalized fit to its I-Fit adjustable fasteners
CONS
It is expensive
The brace is bulky
7. BodyProxAnkle Support Brace, Breathable Neoprene Sleeve, Adjustable Wrap!
The BodyProx Ankle Support Brace is excellent with a comfortable and flexible feeling. Most people categorize it as the best product with the price. So, BodyProx is actually one of the pocket-friendly braces in the market.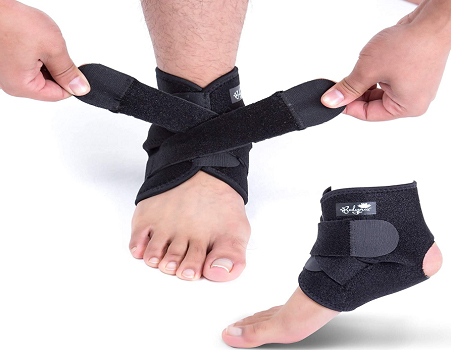 It is a semi-rigid brace that has protective features to keep your ankle stable. It also has an open heel design that allows you to move easily. Additionally, its discreet sleeve design gives you further comfortability and flexibility.
The ankle brace is normally crafted from a comfortable textile material. This gives your foot comfort. It has minimal irritation because of the breathable neoprene material make. The ankle brace is flexible because of its lightweight nature. Like most ankle braces, it has a Velcro wrap design that allows you to customize and design the way you want. This means you can loosen or tighten the brace's straps to fit the size that fits you. It offers enough support for rehab training and prevention of light sprains.
PROS
It is cheap
It is easy to adjust hook and loop closure
It is easy to put on.
It gives your ankle support.
They are flexible.
CONS
May wear out faster than other products.
They come in one size.
8. Med Spec ASO Ankle Stabilizer
Med Spec ASO Ankle Stabilizer is one of the hot picks among pro and college athletes. This is because it keeps their ankle safe from injuries. Another reason is that it has all the qualities and features an athlete can look for in an ankle brace.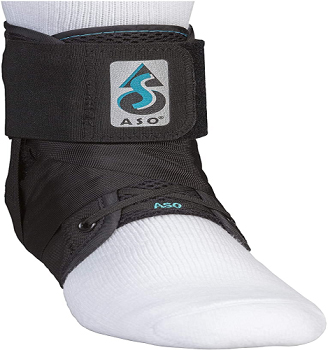 The ankle stabilizer is durable and guarantees the security of your ankles. The figure-eight design gives you stability when moving.
The Med Spec ASO is normally made of nylon boot ballistic with excellent toughness. It has a ridged tongue that ensures excellent protection of the ankle. Also, the curved tongue makes the ankle stabilizer fit in your leg. Besides those features, it has clips that give maximum support. Most physicians and therapists endorse Med Spec Also, Ankle stabilizers so much.
The product has a typical laces and strap designs that you can use to tighten and loosen it. People argue that the CoolFlex material making it is lightweight although still robust. The Med Spec covers the inner portion of the suit thus giving support to your Achilles. Also, if you have an injured ankle, the braces can fit well giving protection to your ankle.
PROS
It is durable
Lightweight.
Gives support if you have an injured ankle.
Low-profile construction.
It has the accurate size for most parts.
It has firm-tape like ankle protection
CONS
No refunds accepted in case you do the wrong order.
Features To Look At Before Buying Ankle Brace For Basketball
Since we have looked at the various kinds of ankle braces, it is imperative to know various features to check so as to get value for your money. Remember that ankle braces usually come with a myriad of features that can confuse you. Luckily, we have outlined some of the features to pay attention to before purchasing. These features include:
1. Usage
One of the critical things you should do when buying ankle braces is to specify the reason why you need them. Ideally, these braces help in treating a sore ankle, offering much-needed protection and support, and finally in stabilizing your ankle when you are recovering from an injury. Remember that each of these cases is normally supported by a particular type of ankle brace. Therefore, you should consult your physician to guide you on the right ankle brace to buy.
2. Does it fit well?
Besides the usage, your ankle brace of choice should fit your ankle well for comfort purposes. Ideally, it should allow your ankle to move freely while at the same time offering much-needed support. Therefore, it should not be too rigid so as to offer both comfort and flexibility when in use.
3. Is it durable?
Over time, knee braces get worn out. This happens mostly when you wear them daily. Therefore, you should choose durable pair of ankle braces. Such braces are known to maintain their original compression and flexibility. To be on the safe side, choose a brand that is trusted and reviewed positively by many users. Such a brand hardly disappoints when it comes to durability purposes.
4. Material used
Different ankle braces are made from different materials. However, your ideal ankle brace should be made from breathable materials. If the ankle brace is made from a breathable material, it will wick away sweat and thereby make you feel more comfortable. In addition, this material should be soft and smooth. You can check the label in order to see the material used to make the brace. Besides this, you can try to stretch it and see how fast it bounces back.
5. Is it lightweight?
The last thing you would like to wear is a bulky ankle brace. This is because you might get fatigued when playing basketball. Besides being fatigued, it might trap sweat and make you feel uncomfortable. Therefore, an ideal ankle should be lightweight in nature. This way, you will enjoy more comfort as you play basketball.
6. Price
Different ankle braces have different prices. In most cases, these prices are usually determined by the features that come with a particular pair of ankle braces. If you go for the high-end models, you will have to spend more money. However, if you go for the ordinary models, you might not have to dig deeper into your pocket. Depending on your budget, choose the model that fits you. More importantly, do not compromise on quality as it might affect the lifespan of the brace.
7. Warranty
Your ankle brace of choice should come with a warranty from the manufacturer. This eliminates extra expense in case it gets faulty within the warranty period because you will get a replacement shortly. This feature can significantly help you save on costs.
8. Ease of use
Finally, your ankle brace of choice should be easy to put on and take off. A complicated to wear bracelet is really inconvenient. Instead, chose a latter that is easy to wear, adjust and take off. This way, you will save more time and energy.
FAQs – Frequently Ask Questions
Do ankle braces prevent injury?
Yes. According to several research conducted, it shows that ankle braces are effective in preventing injuries. However, they are only ideal for low-key injuries like acute ankle injuries. In other words, ankle braces are not effective when it comes to severe injuries. In this case, it's advisable to ask for help from a physician.
Do NBA players wear ankle braces?
Yes. Since these braces are effective in the prevention of injuries, NBA players should wear them. These braces are also low profile, promote ankle support, and improve their motion range.
What ankle brace does Stephen curry use?
If you are a basketball fanatic, you have heard that Stephen curry's ankle has some serious injuries sometimes back. Although he fully recuperated, he still uses the ZAMST A2-DX MODEL of the ankle bracelet to stabilize his ankle and prevent further injuries.
Do ankle braces help overpronation?
Yes. More often than not, overpronation is caused by overuse, wear, and tear of your foot muscles. Ankle braces help to strengthen these loosened muscles, stabilize and offer great support. Therefore, they are ideal in the prevention and healing of overpronation.
Final Thoughts
It is no secret that ankle braces can help prevent chances of getting ankle injuries when playing basketball. All you need to do is to choose the right ankle brace and you are set for your game. For optimal results, you should wear it during the entire sporting period. Choose any of the above-mentioned ankle braces, and you will get value for your hard-earned money.