It is well known that regular physical activity or exercise improves our health by developing muscle strength and boosting physical endurance. In recent years workout trending is increasing rapidly as people are getting more conscious of their bodies. Whether it is bodybuilding or body shaping, or general workout, youths are getting more interested in going to the gym or making their home with gym facilities. There, your instructor will definitely suggest to you the leg press machine, one of the most important instruments for exercising.
To develop the lower body muscles like quadriceps, calves, hamstrings, and gluteal muscles leg press machine is undoubtedly effective and worthy. The advantages are muscle mass and strength building. There is no alternative to leg press machines when you go for bodybuilding. They are built to improve the lower body parts scientifically. You will find leg press machines in every gym, even people now buying this to add it to their home exercise facilities. Here you will get the unknown facts about the leg press machine, including everything details about it. Reading this article, you will feel safe and comfortable using it in the gym or buy it for your own home gym.
Types of Leg Press Machine
As we mentioned earlier, the leg press machine is built to promote lower body muscles and make them stronger. Still, you also have to keep in mind that there are several types of machines in the marketplaces having subtle differences. We are going to analyze them for you by showing the virtues.
1. Leverage leg press
This type of leg press machine has huge popularity for their safety assurance. The mechanical system is invented to make leg pressing comfortable while doing hardcore gym. The weights are designed to save you from pinning by adding bumper pads to the frame. These pads help to eliminate the spotter.
Commercial fitness centers usually prefer to have leverage leg presses with plate-loaded features. The horizontal design features larger footplates and a well-controlled back support system. This machine is installed with specialized fluid that controls the functional motion and pivots around a specific central point. Since the weight plates are horizontal, you can afford more weight than the vertical leg press machines to get the same resistance.
Usually, larger gym equipment companies manufacture and sell these types of leg presses. But remember that you will need to prepare for higher expenses to buy one of these.
2. Smith Machine Leg Press
If you are using a smith machine, you can still do vertical leg presses for legs. However, it may not rotate enough to comfortably rack and release heavier weights.
Rather than sitting on your back, you lie on your back between uprights with a barbell on the arches of your feet. Push down against the weight until it's fully racked, rotate both hips upward, and then pull yourself vertically again to work out every muscle group in those powerful parts.
Smith Machines are not designed for such tasks, so other equipment should be sought out when it comes to working on legs. It's always best to squat without assistance from machines like Smith Equipment than use them only occasionally.
3. Cable machine leg press
Multi-station home gym systems offer all sorts of options to help you get the most out of your workout. One such option is a cable machine leg press, where cables are hooked up to weights and run under your seat. So that when you push down on them with one foot, they lift off the ground as if both feet were pushing against it together.
The benefits of a cable press are that they rely on cables to provide resistance, so the amount is limited only by how much weight you can stack. This may not be as big as some other machines. Still, it's more affordable with unlimited potential for progression in your workouts.
4. 45-degree leg press machine
Who says a leg press needs to be stationary? This model can attach to most weight benches, so you could have an intense workout while staying in the comfort of your own home. The sliders on this design are also separate from the weights themselves and move along grooves rather than pegs, saving space without sacrificing convenience or quality.
The sliding carriage is designed with safety features that ensure it will not slide forward more than five inches when being used alone by lifting one's feet off their toes. However, if two people were using these at once, they would need some help getting back up because of how heavy this machine is.
The 5 Best Leg Press Machine
How do you know which leg press machine is best for your needs? The answer is not as simple as it seems. You should first consider the features of the machines, then decide what type of workout you are looking for. Here we are mentioning the 5 best leg press machines that should fulfill your requirement.
Body-Solid GLPH1100 Leg Press and Hack Squat
Body-Solid ProClubLine Leg Press Machine
TDS 4-Way Hip Sled
Body-Solid Powerline PVLP156X Vertical Leg Press for Squats and Deadlifts
Bodycraft F660 Leg Press/Hip Sled
1. Body-Solid GLPH1100 Leg Press and Hack Squat
To build an explosive lower body, you should continue powerful workouts. The body-solid leg press puts pressure on bones and joints so that users can safely workout for quads, glutes, and calves. The ergonomic functionality makes you feel comfortable during exercise and the quad track roller system takes all the bodyweight equally. A quick flip and lock mechanism increases the control of users.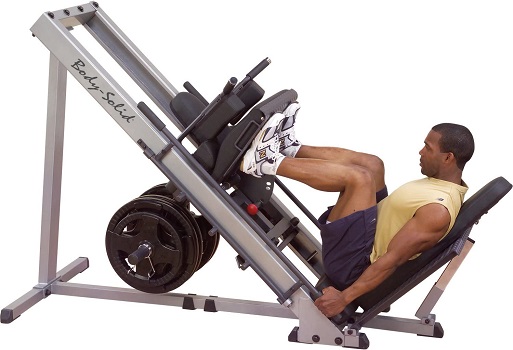 Three lockout positions provide enough safety throughout the exercise. The solid construction of a heavy-duty steel mainframe assures maximum strength and stability. The 1000lb weight capacity allows any user to use this machine smoothly.
It will let you do powerful longtime exercises with an 8" foam roller pop pin. Make sure to follow the accurate instructions of this machine. Assembling and operating is smooth and accessible. Though it is a bit pricey, it is still effective for all exercise lovers.
PROS
Distributes weight smoothly
A quick flip-lock mechanism
Heavy Duty steel mainframe
1000lb weight capacity
smooth and accessible
CONS
Bit pricey
Very hard to get in for beginner
2. Body-Solid ProClubLine Leg Press Machine
For all body workouts, Body-Solid ProClubLine leg Press machine works better. It will allow you to perform leg exercises comfortably efficiently. The block and sealed ball bearing provide friction-free movement for safer and more effective exercise.

The most exclusive advantage is, it can accommodate a wide range of height and weight with a heavy-duty steel mainframe and back pad. You can achieve higher performance results and get a full range of motion with a fully adjustable back pad.
A two-position press plate helps all-size users to use it. For building muscular legs and huge stability this machine can be an ideal option. This advanced design allows smooth and efficient operation with natural biomechanical movement. Double-stitched upholstery and comfortable foam ensure durability. It can easily handle 310 lbs. For sufficient back support and higher leg performance, you can trust it.
PROS
Sturdy and strong
Easy to operate
Professional use; gym and physical therapy
Supportive instructions
Heavy steel frame; durable
CONS
Less weight capacity
Bit difficult to assemble
3. Body-Solid Powerline PVLP156X Vertical Leg Press for Squats and Deadlifts
If you want to build your legs, the Body-Solid Powerline PVLP156X Vertical Leg Press is a must. This leg press machine has 400 pounds of weight capacity, and it won't take up any room in your home gym because its size is perfect for tight spaces. It also features a high-quality powder-coated finish that lasts longer than paint jobs typically do on other pieces of equipment.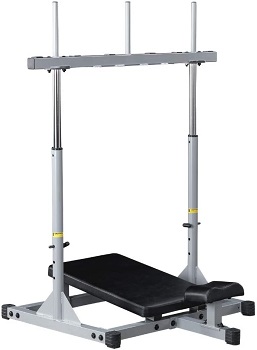 This leg press machine is not just a single plate to push. You can adjust the height, so your range of motion will be customized according to what you need. The back and head pads are there for when you're upside down—because who wants that pressure on their neck?
If you're looking for a low-key machine that will do the job, this leg press is perfect. It assembles in about 2 hours and holds up just as well to high-intensity workouts. It may produce some quirky sound, but hey? Your focus should be on your muscles.
PROS
Comes at a great price
With an anti-slip diamond steel footplate
Designed to hold a lot of weight at once
Height-adjustable
Comfortable head and back support
CONS
There are no handgrips
It can be noisy during use
4. Bodycraft F660 Leg Press/Hip Sled
The Bodycraft Leg Press & Hip Sled offers various exercises to focus on your glutes and hamstrings. The adjustable-height leg press allows you to vary the angle so that there is no risk of injury, while also adding more variety with donkey squats.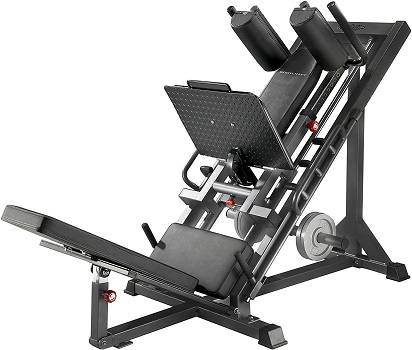 The Bodycraft is perfect for the individual looking to workout during any time of year. The sturdy steel frame can withstand tough workouts and heavyweights, while also being adjustable for your desired angle needs. When using exercises like hack squats, you don't have to worry about stepping on the footplate at all-it folds out of the way when needed instead.
The Bodycraft is the ultimate in-home fitness equipment. With its adjustable back, head, and shoulder pads, you can customize your workout to fit any body size or height. The footplates are also fully adjustable for those who want more than just leg exercises. With this machine, you'll get an entire upper/lower body workout that'll have all of the muscles screaming.
PROS
Upper and lower footplates are adjustable
Shoulders are adjustable
Footplates fold-out fully for hack squats
Calf block included for standing calves
Lifetime warranty
CONS
Expensive compared to other leg press equipment
Bulky and difficult to assemble
5. TDS 4-Way Hip Sled
The TDS 4-Way Hip Sled is the most versatile piece of equipment you will ever own. It can be used as a Leg Press, Hack Squat, Forward Thrust, and Calf Raise. It is excellent for working your legs, hips, glutes, and lower back. The 4-Wheel design provides stability, while the thick shoulder pads provide comfort during use. This Heavy-Duty machine has a 1000 lb capacity. Its 2″ x 4″ Steel Tube construction makes it one of the strongest machines on the market today.

You can assemble it on your own without any trouble. The range of motion is acceptable, but it could be a tad better. There are other alternatives when it comes to the range of motion. You can also You can remove the hard stop from the bottom.
The base is a bit slippery, so we recommend buying anti-slip tape and using it on this machine. It's better for hack squats than leg presses. This machine has tiny shoulder pads. You're going to have a hard time getting tucked in if you're bigger. The padding and lock bars are great. This is an excellent choice if you want to save space.
PROS
Excellent price
Great portability
Perfect space saver
You can do a variety of exercises
Easy to assemble
CONS
Average range of motion
The base can be a bit slippery
Features To Look Before Buying Leg Press Machine
Leg press machines are a great way to tone your thighs and calves. There's no shortage of quality products on the market. Still, before buying one for home use, it might be wise to know what features will work best for you. To help determine which leg press meets all these criteria. Let's dive deeper into those criteria.
Vertical vs. Horizontal vs. 45 degree
Vertical leg press machines offer the most compact machine available. They may be a safe, economical option for those who struggle with flexibility. Vertical leg presses are great for working your glutes and hamstrings than other options like squats or lunges.
A Horizontal Leg Press will challenge you to sit at a 90° angle and push the platform outwards. These are good for newcomers as they require less pressure on your joints but can be tough for anyone else. Horizontal leg presses offer challenges beyond what traditional squats do.
The 45-degree leg press machine gives you the ability to load a lot of weight, which is excellent for beginners and more advanced people. The angle on these machines allows them to be used by most fitness levels because they don't put your spine out of alignment as some other exercises do.
Construction
When buying a leg press machine, it's important to consider the construction. These machines are rigorously tested for durability and stability, so ensure that your machine is made of durable material such as 11 gauge steel with at least 2″x3″ diameter beams.
Budget
There are many different versions of leg press machines, but the prices vary drastically. A high-quality home gym machine will cost you about $1,000. In contrast, a commercial one could go for as much as $3,000 due to its higher weight rating and greater durability.
Space
It is important that space isn't too limited. One way of finding compact machines for your needs is by having a checklist with all dimensions and weight capacities, so there are no surprises when they arrive!
If possible, measure out where the equipment might go before deciding what kind works best. That way, during installation, everything fits just right without cutting corners.
Weight Limit
Fitness machines come in all shapes and sizes, depending on what you're looking to achieve. Beginners will be happy with a leg press machine that can hold up to 500 pounds, but serious weightlifters may need one capable of 1,000 pounds.
Type
For those interested in leg press machines, there are two types: machine resistance and plate resistance. Machine-resistant leg presses tend to be more expensive but easier to adjust than plated lifts. But it may require you to buy your own plates. On the other hand, a better option for beginners is buying weights from stores that sell them specifically.
Versatility
When looking for a leg press machine, buy one that is versatile and offers more than just the basics. Today there are so many machines on the market, so you'll want to find one that's able to do more exercises to get a full workout while also toning your legs.
Smoothness
Leg press machines are great for targeting your legs, but it's important to find one that is comfortable. You need a machine with smooth mechanisms and no chance of pain or discomfort during use. A good leg press will have you feeling like royalty while getting in shape.
Risk & Injuries
The leg press machine is an essential piece of equipment for anyone looking to tone up their legs. Using the machine might seem simple, but it can put a lot of pressure on your back and knees if you don't position yourself correctly. The best way to use this helpful device is by familiarizing oneself with all its features before buying one.
How to Use Leg Press Machine Safely and Correctly?
There are a lot of benefits of using a leg press machine at home. The most obvious one is that it can be used for strength training. If you want to build muscle, but you hate going to the gym, a home leg press machine might be just what you need. With a home leg press machine, you can do all the exercises you need to build muscle without going to the gym.
However, one downside of using a leg press machine is that it can cause severe injury if you don't know how to use it correctly. Please, follow these instructions to use a leg press machine safely and correctly.
Make sure your hands are on the handles
Many people don't realize this, but your hands serve as a great tool for keeping in the most effective position on leg press machines. You have to place them right by either side of where your butt sits and grip onto the handles there.
If your hands are on your knees, you might find yourself using them to help push the weight back up. When this happens, it means that all of a sudden, there is more pressure being put onto these muscles. Because now they have to lift both their body and the added poundage off the ground with each rep. This can lead to poor form (and possibly injury) since rounding out one's neck, or spine will result in awkward positioning.
Make sure your back support is set up right
There are two main adjustments for the back support: one being for distance from the footplate and the other deciding how much you want your spine in a reclined position. This is usually done by setting only the angle that lets you lean back against the machine while seated comfortably, like on 45-degree leg presses or machines with plates that rest on top of seats.
The perfect weight lifting position is not just about where you sit. Both back support angle and seat height play an important role. It determines whether or not you are able to have a full, natural range of motion while working out on your own time at home.
Keep your ego in check
It's not uncommon to see people max out the leg press machine weights, then add on a few more pounds for added resistance. This is usually where the set goes south, with short-range movement and lots of help from friends or spotters.
A home gym might be slightly different, though. It's no competition, so there isn't any pressure. It will also help keep weight low to maintain good form instead of struggling halfway into a rep.
Do not lockout completely
The leg press is a compound exercise that can be dangerous if extreme caution isn't taken. When your knees are lockout, the stress on them shifts to the joint. It increases their chance of injury because they have less support than before which decreases stability.
Enough with the tips. Now let's get into the guideline.
Sit up on the seat with your back pressed against the support and your knees bent at a 90-degree angle.
You need to place your leg on the plate with your feet positioned slightly wider than shoulder-width apart.
Hold the handles on either side of the seat. Push the footplate outwards, away from the frame.
The handle should be rotated so the sled or lever is loose and can move.
Lower your knees toward your chest. As you do, continue pulling back on the handles with your hands.
When you're doing a squat, remember to push your heels up as far as they can go. When you're near full extension, stop pushing and squeeze the muscles in your glutes — hold them for a couple of seconds, then do another rep with the same weight.
Repeat the exercise until you've completed the necessary number of repetitions.
Hold the weight until your knees are about to lockout, and let it rest on our safety stops.
Leg Press Machine Pros and Cons
The leg press machine is a piece of equipment found in most gyms, and it's often considered one of the best pieces of strength training equipment for legs. There are many benefits to using this machine, but there are also some cons that you should know before you start your workout routine. Let's see what those benefits and drawbacks are.
Pros
Promotes leg development: The Leg Press Machine is the best way to quickly and efficiently get strong, toned legs. It isolates your glutes, quads, hamstrings and calves while also engaging gastrocnemius muscles as well as adductor Magnus. So if you're looking for a good workout without worrying about carrying heavyweights from machine to machine, this easy exercise will be perfect.
Helps prevent injury: The leg press machine is a great way to avoid injury. Not only does it offer the benefits of free weights without any risk. In addition, they can be used as a warm-up before your workout to stretch and loosen up.
Perfect for beginners or people in physical therapy: The leg press machine is a valuable tool for beginners to work on lower body strength and endurance. It can also be helpful during powerlifting or squats, deadlifts even if you have weak knees or back problems. Because most of the pressure from these exercises are placed in your glutes and hamstrings.
Promotes Stronger Bones: The leg press machine also helps to promote bone development. This is because weight-bearing exercises like the leg press increase pressure and stress on bones, which osteoblasts need to produce more bone mass for greater density. The right amount of density can help prevent musculoskeletal degenerative diseases such as osteoporosis.
Cons
You don't need to balance your feet: A leg press imbalance could lead to injury down the road or even asymmetry between each side's muscle composition if left unchecked. And that's not cool! Make sure you always use tension in an appropriate manner on all four muscle groups.
A False Sense Of Safety: Leg presses can be a great alternative to squats. However, it's important not to round your back for them to still provide the same benefits of safety. If you bend your knees too deeply and lower everything very far- which is much easier than with squatting- then there are chances that this will happen. This illusion of being safe leads people into taking on heavier weights (which they wouldn't have done if they knew about the risk).
FAQs – Frequently Asked Questions
How many leg presses should I do?
A common exercise for getting a nice, round bubble butt is having 2-3 sets of 8 – 12 reps of Leg presses with weight. I would recommend fewer reps (4 – 8) for more leg definition but also higher weight. Some people may be looking for more size in their muscles and want to add more muscle mass without working too hard or focusing too much on fat loss. In this case, I would recommend higher repetitions (12 – 16).
Is leg press as good as squats?
Leg press is a better alternative than most other exercises if you have shoulder and/or lower back problems. When performing leg press, you are resting all of your weight on the machine, making it easier to control your biomechanics. Squats require more balance and stability, which can make them harder on the body.
Does the leg press make your bum bigger?
Sure thing! All sorts of work that ramps up quadriceps and glute muscles will tighten, firm, and lift your butt in no time. The leg press is one of the top among those exercises. Not to mention, the leg press includes a reverse motion phase where the weight pushes up against gravity to help build lower body strength.
Does leg press reduce belly fat?
Exercises on the leg press machine are the most effective way to reduce belly fat. Those who want to get rid of leg fat should do exercises that use large muscles, such as squats and lunges, rather than unilateral exercises. You'll keep your metabolism up this way long after you've finished your workout, which will help keep those pesky love handles (and belly fat) at bay.
Is Leg Press bad for knees?
Sometimes twisting your kneecap inward, putting added pressure on nerves around the joint, or even weakening overall muscles in or near your region. If you have knee pain, you should definitely stay away from the leg press machine for some time. If you are doing fine, then following a proper guideline will suffice.
See More: Pain In Back Of Leg Behind Knee Causes And Tips For Quick Relief
Where to buy a leg press machine?
If you are looking to buy a leg press machine, there are a few different choices from sellers. A commercial leg press machine usually costs about USD 650 on websites that only sell gym equipment. Or you can check your local gyms' websites to find one available for rent at their facility for an hourly rate that will typically be between $3-$5 USD per hour, depending on your location. The best thing is to go on Amazon, read the reviews, and pick the machine that's right for you. Or you can trust us and get one of the machines we have listed.
Recommended Post: