The massive popularity of roller skates tapered off in the 80s and 90s right after the disco era. But the wheel of fashion trends seems to be turning again as roller skates are becoming more popular. This is because, during the COVID-19 pandemic, people sought safe outdoor activities. The sales of some skates are up more than 700% year over year. Skating has major health benefits and whether you live in sunny or foul weather, heading outside on a pair of skates can help keep yourself active during the novel coronavirus pandemic.
The first patent of roller skates was claimed in 1760 by Belgian inventor John Joseph Merlin. In 1863, a major upgrade of the original design was introduced by James Plimpton from Massachusetts which drove the huge popularity of roller skating. Now, the design has evolved further and shoes with embedded wheels were brought by Heelys and Street Gliders in 2021. These footwears provide an embedded or strap-on wheel at the heel. The original Heelys classic wheeled shoes are still available while a handful of other brands have also created stylish wheeled footwear.
Health Benefits of Roller Skating
Roller skating is a fun way of physical exercise to keep you in shape which is often overlooked in general perception. When it is about fitness, anybody would probably almost immediately wander to the well-known methods of weight loss like going to the gym, walking, swimming, running, cycling, and yoga. But there are several surprising health benefits of roller skating and it is a practical idea to get fit roller skating or rollerblading and lose weight while having tons of fun.
Because of the Coronavirus outbreak, staying fit has never been so vital. But gyms are off-limits and people are forced to seek safe alternatives for physical activities. According to the American Heart Association, roller skating is an aerobic fitness sport that escalates aerobic metabolism that turns carbs, proteins, and fats into energy with the help of oxygen.
Aerobic exercise improves the pumping action of the heart. It also increases the blood circulation and strength of the heart muscles. Some of the examples of aerobic exercise are medium–to–long-distance running or jogging, swimming, cycling, stair climbing, and walking. Apart from this, there are several health benefits associated with roller skating:
Enhance coordination and balance: you have to engage the muscle of your abdomen and lower back in order to move forward and backward on the wheel. You will need a steady core and better balance to stay upright while skating. So, a skater has to master the techniques to improve posture and balance.
Burning calories: in statistics provided by MayoClinic.com, it is possible to burn 913 calories per hour for a 160-pound person at an average pace on skates. The heavier the person, the more calories are burned. For example, someone who weighs  200 lbs. will burn 1,138 calories and someone who is 240-lb. can burn 1,363 calories within the same time length and speed as described above. So, it's a great way to lose fat and stay fit.
Managing Diabetic conditions: both resistance and aerobic training are recommended by the  American Diabetes Association in order to manage and prevent diabetes. Rollerblading or skating is an excellent option for such exercises. Physical exercise keeps the blood sugar level low by improving insulin level and cholesterol level.
Improving body strength: skating regularly will fortify and build leg and glute muscles. Skating has similar effects to jogging and other strength training. Strong muscles prevent injuries and keep you active
Improved stamina and muscle endurance: skating over a longer period will boost stamina and muscle endurance. As a result, body muscles will not get fatigued easily and you will be able to roller skate for longer, run further without stopping, and do other exercises for an extended period of time.
Fewer chances of joint injury: because of the fluid motion in inline skating and roller skating, the chance of sustaining joint injuries are minimum. In fact, all forms of skating have a low impact on knee joints whereas jerky movements of running or walking put pressure on joints which can cause injury.
Mood enhancement: roller skating limits the stress hormone secretion and increases the release of endorphins which relieve headaches and elevate moods. It is also quite relaxing and soothing.                                                                                                      
How To Start Roller Skating For Beginners
First of all, you have to be patient as it will take time to master the skills for roller skating. In the beginning, clip out the rolling part and pass an obstacle by foot if one appears suddenly. You have to be very cautious, too as a beginner to avoid accidents and injuries. Don't be reckless about the safety gears either. Some essential gears are recommended by the experts and they are:
Multi-tool: you are going to need some tools to loosen or tighten the wheels of your skates. PowerDyne Y3 is a good example of such a tool which is basically a wrench. Brand new skates may have wheels too tight or they may get loose after practice. Loose wheels may not spin properly and wobble up and down or side to side. You will need tools to fix them in either case and don't forget to check the tightness of the wheel before you start skating every time. In addition to this, you will also need a bearing press/ puller to replace or reinstall the bearing inside the wheel.
Safety helmets: safety helmets are must-have accessories to protect your head from low to high impact forces. But these helmets have to be comfortable as well because wearing them for extended periods may be difficult if the head gets sweaty. Breathable helmets with moisture-wicking interiors are ideal for skating. Lots of skate helmets are available in the market with a fashionable and eye-catching exterior
Safety pads: if you fall on the ground during skating, the protective pads on your knee, elbow, and wrist guards will save you from skin abrasion and severe injuries. Finding the right fit for thick calves may be challenging. Slim pads are desirable but they have to absorb large impact force.
Toe guards: it is designed to protect the toe of your skate when slide or fall on your knee pads or drag your toe.
Bags: while you are going outside for skating, you might have to carry some essential items like a cell phone, keys, clothes, etc., and to carry them comfortably, fanny packs are convenient. Remember, you have to carry the bag hands-free, and backpacks, belt bags, or fanny packs are great choices.
Once all the necessary items are collected, it's time for you to learn the basic techniques of skating. A personal mentor is always helpful but if you can't have one for some reason, you should try online resources. For beginners, it is advised to practice on a smooth floor in a gymnasium or equipped pedestrian paths to avoid unbalanced situations. Every new learner of skating has to some basic moves and some of them are:
Body stance: at first, you have to work on your body posture. The correct stance for skating is to bend your knees and lean forward in such a way that the knee should be vertically aligned to your shoulder and the heel is to your butt. You have to be in a relaxed condition and maintain a good gap between your both feet. Keep your back straight, chest up, stomach in, and head up.
Skater steps: many beginners try to walk with their skates on. But skater steps are different from normal walking. Try to push your one skate to the side with your leg while keeping your other feet in duck position. Glide for some time and then repeat the process with your other feet.
Overcome the fear of fall: it is quite normal for novice skaters to fall and the first fall may create fear. Learning to overcome that fear is important to progress in your skating lesson further. If you keep your body close to the ground the impact of the fall will low. When you are about to fall forward try to land yourself with your knees and wrists. If you have to fall backward, put your head on your shoulders and protect your back by landing with your hands. You will need some practice to remember the routine.
Breaking techniques: in skating gliding forward is not everything. You may have to stop suddenly and hence breaking methods are important to learn. In T and breaking with the toe are very common methods of breaking.
10 Best Shoes with Wheels for Girl
Although the original wheel shoe was designed by Heelys, a number of different brands are also available in the market right now because of the huge popularity of wheel shoes. A list of selected items from popular brands of shoes with wheels for girls are given below.
1. Ufatansy USB Charging Shoes
The most attractive feature of the Ufantasy Shoes would be the super bright LED and the bright color outlook. The upper side of the shoe is made of polyurethane and breathable mesh which is comfortable to wear for a long time. The skate style sneakers from Ufantasy includes built-in batteries to power up the brilliant LEDs and it can be charged via USB charger. These LED-lit shoes are a great attraction for rev parties and they are lit by impact.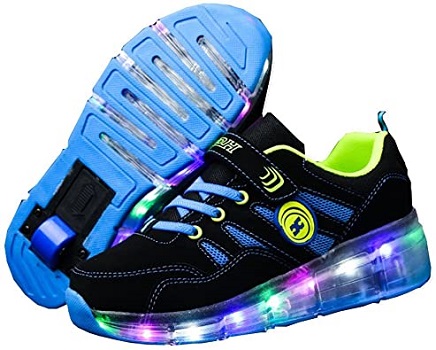 Ufantasy wheel shoes have two styles, one has a single wheel at the heel region and the other has double wheels which are retractable and are operated by a button at the back of the shoe. These shoes are easy to wear, thanks to the velcro fastener on the upper side along with shoelace. Ufantasy has great customer service as well. It's an excellent choice for gift and gift wrap with gift message is available with the Ufantasy wheel shoes.
PROS
Colorful and attractive wheel shoes
Easy to wear
Bright LEDs lighted by impact
Rechargeable batteries which can be charged by USB charger
Comfortable and breathable wheel shoes
Affordable pair of wheel shoes for boys and girls
Retractable wheel
CONS
Single wheel may cause imbalance
Battery can't be changed without damaging the shoe
Not waterproof
2. Heelys Split Chrome Skate Shoe
These skate shoes are the original Heelys product with chrome metallic finish. The shoes are made of 100% synthetic material. The vamp of the shoe is laced up to fit perfectly. The sole of the shoe also utilizes synthetic material. Heelys Split Chrome skate shoes have elegant design and bright metallic exterior. They are powerful, lightweight athletic shoes featuring a single, stealth wheel housed in the heel. This wheel is retractable and if needed, the skate shoes can be transformed into a pair of ordinary sneakers.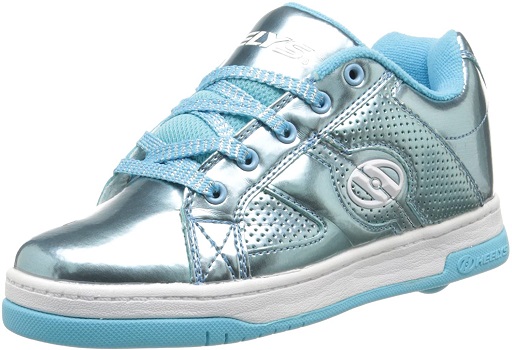 PROS
Economic
Metallic upper gives shiny outlook
Retractable wheel
Can be changed into ordinary shoes
Lightweight
CONS
Some users complained that the chrome upper easily peeled off from the body
3. PBQWER Kids Roller Skate Shoes with Wheel
PBQWER skate shoes are multifunctional and can be used as flat sneakers, single-wheel shoes, or double-wheel shoes. The wheels are made from Polyurethane to make them lightweight but sturdy. The outer rim of the sole is fashioned with color LEDs. The LED lights have three different modes: fast flash, slow flash, and long bright. The charging port and selector switch are placed inside the shoe and they are not visible from the outside. To turn off the LEDs, hold the switch for two seconds.
PBQWER girl's skate shoes with wheels take 1-1.5 hours to charge fully to operate the LEDs for 3 – 4 hours. These skate shoes are convenient to wear as they have velcro fasteners instead of laces. The sole of the PBQWER skating shoes has tread marks to prevent slipping and it is also worn and tear-resistant. Yet the sole is soft and comfortable to wear. To get a perfect size, take the exact measurement of feet and use the size chart.
PROS
Double wheel for more stability
Polyurethane wheels are strong and lightweight
Multimode LED lighting
Rechargeable batteries
Wear and tear proof slip resistant sole
CONS
Extravagant
Not waterproof
4. VILOCY Unisex Kids Roller Skates Shoes
VILOCY skate shoes adopt the classic sneaker design with smooth toes. These unisex skate shoes are perfect as trainer skating shoes. The outsole of VILOCY wheel shoes are sturdy and slip-proof which is made from quality rubber. One concealed wheel is placed at the heel of the shoe and it will pop out if a button is pushed. To conceal the wheel again, the button is pushed and at the same time, the roller is pushed back in its original position. Thus, the VILOCY trainer shoes can be used for walking, running, or rolling.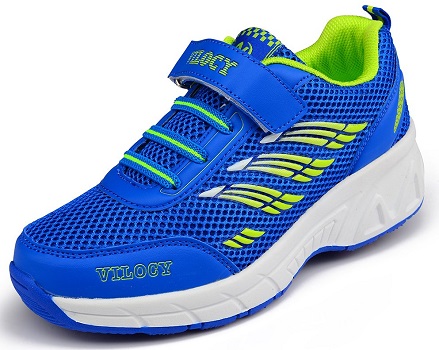 The upper of this wheel shoe is mesh type and hence quite breathable. So, the interior won't get sweaty during physical activities and deodorant will prevent any foul odor. The velcro fastener on the vamp instead of laces is very convenient and helps to wear the shoe easily.
PROS
Comfortable and breathable skating shoes
Bright colored exterior
Top notch quality rubber outsole
Velcro fastener
Multifunctional trainer shoes
CONS
Single wheel may cause imbalance
To find the correct size using the size chart can be problematic
5. Nsasy Roller Shoes
Nsasy is quite devoted to the quality control of the manufacturing process including selecting the excellent material, then sample making, and after numerous modifications, the bulk production is initiated. z31 Nsasy roller shoes utilize synthetic material and for longevity, the sole is made of thermoplastic. The contour of the sole is fashioned with color LED lights and they are powered by a built-in battery that can't be recharged or replaced.

Nsasy roller shoes have an inline skate-like design having two wheels. The front wheel can be removed and the back wheel can be concealed to convert into a flat sole sneaker. The LEDs light up by impact when you start walking. To fasten the wheel shoe tightly, there is a velcro fastener on the vamp of the shoe. Nsasy roller shoes are a perfect choice for gifts on any occasion like Halloween, Christmas, or birthday.
PROS
Velcro fastener for conveniently wear the roller shoe
Double wheel for better stability
3 -in- 1 functionality, double wheel, single wheel or flat shoe
Color LED lights
High quality synthetic material
CONS
Once the battery is out of charge, the LEDs are useless
Not waterproof
6. Nsasy Kids Roller Shoes
Another great product for children (unisex) from Nsasy and these wheel shoes are perfect for parties, go for a walk in the evening, or any casual occasion. N-586-Pink-Shuang-32 model from Nsasy is designed like inline skates having two wheels. They can be used like normal sports shoes after concealing the back wheel and removing the front wheel temporarily for uneven roads, occasional rain, gravel roads, etc., and back into a roller just by pushing a button.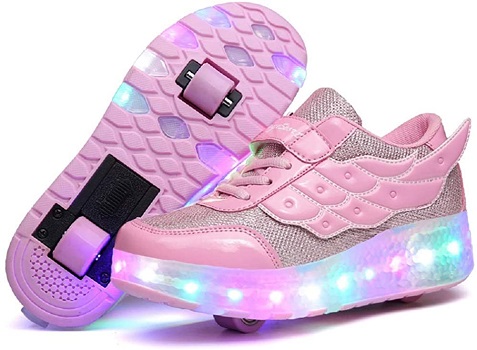 Nsasy N-586 roller shoes are made of mesh material and synthetic soles. These wheel shoes become a special attraction in the dark because of the bright colorful LEDs. The power button and the charging interface are mounted on the vamp of the shoe. It takes 2-4 hours to charge the battery fully to support 6-8 hours of LED backup time. Nsasy N-586 roller shoes are excellent gift items for any occasion.
PROS
Rechargeable battery for LED
Bright and colorful LED
Double wheel convertible roller shoe
High quality material
Comfortable and convenient to use
7. Heelys Kids' Propel 2.0 Sneaker
A great pair of shoes for outdoor fun and can be worn by athletes and casual joggers as well. Heelys Propel 2.0 wheel sneakers utilize extremely high-quality and durable material and rubber soles. The material is breathable which prevents building sweat and odor. The rubber of the sole is vulcanized so that you can do high-intensity exercise without damaging the sole. The sole is also flexible enough for complex exercises.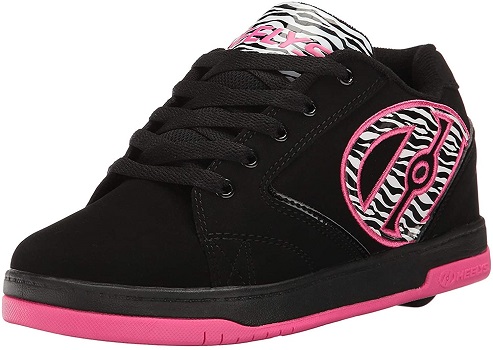 The polyurethane wheel is in the heel of the shoe and it can be removed with the help of wheel remover (included with the shoes). The traditional lacing system on the vamp ensures snug fitting. Heelys Propel 2.0 wheel shoes are lightweight and have black exterior.
PROS
Breathable material
Lightweight but tough
Vulcanized rubber sole
Snug fitting
Long lasting Polyurethane wheel
Fashionable
CONS
Lacing system can be inconvenient
Requires additional tool to remove the wheel
8. SDSPEED Kids Roller Skate Shoes
SDSPEED is a Korean company and the single-wheel LED roller shoes from SDSPEED can be a brilliant gift for birthdays, performances, Halloween, Thanksgiving and Christmas Day, and other celebrations. The roller shoes are made of top-quality material along with a wear-resistant rubber sole. Because of the breathable material, they are comfortable to wear.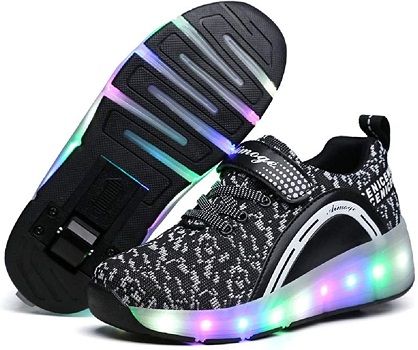 The LEDs on the outer rim of the sole are an extra attraction for the kids. The LEDs light up by impact automatically when walking. They are powered by a lithium metal battery which will last for three months. The wheel of the SDSPEED roller shoes pops out if the button at the heel is pressed and it can be put back in the slot again by doing the same. The shoe is fashioned with a velcro fastener instead of a lacing system for convenience.
PROS
Tough wear resistant sole
High quality breathable material
Velcro fastener
LED lighting
Retractable wheel
Colorful and fashionable look
CONS
Not waterproof
Battery can't be replaced or recharged
9. VMATE LED Light Up Roller Skate Shoes
It is a classic and durable double wheel shoe which gives you the inline skate experience. But if needed, the shoes can be used as normal sneakers by pulling out the front wheel and retracting the back wheel. The back wheel will pop out again if the button at the heel is pressed. To remove the front wheel, you will need a wrench which is included with the shoes.

VMATE roller shoes have color LEDs on the outside and they can be turned on or off by a switch inside the shoe. The battery is non-rechargeable but it will last for a long time. If the switch is on, the LEDs will turn on by vibration during walking. VMATE roller shoes are constructed with breathable best quality material and wear-proof rugged rubber soles. This fashionable and colorful footwear are perfect for clubs, a rave party, or any other occasion you want to draw attention to.
PROS
Eye catching design
Durable rubber sole
Synthetic breathable materials
Convertible wheel shoes
LED decoration
CONS
One time battery
Not waterproof
10. Heelys Kids' Bolt Plus x2 Sneaker
Bolt Plus x2 wheel sports shoes from Heelys gain the attention of the customers immediately after the release. The design and color of the shoes are extraordinary and spectacular. These skating shoes are available in black, grey, and bright yellow. The vamp of the shoe has an elastic enclosure along with velcro strap for a secure fit. Heelys Bolt Plus x2 sneakers are made of fine quality synthetic material and the outsole utilizes vulcanized rubber for strength and flexibility.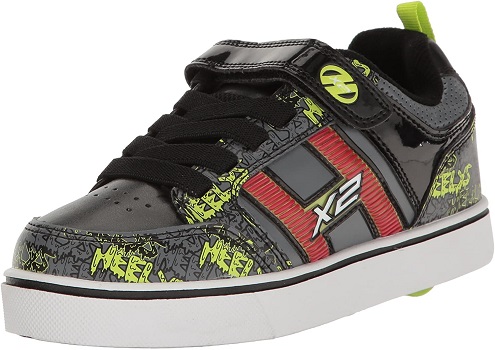 This pair of wheel shoes are excellent for the beginners because of the wide skate body, double stealth wheel in the heel and sturdy closure system. Both of the wheels are positioned in the heel and they can be removed to turn the wheel shoes into ordinary sneakers.
PROS
Lightweight and tough wheel shoes
Aesthetic pair of sneakers
Removable wheels in the wheel
Wide skate body
Vulcanized rubber sole
Economic
CONS
Wheels have to be removed manually
Key Features to Look Before Buying Shoes with Wheels for Girl
The right type of skating shoes are rather important for a pleasant skating exercise. Since lots of skating shoes of different designs and materials are accessible in the market, you might have to take some educated decision to purchase the pair which will suit you most and provide the best value for your money. Some general aspects of skating shoes are as follows:
Outsole of the shoe: the longevity and stability of your skating shoes are highly dependent on the quality and material of the outsole. The rubber outsole offers good traction and durability. Such outsoles are comfortable, too and they are suitable for all kinds of landscape. Many outsoles are fashioned with cool LEDs with bright and colorful designs.
Wheels: different shoes with wheels have different types of wheels utilizing different raw materials. The size of the wheel also varies. The larger wheels provide more stability by sacrificing speed. Small wheels are great for speed and taking sharp turns. Polyurethane is the standard material for the wheel of skating shoes. Polyurethane wheels are tough, abrasion-proof, and resistant to wear and tear.
The retractable wheel of the skating shoes are designed to be removed from the shoe easily. The wheel has auto or push-button styles to detach it from the frame. The non-retractable type wheels can only be installed or removed manually.
Built of the shoe: for comfort and durability, constructing materials of the shoe is important. Different types of material like leather, canvas, mesh, or synthetic are utilized to make skating shoes and they offer different functionality. The material has to be tough and breathable for a good pair of skating shoes. The padded soft inners and breathable uppers are essential for the comfort of the skater. Also, check out for the strapping system whether it's easy to operate and you should be able to put on or off the shoes effortlessly.
Weight: the lightweight skate shoes are preferable since you may have to wear it for extended periods.
Size: the size of the skating shoes are critical if you want to avoid injuries like blisters. It is crucial for the comfort of the user. So, take the measurements carefully for a better fit. Since the youngsters have growing bodies, they are easily outgrown of the show size within a year. So, skating shoes with adjustable sizes are suitable for them.
Cost: for beginners, skate shoes of moderate price are recommended. This is because the beginners are likely to damage their pair easily due to inexperience. But for seasoned skaters, high-valued shoes are justified.
FAQs – Frequently Ask Questions
Are shoes with wheels safe?
Actually, shoes on wheels can be dangerous if appropriate safety equipment like helmets, wrist guards, knee pads, and elbow pads are not worn. Also, there are few techniques for preventing tripping accidentally. So, wheel shoes may be quite exciting and safe as well if proper safety measures are adopted.
Do my kids wear protective gear while rolling?
It is absolutely necessary for kids to wear protective gear while rolling.
How do I clean my shoes with wheels?
It is important to remember that the wheel shoes having LEDs are not waterproof and they can't be soaked in water. You have to clean them with a damp cloth. If the wheel shoes are wet, use air to dry them. To clean the white strip which is the decorative part of the shoe, you can use bleach, window cleaner, rubbing alcohol, white vinegar, lemon juice, or water-detergent. For persistent stains, enzymatic or any other stain remover is recommended.
Verdict
By now, you may be getting a mixed feeling about the wheel shoes. There is a substantial amount of risk of injury for kids while skating if proper protective measures are not taken. But skating can be a super exciting and healthy activity if all the necessary precautions are practiced when skating. It is also equally important to purchase the right type of wheel shoes for skating and maintain them properly.