Do you know what the worst is? You have just come home from a long day at work, and your feet are killing you, but you don't have time for a relaxing soak in the tub. Fortunately, Copper Compression Socks can make a big difference in soreness and relief. By providing graduated pressure throughout the body, including the legs and feet, these socks reduce stress on your joints and help to improve blood circulation.
Put on compression socks when you're tired and need relief. The socks are a fantastic way to relieve fatigue while on the go. The increased blood flow they provide will help prevent swelling and reduce foot odors that come with poor circulation. And since you can wear them all day, they're perfect for any occasion.
We will put together a review of copper compression socks that will help you pick out the best option for your needs.
Do Copper Compression Socks Work?
If you're wondering if copper socks are worth the hype, the answer is yes. Wearing copper compression socks speeds up blood flow. It lets oxygen get to your feet and seep into your body. Your muscles get more oxygen and perform better, so they don't get tired as quickly.
The leading cause of foot odor is bacteria that grow on the warm, moist surfaces of sweaty feet and between toes. The secret to getting rid of stinky feet is to keep them clean, and these socks are just made for that.
Compression socks help improve your blood circulation, remove cellular waste, and prevent blood clots by placing graduated pressure on your calves. Wearing compression socks is also an excellent way to prevent varicose veins.
Copper Socks Benefits
There are several benefits to wearing copper socks, and science supports their use. Let's break those down for you.
Prevents soreness: In copper compression socks, the blood flows more freely in your legs and feet, making you less tired and sore. They reduce the buildup of lactic acid in the muscles and increase oxygenation. You'll be better at whatever you're doing.
Reduces pain and swelling: You can soothe your aching feet and relieve pain by wearing compression socks. These advanced socks contain copper, which helps reduce inflammation and pain, so they're the perfect choice for athlete training.
Protects against varicose veins: Varicose veins cause itching and pain because the blood pools in the veins and causes damage. By improving circulation and reducing pooling, compression socks prevent varicose veins.
It cuts down on sweat & odors: If you have sweaty feet, copper socks can help maintain a fresh aroma. It kills 99.9% of odor-causing bacteria and keeps your feet smelling good even when you wear them for days.
Faster recovery: Copper socks are essential when you want to heal injured feet and legs. Copper socks keep your feet dry, clean, and germ-free so that you can recover quickly from an injury. They also help reduce itchiness, fungal, and bacterial infections, and foot ulcers.
What Are Copper Compression Socks Good For?
You might have already figured out the "why". But "when" do you wear these copper compression socks? Let's get into it.
Foot Problem Treatment: With copper-infused socks, your legs and feet will get more oxygen and blood flowing, making you feel energized. They are also great for people with diabetes, arthritis or slow-healing wounds. If you're recovering from surgery, they can help you get back on your feet faster.
While Running: Poorly fitting socks result in chafing and poor circulation while running. Wearing the right gear can help you recover from running's strain. It covered your legs in full feet and toes in copper socks, which helps speed up their recovery and improve performance. Besides being anti-microbial, copper also prevents odors and infections.
While Stretching: Compression socks with copper are great for keeping your legs comfortable through high-intensity workouts like yoga and cross-fit. These socks will also keep your calves from cramping, making you recover quicker and feel better after doing strenuous activities. Copper compression socks also keep your feet feeling fresh by wicking away moisture and preventing odor.
During Pregnancy: Women who are pregnant often have to deal with increased blood volume, coagulation, and clotting due to hormonal changes. It can be hard on the body, one of them being swollen ankles or feet. By wearing Women's Copper Support Socks, you can keep your legs healthy throughout your pregnancy.
While Flying: If you sit in an airport for hours on end, wear compression socks before, during, and after your flight. Your socks will help spread your blood evenly throughout your legs and feet. You'll be sore after this long flight, but wearing compression socks can help with that tired feeling in your legs.
The 7 Best Copper Compression Socks
Here we are listing some of the best copper compression socks that are worth mentioning.
1. Copper Fit Energy 2.0 Knee High Compression Socks
Knee High Energy Socks with Copper Infusion is designed to wear as everyday socks. This product is essential for providing support for badly hurt or sprained legs and feet. Compression helps improve circulation and reduce swelling. Featuring a sleek design and fashionable look, these are the perfect choice for everyday wear. With its special infused copper material, these socks can help reduce odor as well.

If you're a runner, using these socks for just a few minutes each day can provide swift recovery after a workout, keeping your legs from getting stiff. And if you work in an office or spend a lot of time on your feet, this compression sock can prevent leg fatigue and keep you standing tall all day. They're machine washable and also adjustable to your knee-length.
PROS
Suitable for all
Comes in variety of sizes
Best for Jogging
Fully cushioned footbed
2. FuelMeFoot Copper Compression Socks
FuelMeFoot's copper compression socks blend high-quality materials and modern technology — they give you support, comfort, and lasting energy. You'll be able to wear these socks for a long time without them wearing out or losing their essential qualities, so you'll stay on top of your game no matter what.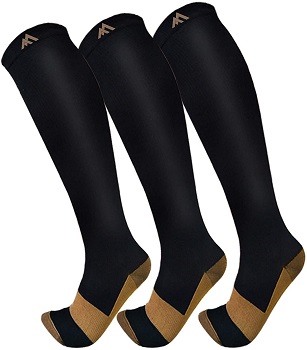 Copper fiber technology is helping FuelMeFoot become the world's best athletic socks. The sturdy, breathable material used in these socks reduces odor and stench, all without compromising comfort. Great for all weathers, the socks are also a superb choice for those who lead active lifestyles — perfect for running marathons, playing basketball, or hitting the gym. With three pairs, you can have a pair for your travels and a pair to wear on your trip.
PROS
Perfect choice for athletes
Best bang for your buck
Loads of colors to choose from
Come in packs of 3
CONS
The compression is a bit tight
3. Miracle Copper MCSLXL Anti-Fatigue Compression Socks
Miracle Copper Socks is a miracle for your feet. They're like mini-massage machines — and they're all in your socks! Copper technology works to ease swelling, give you relief from aches, and revitalize weary legs as you wear them. Wear Miracle Copper Socks after a long day of standing or walking for a quick recovery from tired legs and achy feet.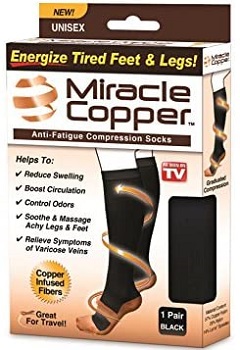 The socks are great to wear after your workouts or as everyday wear. Also, they're a brilliant solution for those suffering from varicose veins, and foot pain. The pain associated with these problems disappears with time, but you can speed up the process with these socks. They're made of breathable moisture-wicking fabric that keeps your feet cool and dry. And they are machine washable. Also, you can get them in any color you like!
PROS
100% Nylon; extremely comfortable
Easy to pull on
You can wear it in any shoe
Both men and women can wear it.
CONS
Many people got fake products
4. Copper Fit 2.0 Easy-On Easy-Off Knee High Compression Socks
Copper Fit 2.0 Easy-On Easy-Off Knee High Compression Socks give your tired feet the energy they need to keep up with your busy day. The compression socks remove swelling, reduce fatigue, and improve circulation, giving you more mobility and a more productive day. The first easy-on, easy-off compression sock on the market. These socks are comfortable to wear over your shoes and are extremely easy to pull on.


These socks are perfect for active women who want to stay energized and comfortable all day long. The copper-infused fabric in the socks gently reduces inflammation and gives you a smooth, blister-free fit that reduces foot pain. The compression in the socks also improves blood circulation and absorbs odor for a fresher feel on your feet. You can spend the entire day doing lots of stuff wearing this sock — it offers arch support and compression.
PROS
Machine washable
Easy on- easy off
Snugs perfectly with perfect compression
Extremely lightweight
5. Kodal Copper Infused Athletic Crew Socks for Mens and Womens
Kodal Copper Infused Athletic Crew Socks are made of Nylon and Spandex blend, so they're super comfortable. They have Copper Infused Technology that helps reduce odor-causing bacteria with an advanced copper-infused yarn. They're perfect for everyday wear. Additionally, the copper in the socks keeps your feet dry by absorbing moisture. The socks are designed to help reduce inflammation, speed up recovery, and to protect your feet from blisters.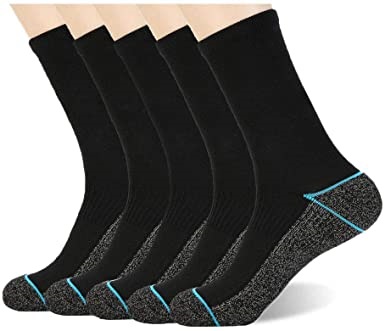 These are a smart choice for all sports. They are not too thick or too thin, warm in the winter and breathable in summer, and feature a copper-infused design for excellent heat control. These versatile socks are great for running, tennis, basketball, soccer, golfing, cycling. These socks provide double protection against friction and shoe abrasions by covering the foot completely, so you're sure to have a comfortable day every time you wear them.
PROS
Great for stinky feet
Works great on both summer and winter time
Maintains elasticity after washing
Exceptionally durable
CONS
Can be tight on your ankle
6. Kodal Copper Infused Athletic Low Cut Socks for Mens and Womens
Kodal's copper-infused athletic socks are the ideal choice for hiking, travelling, and a wide range of sports. The foot-friendly design provides breathable fabric and shock absorption as well as an antibacterial quality which helps reduce odors in shoes and feet. It keeps your feet warm in both hot and cold weather.

Kodal's copper-infused athletic socks are made to keep your shoes fresh and feet funk-free. The eco-friendly fabric absorbs heat to keep you dry, which means less sweat and a lower chance of getting smelly. The integrated heel tab fights off slippage by keeping the socks from bunching during physical activity. The elastic arch band provides increased compression as you move, keeping your feet comfortable all day long. There are four subtle color options, so they'll help calm your feet without drawing too much attention.
PROS
Available in a range of colors
The best for traveling
It's super easy to wash
Durable in hot or cold climate
7. J&Q Copper Infused No Show Socks
The J&Q Copper Infused No Show Socks for Men and Women Non-slip Moisture Absorption Low Cut Socks are a great way to protect your feet without having to wear shoes. The socks are made from a blend of nylon and spandex and are extremely comfortable to wear. The Copper Infused Socks are non-slip and moisture absorption. The Copper Infused Socks are low cut and fit easily into shoes and boots.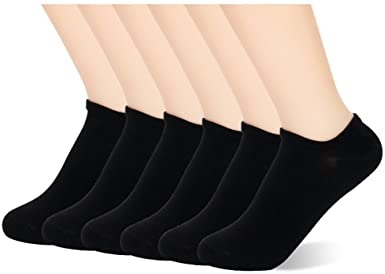 Socks are one of the best and least expensive ways to fight bad foot odor, a common side effect of diabetes. J&Q Copper Infused No Show Socks are equipped with effectiveness against this condition, along with relief from itching and inflammation. Socks will help you improve your blood circulation and boost your metabolism. You shouldn't be thinking twice about getting this product.
PROS
Extremely comfortable
Affordable
Your feet will barely sweat
Non- slippery
Recommended Post: Best Knee High Compression Socks As Per User Reviews
Features To Look At Before Buying Copper Compression Socks
Check out these tips for buying copper socks based on your medical needs.
Type: There a vast variety of compression socks. They are available in knee-high length, which have graduated pressures that go up the calf all the way to the ankle. Ankle-length socks can also be used for running or with your feet. When choosing compression socks, make sure they fit properly and that you can adjust the pressure levels in them if needed.
Strength: Foot compression socks come in different strengths measured by millimetres of mercury (mmHg). The lower pressure levels typically 20-30mmHg, which is perfect for feet that are always walking. These compression socks are best worn on journeys or when recovering from light sports. The next level of compression is the 30-40mmHg, which is ideal for medical issues like deep vein thrombosis and swelling.
Materials: Most compression socks are made of a polyester blend that offers a snug, stretchy fit. The add-on features can include arch support or pain relief gel. You may want to take this into consideration when choosing the right pair for you.
Copper Ions: Socks made of copper can help fight off bacteria and fungi without the use of chemicals, making them ideal to wear in hospitals and areas with high concentrations of germs. Copper also has anti-inflammatory properties, which may help with pain.
FAQs – Frequently Asked Questions
How long can you wear copper compression socks?
There aren't any hard and fast rules when it comes to wearing copper compression socks. Your preference and how your feet feel will be the deciding factor. You can wear copper compression socks for as little as an hour or for as long as you need to.
Do Copper socks help with swelling?
If you suffer from swelling, varicose veins, or poor blood flow in your legs, copper socks are a great addition to your daily routine. Copper socks help ease leg discomfort by improving circulation and reducing swelling in your legs.
Do copper compression socks help with fatigue?
Copper compression socks can help with fatigue and they probably work by increasing blood flow to your feet. You could get more blood flowing to your extremities thanks to the copper in the socks. That could help with fatigue.
Can copper compression socks be too tight?
Yes, compression socks can be too tight, and if you're wearing them to treat a medical condition, it's important to get the right size. If your socks are too tight, you can get blood clots, and you can even lose circulation in your legs, which isn't good.
Final Recap
Copper socks are good for people with calluses. If you have blisters or a cut, they can help you, especially if you've got diabetes. This helps promote the healing of wounds and reduce pain and swelling, not to mention being good for arthritis sufferers.
These socks are the best foot protection that prevents fungal infections. They're also comfortable and warm during cold weather, and they'll last for years. We don't want to stretch it any further. Try them on for yourself. These copper compression socks helped us in many ways, and they will do the same for you.