CPAP are crucial if you are suffering from obstructive sleep apnea disorder. The equipment allows you to sleep more comfortably with fewer struggles. However, you have to be careful when using the equipment lest it worsens your breathing difficulties. Cleaning your apparatus often is not only important but also a necessity to ensure its effectiveness. You should ensure that all the components including the filter, masks, and humidifiers are always clean.
The fact that you are wearing your CPAP every night exposes it to all manner of contaminations. Bacteria, viruses, fungi, and even mold can easily develop due to your breath moisture. Even though it may look clean in your eyes, resist any temptation not to wash it. That won't be easy but thanks to the cleaner machines. These are more effective and make the cleaning process easy. Here we detail the best CPAP cleaner machine with the cleaning procedures.
Do You Really Need a CPAP Cleaning Machine?
Yes and no. There hasn't been any scientific study depicting any difference between the CPAP cleaning capability and the standard washing. No research has pointed existence of any major effects as per the use of this equipment.
Although considering the time people take to clean the CPAP machine, the electronic cleaners are a great relief. So, if you don't a lot of time to clean your CPAP, you can adopt a machine. This will help you clean the device with minimal effort and a short time.
How Do CPAP Cleaners Work?
Different CPAP cleaners use different modes of operation. Most of them stay away from the use of water in cleaning. The ultraviolet light and ozone (activated oxygen) are the two main cleaning agents used. To better understand how the CPAP cleaners work, let's look at them one by one;
Ultraviolet light: There exist three spectrums in ultraviolet light. These are UV-A, UV-B, and UV-C. When stretched to certain wavelengths, the light has the power to break down the molecular bonds of microorganisms. This way, all the microbial elements present in the CPAP equipment are sanitized.
Ozone: CPAP cleaners that rely on ozone use a generator to break down oxygen gas and recreate it into an oxidant. Consequently, this oxidant is capable of killing bacteria and germs present in the equipment.
10 Best CPAP Cleaner Machine
1. Lumin 3B Medical Multi-Purpose UVC Cleaner
This CPAP cleaner relies on Ultraviolet light to sanitize your CPAP masks as well as water chambers. You can also use it to sanitize other items including your toothbrushes and wallets. All you need to do is place the stuff you want to sanitize in a tray and press the on button. Through the powerful illumination of UV light, your items should be ready within 5 minutes.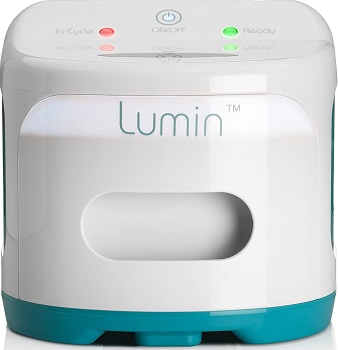 UV-light is a strong sanitizer recommended for cleaning surfaces. That's why; FDA hasn't certified the Luminfor CPAP sanitization. It's however approved for usage in hospitals to sanitize N95 masks. Therefore, if you plan to use this cleaner for every component of your CPAP machine, it's only best for the masks. Otherwise, you may have to run the hoses more than two times to get better results.
Lumin emits more than 2,000 mJ/cm2 of germicidal ultraviolet light. That's the highest UVC rating available on the market. Its operation is also very simple. With this intense sanitization cycle, there isn't any other process involved once you remove your items. Owing to the delicacy of the human breathing system, a method that ensures no contaminant survives is worth every penny. That's why, despite its high price tag, we still chose Lumin 3B as our number one CPAP cleaner.
PROS
Uses the highest UVC rating to sanitize
Takes a very short time to complete sanitization cycle
It is very powerful
It can clean other items such as toothbrushes and dentures
Lumin 3B is certified by FDA for mask cleaning
Comes with a protective opaque shell to prevent UV exposure
CONS
It's not portable
Works when plugged to an outlet
See More: Best CPAP Mask For Side Sleepers
2. Ovovo Professional Cleaner
Ovovo professional cleaner is a portable UV light CPAP cleaner. It has a USB port through which you can easily recharge it on transit through a power bank. Using strong UVC, the cleaner can clear up to 99.9% of contaminants within minutes. The good news is that the cleaner is able to reach even your CPAP machine hoses.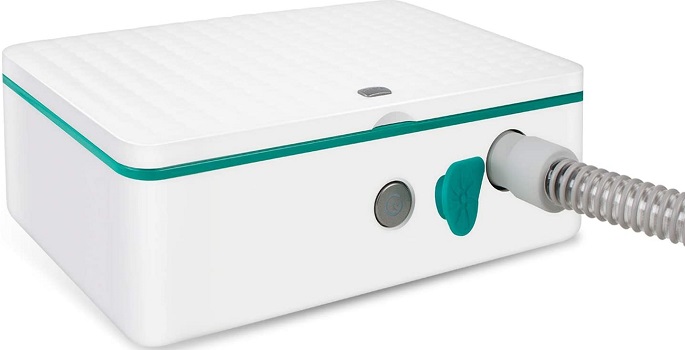 Instead of using water and soap which takes most of your time and still misses some germs, this is a good option. The cleaner is easy to operate and very effective based on the sanitization method used. Besides your CPAP components, this equipment can also sanitize several other items in your house. Things like your children's toys, jewelry and hearing aid gadgets, etc.
When you want to sanitize the tubes, all you need to do is switch the cleaner to the O3 mode. This should take you about 30minutes. The same case applies if you want to sanitize other accessories that aren't flat like the masks. You need to expose them for a long to ensure all the contaminants are eliminated.
PROS
Uses ultraviolet light to sanitize
It sanitizes even the hoses' interiors
Takes a short time to sanitize items
Besides the CPAP cleaning, it sanitizes other items such as jewelries and toys
It is portable
Has a USB port making it easy to recharge while travelling
It is very easy to operate
CONS
The USB port is flimsily designed
It is expensive to purchase
3. VastMedic VM8 Multi-Purpose Cleaner Pro with Digital Timer
Some cleaners leave residue in the CPAP machines after cleaning. This causes the machines to have bad smell which can affect you badly. VastNedic addresses this problem conclusively and your CPAP machine remains fresh after sanitization. Like its predecessors, this cleaner also uses UV light as the sanitizer.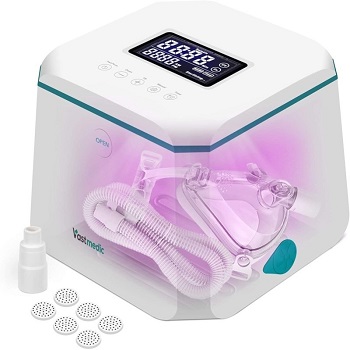 The cleaner has a large capacity enough to hold even bigger objects like pillows in your home. So, other than sanitizing your CPAP machine, you can also sanitize other things like jewelry, cellphones, and toys.
In the digital era, you may want to enjoy the digital timer in this cleaner. This allows you to set the time you want to sanitize your CPAP machine or anything else. Additionally, you are able to see everything happening inside the cleaner.
The high compatibility nature of this cleaner is also its strength. For the purposes of cleaning your machine tubes without waiting for several minutes, this is the deal. It's compatible with several tubes from the most common brands on the market. You also get to enjoy 30 days money-back guarantee in case you don't get what you expected. Another warranty also covers all the parts for one full year. Anything breaking within this time will be replaced free of charge. Good customer care responsiveness must also excite you.
PROS
It is very safe to use
The manufacturer customer care is very responsive
Your cleaner has a one year warranty and replacement policy
It doesn't leave residue or bad smell after use
It has a digital timer
The CPAP cleaner features a transparent top
CONS
May have some bit of odor
4. UV Light Sanitizer UV Sterilizer Box
This is an awesome do it all CPAP cleaning machine. It allows you to use your items immediately after cleaning. If you are a growing family, this is your go-to cleaner. It kills up to 99.9% of germs of all kinds. Using a UV built-in Philips lamp, it has high-level efficiency and less sainting time.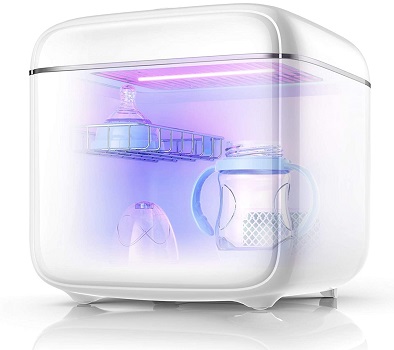 Although not approved by FDA to perform these tasks, this cleaner does a good job to clean your CPAP components. Other things it can sanitize include your baby toys, household, and kitchen products, etc. its undoing is perhaps the big size it occupies in your house.
Its elegancy will though color your home. It's not kind of a dull apparatus. UV Light Sanitizer is unique and gorgeous equipment. Made also with a melt-blown filter, it ensures that there is inflow of fresh air. Whenever you open the top lid, the unit auto shuts itself. It's a perfect deal to color your home whereas keeping germs off your home.
PROS
Kills up to 99.9% germs
It can clean a wide variety of items in the house
It's very elegantly designed
Has an auto shut system
5. SoClean 2 Go CPAP Cleaner and Sanitizer
To meet the demands of travellers, this is the mini size of the SoClean model CPAP cleaner. The cleaner is a great companion whenever travelling. You don't have to struggle with a heavyweight cleaner. This simple device will keep you sorted for the entire period you'll be away.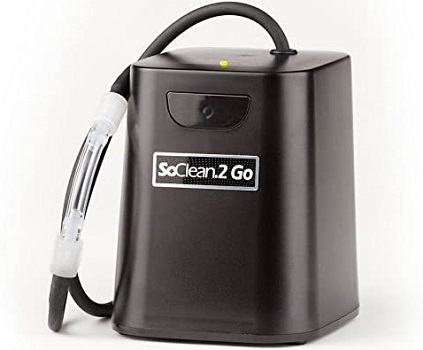 You won't have to disassemble your CPAP machine. All you need is to connect it to the cleaner and you are good to go. It doesn't use any chemicals or water to sanitize your machine. It's a simple process like the one used in water purification. The only thing you may not like about this cleaner is that you have to purchase a certain adapter. This will allow you to connect it to most of the CPAP machines.
PROS
Its lightweight
The cleaner is compatible with several CPAP machines
Uses a simple sanitizing process
It is designed for travelers
CONS
You have to purchase an additional adapter
6. ETROBOT UV Sterilizer Box, Ultraviolet Light Sanitizer Dryer
This is a multipurpose CPAP cleaner. It doesn't use any chemicals. So, you are assured of your family's safety healthy environment. The cleaner kills up to 99.9% of all harmful microbial. The sanitizer is big enough to accommodate multiple items. The capacity is further bolstered by the internal basket.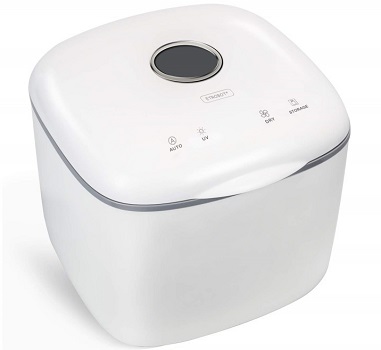 With a simple interactive display, you can set and control everything with a touch. There are 4 modes you can set when sanitizing your items. These include AUTO/UV/DRY/STORAGE. By choosing any of them, the cleaner will execute everything without your involvement at all.
If you compare this unit with other sterilizers, there's much to pride in. Above everything, you are sure no threat of any bacteria, fungi, or virus. Also, you save on energy consumption. The bulbs used do not consume a bit of power and they don't emit any toxic gases. The end result is an eco-friendly and stylish system you set up.
PROS
It features a very beautiful design
The sterilizer has a user friendly interface
It has automated modes
It saves on energy consumption
It's an eco friendly unit
7. iiSonic Ultrasonic CPAP Deep Cleaner (Small) P4821
This is another amazing traveling CPAP cleaner. It is the best deal when you want to clean the masks and your CPAP short tube. Unlike the other type of cleaners which leave behind residue, it removes every dirt and debris.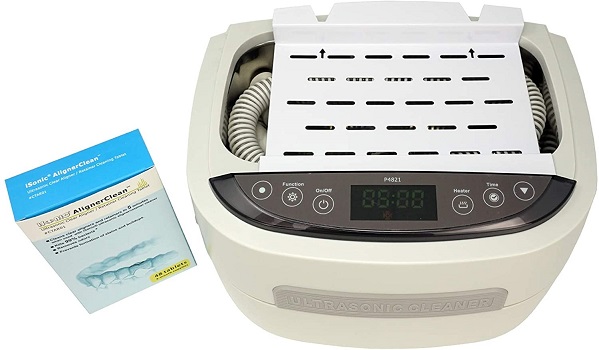 If you suspect your CPAP to have some debris, then get this cleaner. It will dislodge everything leaving your unit super clean. It does this using a 60 W ultrasonic stack transducer to generate waves.
As the name suggests, this is the small type and it's upon you to decide which size is the best for you. If you think it won't clean your CPAP components properly, you can dismantle it for better results.
PROS
Very lightweight
Removes debris and residue lodged in the CPAP hose
Its portable
Has a user friendly interface
CONS
It is too small for some CPAP machines
8. UV Light Sanitizer
Almost everything needs sterilizer in your home. This sanitizer will not only help you keep your CPAP machine clean but also other items within the house. With its size and power, you can use to sanitize your baby bottle, toys, electronics, sleeping gear etc.
Within a single cycle, you can sanitize several items. It also features enhanced reflectivity to 3600 coverage. That ensures that every corner of the items is clean. Funny enough, the unit doesn't need heavy maintenance. No washing or descaling and the bulb used has a lifespan of over 6000 hours.
PROS
It has mechanisms to prevent UV exposure
The mother brand boasts of good reputation
You don't need to clean or descale
Its bulb has over 6000 hours lifespan
CONS
Its real capacity is too small
9. HOPE C+ UV Light Sanitizer Bag
Talk of class and efficiency all under one cover. That's what this sanitizer bag is. First of all, it's designed such that you can go with it anywhere you want. You can even customize it the way you want when you want to travel with it. It's a complete set with everything you need. The rechargeable battery available can serve you for more than an hour without connecting to a source of power.

With it, you can disinfect your CPAP components within 5 minutes. Can you imagine? And you don't have to dismantle anything. Other things you can sanitize include electronics, jewelry, and clothes.
The external fabric used on this bag is a highly water-resistant polyester fiber. The interior has aluminum foil fiber designed to reflect light. Basically, everything is to perfection here. In case you open the lid beyond 45 degrees, the internal lights go off immediately. This is meant to protect your eyes.
PROS
Has eyes protection mechanism
It is also easy to operate
The cleaner is very portable
It's very sleek
The external fabric is water resistant so don't have to worry about interior
CONS
It has a small capacity
Doesn't have a warranty
10. UV Sanitizer Box and Dryer Device for Disinfection
Despite being in the 10th position, this Sterilizer is a great piece of work. It consists of 4 operation modes that you can automate and deal with other things. Other than sterilizing your CPAP machine components, this unit can clean more other items.

With a click of a button, you can have your cleaner Sterilize, dry, or do both and store items. Even though its capacity isn't as big, it's enough to serve a nuclear family. For safety purposes, the unit has a low and no water consumption feature. It also features a switch-off system. With an extra pair of filters, you can save a few replacement dollars.
PROS
Has automatic operation modes
Comes with safety features for children
The UV lamp can last for more than 6000 hours
It is user friendly
CONS
Has a small capacity
Not covered by warranty
Features to Look Before Buying CPAP Cleaner Machine
Even after making the decision to buy a CPAP cleaner, it's not over yet. There are hundreds of these machines in the market if not thousands. So, you need specific features to narrow down the search. To simplify the process for you, we've compiled a list of top features that you should look out for when shopping for these machines.
Sanitization Style
The sanitization style should be very personal. Different machines use different styles such as water, ozone, and ultraviolet light to kill harmful microbes. The sanitization method you choose should consider your health concerns. Although one thing is true, all these methods have their ups, downsides, and safety limitations. That's why FDA hasn't approved some of them yet.
When shopping for a CPAP cleaner, ensure its sanitization style won't affect your healthy. Consider all your underlying condition before making the decision.
Portability
There are various CPAP cleaner models designed for use in different setups. The vast majority are tabletop meant for use at home. They are heavy; most of them weighing up to 5 pounds. Since they are designed to work from a stationary point, the weight isn't a concern.
Although, that doesn't mean there aren't choices. If you are looking for a portable CPAP cleaner to use during traveling, there are alternatives. These are lightweight and operate on rechargeable batteries. So, pick your cleaner depending on how and where you want to use it.
Compatibility
If you already have your CPAP machine, you need to get a cleaner that is compatible with it. The two apparatuses aren't universally compatible, even with the use of an adapter. You need to ensure that the cleaner you are buying will work with your CPAP machine. This is particularly if the store you are buying from doesn't offer such return policy.
User friendliness
There is no point in buying a gadget that will leave you sweating when using it. Luckily, most CPAP cleaner models are easy to use. They have a cleaning chamber where the operator places the CPAP components before pressing a button to start the sanitization process. Albeit, you may encounter some complicated models with several settings and options. Others use bags in lieu of cleaning chambers.
Get a model that you feel most comfortable with. Remember if you'll be struggling to use the cleaner that means you may not clean some components sufficiently. And that may expose you to contaminants that may further damage your breathing system.
Accessories
Sometimes, CPAP cleaners need certain accessories to be effective. The commonly needed accessories include adapters, valves, and filters. Even though most models come with them, you may need to add several which means extra spending.
Some models also come with extra accessories for replacement once they wear out. If you get such models, that's a plus. Filters and valves wear out over time and you have to replace them. If your cleaner comes with a separate pair, it will save you a couple of dollars.
Budget
What's your budget? This is always a leading factor in every purchase. However, avoid cheap models without necessary safety features. So, let functionality always precede budget. Some cleaners are as expensive as the CPAP machines themselves.
Cleaning time
How much time are you willing to spend every day cleaning your CPAP components? That should help you determine your choice of cleaner model. The cleaning time depends on the sanitization style adopted by your model. For instance, UV-based cleaners are the fastest compared to ozone ones.
Warranty
A good CPAP cleaner should have a manufacturer warranty for different parts. This gives you a chance to recover your money in case the apparatus is defective or doesn't deliver as advertised. In the event the cleaner contains individual parts, those may be covered differently.
Ensure the warranty coverage is comprehensive and binding. Otherwise you may end up losing your money buying a defective device.
FAQs – Frequently Ask Questions
Do all CPAP cleaners use ozone?
No. Not all CPAP cleaners use ozone. Some rely on ultraviolet light to sanitize the equipment. Although in the standard cleaning ways water and soap are the common agents, most cleaners haven't adopted this method.
How much does a CPAP cleaner cost?
There is no exact figure for all CPAP cleaner. Different models have different price tag such as $80 to $290 depending on its capabilities and features.
Are CPAP cleaner machines FDA-approved?
No. Actually, FDA has been against the use of these products citing safety and efficiency limitations. But, people still continue using them. The manufacturers have also given this issue a blind eye choosing not to research the issues raised.
Can you buy a CPAP machine over the counter?
Yes it is possible. There are several retailers who stock CPAP machines. And you don't need any prescription to buy the equipment.
How do you clean a CPAP machine when traveling?
There are specific portable CPAP cleaners designed for use when travelling. They are lightweight and powered by removable batteries. Therefore, if you intent to travel, you can get these cleaners suited for travelers.
What is the best portable CPAP cleaner?
Lumin 3B Medical Multi-Purpose UVC Cleaner is our choice for the best CPAP cleaner. This is for obvious reasons. One, it uses a very powerful sanitization method. So, any contaminants on your CPAP machine are wiped out within minutes.
Another thing is the short time it takes to complete the cleaning cycle. Within 5 minutes, it's able to sanitize everything. And not only is the cleaner capable of sanitizing your CPAP machine but also other several items.
Final Recap
Tired of cleaning your CPAP machine with water and soap every day? The CPAP cleaning Machines are the new norm. These machines can help you achieve the same results within minutes. Instead of having to disassemble your CPAP every day, these cleaners are giving you an option. Even though it hasn't been proven, the strong UV used on some of these cleaners gives desirable results.