Knee or leg injuries are common these days. Therefore, the use of knee scooters is on a steady rise. They are more flexible and comfortable thus slowly replacing wheelchairs and crutches. So, what are knee scooters and what are they used for? Also known as a knee walker or leg scooter, a knee scooter is a wheeled orthopedic gadget that helps you move around easily in case of an injury or surgery. This is by keeping off weight from your injured leg. However, you should have an understanding that they are only ideal for below-the-knee injuries. The device gives you independence, comfort, and fun at the same time. With that in mind, read closely to know more.
Is A Knee Scooter Better Than A Walker?
Obviously yes! Before you decide to take home a standard walker, care to understand some of the benefits of a knee scooter over a walker. In short, a knee scooter is better compared to a walker in a number of aspects. These are:
Ease of use: A knee scooter is easy to use and wins over a walker by far. How? While riding a knee walker, you navigate it by the help of handle bars unlike an ordinary walker that relies on your upper body strength to move the weight of the afflicted leg.
No weight restrictions: Knee scooter is strong and made to accommodate heavier weights, thanks to its durable, steady and strong design. This is unlike walkers that have weight limit and are not designed to hold on extremely heavy weights.
Comfort: A knee scooter is way comfortable compared to an ordinary walker. This device has a padded knee rest that makes movement so comfortable for you. It is also effortless and requires less energy to operate thus more comfortable. Walkers lack knee rest thus not as comfortable.
Best Knee Walker Scooter
1. Drive Medical 796 Dual Pad Steerable Knee Walker with Basket
Drive Medical 796 is the best alternative to traditional crutches. Measuring 30"(L) X 16"(W) X 31"(H), the scooter can accommodate plus size people. It's one of the best knee scooters ideal for indoor and outdoor use. Besides, it can be used by individuals recovering from surgery, breaks, and sprains.

This scooter works magic for people recovering from foot ulcers or amputations as well. Made of a steel frame, its durability isn't questionable. So, you are assured of a long time service without going back to the market.
The deluxe breaks increase safety when riding this scooter. It can handle heights between 31" and 40". It is not recommended for use on inclined grounds above 15 degrees. Coming with its own carrier, you can carry your luggage comfortably. However, the carrier isn't meant to carry heavy stuff.
PROS
It is durable.
It is good for a wide range of people in the recovery process.
Have deluxe breaks for increasing safety.
Stable than when using crutches.
CONS
You cannot travel over drops.
Isn't safe for use on inclining ground.
2. Knee Rover Hybrid Knee Walker
Knee Rover Hybrid is yet another awesome scooter. It's the first model to include 9" All-Terrain Pneumatic front wheels in a four-wheel design. This gives it the maximum stability and ability to drive on all surfaces. With it, you can ride over a wide range of terrains including gaps in sidewalks, rough road etc.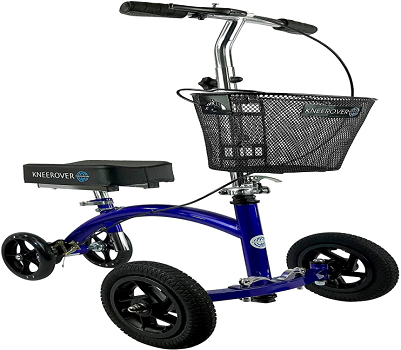 The Knee Rover scooter is ideal for those for people recovering from injury or surgery of the foot. Also, if you had injuries on the ankle, lower leg, or knee amputee, this is a better choice for you.
Its steering offers an advanced automotive style tie-rod steering mechanism unavailable in most scooters. Also, if you go for the HYBRID type, you will enjoy an adjustable locking handbrake. This is good for your safety and mobility. If you are approximately 300 lb in weight and height between 5' to 6'6", consider getting this scooter.
PROS
Has fully adjustable handlebars and knee platform.
Features advanced automotive style tie-rod steering mechanism.
You can navigate over a wide range of terrains.
It has two 9" All Terrain Pneumatic front wells.
It is more stable compared to many scooters in the market.
3. KneeRover Economy Knee Scooter
KneeRover Economy Knee scooter is an affordable mobility solution for all. It is an ideal solution for individuals recovering from broken feet, ankles, or legs. Also, if you had foot or ankle surgery, this scooter is a good deal. It is an excellent crutch alternative that is more stable than crutches.

It has 2 7.5" rubber wheels that increase the stability of the scooter. The dual adjustable locking handbrake makes it easy to ride. Also, it has adjustable locking handbrakes and dual rear on-wheel brakes.
The scooter's handlebars feature a quick-release folding mechanism. This eases its transportation and storage. It also takes small space in your car trunk. Additionally, it's the lightweight type.
Among the scooters you can find in the market today,KneeRover Economy Knee scooter defeats many. Though lightweight, the scooter's frame is made of very quality materials. It's also an ideal choice for both kids and adults. If you have a height between 4'6" to 6'6", this is a perfect choice.
PROS
It is affordable.
Durable.
It is stable than when using crutches and some knee walkers.
It is also fully adjustable
CONS
It has rubber tires that leave black marks on the floor in case water drops on them.
Not good for outside use.
4. Bless Reach Steerable Knee Walker
Another exciting choice you can go for is the Bless Reach Steerable Knee Walker. It features premium features that aid mobility. Even though it may be a bit expensive, the scooter is worth every penny.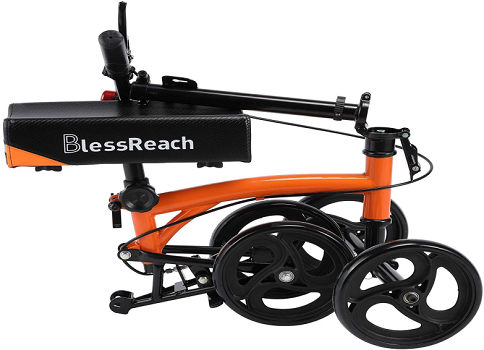 Starting with its design, it has a contoured and padded knee rest that gives your leg comfortable rest. The Bless Reach is ideal for individuals recovering from injuries or surgery. It can help people with foot, ankle, or lower leg issues. Knee amputees can also use it during recovery.
An all age scooter, Bless Reach Knee walker can serve both kids and adults. You can adjust its knee pad positioning from 16" to 20". Also, the height of the brake handle is can vary from 28" to 39". This means that you can adjust it to your preferred height.
The scooter is a masterpiece of design. It comes with 8" wheels and that are durable. The wheels are 360 degrees swivel for easy maneuvering. That gives you peace when riding it. Very stable and comfortable. Whether you are nature junkie or want to stay indoors, this is a good choice as it can survive any terrain. It has an adjustable locking handbrake for safety purposes.
PROS
It is durable.
It is good for both kids and adults.
Has an adjustable pad and brake handle.
It is easy to fold and transport.
Usable in both indoor and outdoor.
5. RINKMO Knee Scooter
RINKMO Knee Scooter is one of the most proven and trusted knee walkers in the industry. It is ideal for people with feet, ankles, calves, and knee injuries. Also, you can use it if you are recovering from surgery of the mentioned body parts. And the good thing is, it doesn't choose terrain. This is obviously backed up by the wheels designed to drive on all surfaces. It has a premium tire tie-rod steering that gives it the best stability ever.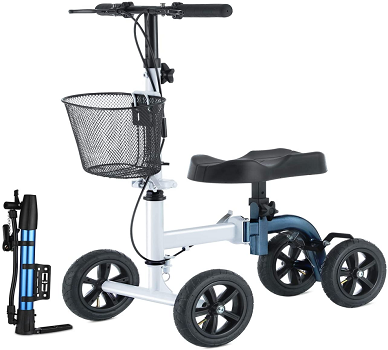 RINKMO Knee Scooter has both armrest and leg seat adjustable if you have foot injuries. You can adjust up to 8 levels of armrest and 6 of the leg seat. This enables it to fit in different heights ranging from 4.6" to 6.6". They have free baskets that you can use to carry your personal belongings.
The scooter also comes with a free pump. You don't have to spend an extra buck buying a pump unless you want it.
PROS
It is durable.
You can use it in all terrains
You use it for both kids and adults.
It is more stable.
It has an adjustable armrest and leg set.
CONS
Tires are not durable
Knee cushion made of hard material that cracks within a short period.
6. ELENKER Steerable Knee Walker
ELENKER Steerable Knee Walker scooter can help you recover easily. It is ideal for individuals recovering from injuries and surgery. So, if you have foot, ankle, or lower leg injuries, this scooter model is for you. ELENKER Steerable Knee Walker can also help if you are a knee amputee.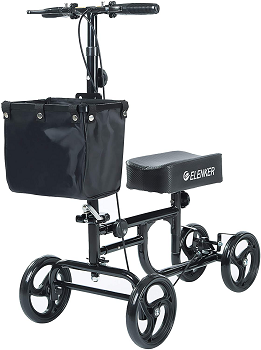 It is lightweight and durable. This offers a robust weight capacity that makes sure that you are comfortable and safe. It has handlebars with a quick-release folding mechanism. That's vital for easy transport and storage.
For easy mobility, the scooter comes with 4 PVC wheels. You can also use it both indoors and outdoors. The accompanying bag is enough to carry most of your personal stuff. However, it doesn't support heavy belongings.
PROS
It is lightweight.
It is durable.
You can use it both indoors and outdoors.
Easy to transport and store.
CONS
Brakes may not last for long.
It is not very stable compared to other models.
Knee Scooters Pros And Cons Best Knee Scooter
If you are already familiar with a knee scooter, you are aware that it has both its pros and drawbacks. Before buying it, it is important to know both its pros and cons before determining whether it is suitable for your needs. As a result, we have covered them for you.
Pros
It has health benefits: A knee scooter is an orthopedic device that helps you to recuperate after knee or leg surgery. Besides, it has a comfortable cushioned knee pad that helps you to rest your knee for a speedy recovery. Also, it gives room to elevate your knee, which helps to eliminate any accumulated fluid on your lower extremities for a speedy recovery.
It is comfortable: This device is super comfortable because it's made of big and tough wheels that make it easy to move around without strain. Also, its padded knee rest makes you feel all cozy when moving around. In addition, the knee rest are interchangeable, thus suitable to rest both your right and left knee comfortably.
It is safe to use: How? Knee scooters are near the ground in terms of height. This means high stability. Therefore, the chances of sliding and falling are so low. However low, its knee rest can be adjusted to your suitable height level for maximum comfort.
Suitable for indoor and outdoor use: Knee scooters are made of strong, big, and resilient wheels that can maneuver through indoor and outdoor environs without strain. The device is also stable and strong to move through rough terrains without damage.
It has extra accessories: For comfort, knee scooters have front baskets that are meant to hold your things and ride hands-free. They also have handles that enable you to push around with less hassle. Therefore, less body strength is needed when riding a knee scooter.
Easy storage: Do you have less storage space? Worry not because knee scooters are foldable to thinner sizes for easy storage. This also makes it easily portable.
Cons
Area restriction: Although tough to move in rough terrains, it's so unfortunate that knee scooters are area restricted as they cannot be used around stair cases.
They are pocket digging: knee scooters are expensive to acquire compared to crutches and walkers.
Knee scooters cannot be used if you have injured your both right and left knees/ legs. They are only meant to accommodate one injured knee.
Navigating tight corners can be hectic with knee scooters.
Features To Look At Before Buying Knee Scooters
Knee scooters are perfect and provide smooth movement when recovering from your injured knee or lower leg. However, with wide range of models available, getting the right one can be tricky. Below are factors that should guide you accordingly;
1. Your type of body
Basically, your body weight and height should greatly determine the right knee scooter to get. Although they have height adjustability, some scooters are ideal for children while others for adults. This is also a result of their weight difference. As an adult, get large models of scooters with high weight-bearing capacity. Steerable knee scooters are ideal for adults because they can hold 300 lbs of weight with an adjustable height of 2 feet.
For kids, consider models that are lower height based to avoid straining them. For instance; knee walker junior model.
2. Comfort
Whether a kid or an adult, comfort should be paramount when buying a knee scooter. For optimal comfort, it's advisable to get four wheels over three-wheeled knee scooters. 4 wheeled scooters are stable and easy to ride. Further, you can consider seated knee scooters that allow you to ride comfortably while seated. Also, consider scooters with a front basket to comfortably ride hand-free. Finally, ensure your model has steering. This makes it easy to navigate and control your scooter.
3. Portability
The key function of a knee scooter is to provide movement while still recuperating from an injury. Therefore, it's wise to select a model that is easy to carry everywhere you go. These are collapsible models that are foldable into thinner and light sizes for easier movement.
4. Type of wheels
Wheel scooter flexibility is greatly determined by their wheels. While different models of scooters have different types of wheels, rubber wheels are the most ideal. This is because they are versatile and ideal for both indoor and outdoor activities. These wheels are extremely grippy for better traction both on smooth floors and rough terrains.
Also, the wheel size matters a great deal. Although easy to ride, getting used to knee scooters are not as easy. It needs time. Therefore, small-wheeled scooters are challenging especially for beginners. That's why, bigger-sized wheels are better, smoother, and stable to consider.
What Is The Proper Way To Use A Knee Scooter?
Below is a step-by-step process on how to use a knee scooter correctly.
Set the size of your scooter: For optimal comfort, always size it properly. Firstly, measure the size of the entire scooter to avoid further injuries. After, adjust the height of your handlebars and knee rest according to your body size. To adjust the knee pad, follow these steps;

First, check out whether your model requires knee pad orientation. If it does, check the user manual and adjust it. If it doesn't, go to the next step below.
Off the mainframe, unlock your knee rest by loosening the adjustment knobs.
Measure the distance from your bent injured knee to the floor. To take the correct measurements, stand straight with your uninjured leg and bend the injured leg 90 degrees at the knee. Let someone help you measure its distance to the floor.
Remove the tightening pin and raise the knee pad to a height in correspondence with your bent knee.
When your knee pad is at the right positioning, insert back the locking pin and tighten the adjustment knob to hold the knee pad in place.
Set your brakes: After setting the right size, ensure that your brakes are okay before using your scooter. Confirm whether they are well locked. Locking your breaks provides stability and prevents the scooter to roll away. Note that different models of scooters have different ways of locking the breaks. To lock your brakes on swivelmate model, push your brake handles outwards.
Place your hands over the handlebars: When your scooter is now stable, using your better leg, stand beside the scooter. After, place your hands over the handlebars and hold on tightly.
Place your injured knee over the knee rest: While still holding on to the handles, raise your injured knee and mount it to the padded knee rest while your better leg is still on the ground. Ensure that your injured knee is resting on the pad at a right angle. Also, ensure that your hips are even. Recheck stability and get set to use your scooter.
Unlock the brakes: Before riding off, unlock the brakes. This is a simple task that entails pulling back your brakes handle.
Move forward: After unblocking the brakes, propel your body forward while your hands are still grubbing the handlebars. Note that you should not move as fast as you might tip over. Just start with a small stride and you will be good to go.
Control your speed and direction: While still on motion, control the speed of the scooter through the help of your hand brakes. You can also change direction by controlling the handlebars to your desired direction and the wheels will follow. However, this depends with your scooter's turning capability and the steepness of the corners. If the corners are too tight, a three-point-turn will be required.
Get off the scooter: This is the last step after reaching your destination. Here, you should slow down the scooter using the handbrakes. Next, stop moving the uninjured foot, lock the brakes and gently mount off the injured leg from the scooter. However, this should happen while your hands are still holding the handlebars. If need be, fold your scooter and store it.
Knee Scooter Safety Tips
Knee scooters are meant to speed up the healing process of an injured knee, lower leg or foot. However, that doesn't mean that they can't course further injuries. Therefore, to avoid further injuries, it's good to check out these safety tips.
Just like cars, you should avoid over speeding your scooter.
When stopping a ride or making a turn, always slow down your scooter using the brakes.
Make sure that your body is always balanced while on ride.
Avoid side destructions while on ride. If you need to look at the side or pick something, stop and park your scooter first.
Do not overload or put heavy stuffs on your scooter's front basket. It might course further injuries or tipping over.
Avoid leaning back or forward while riding your scooter.
FAQs
Can you use a knee scooter for a broken leg?
Yes. If you broke your leg, you can use a knee scooter to facilitate mobility. However, this is applicable only if you have broken the lower part of your leg. That is; below the knees and thighs.
How much weight can a knee scooter hold?
This entirely depends on the model of a scooter. Some models can hold as much as 400 lbs while others as little as 160 lbs. kids model does not hold much weight as they are designed to hold an average of 160 lbs. standard models have a maximum weight capacity of 350 lbs.
Can you sit on a knee scooter?
Yes. Just like a standing scooter, there exists a seated knee scooter. As the name implies, seated knee scooters allow you to ride while seated instead of standing upright.
Do knee scooters work on carpet?
Yes. Knee scooters are versatile and designed to work on all types of surfaces. This includes carpets. Therefore, knee scooters can comfortably work on carpets.
How do you go to the bathroom with a knee scooter?
To do this, mount on you scooter, using the steps described above, ride it from the couch to your bathroom. With the help of the breaks, stop the scooter just close to the lip of the shower tap. Lean back gently and sit on your shower chair. With the uninjured leg, move the scooter out of water reach. Have a shower, switch off the water, get your knee scooter nearer, mount on again and ride off from the bathroom.
How much is a medical knee scooter?
Medical Knee scooters have different price ranges depending on the model and brand. For instance, kneeRover Quad all-terrain metallic knee scooter costs 379$ on the Amazon site. However, the average cost of medical knee scooters is $175 to $450.
Will Medicare pay for a knee scooter after surgery?
No. although Medicare covers some medical equipment, it's unfortunate that knee scooters are not on that list. This is because it is regarded as a luxury device. Normally, they recommend crutches over knee scooters. However, I learned from different patients that this depends on your specific policy. Some expansive policy packages pay for it while others don't.
Where can I rent a knee scooter near me?
There are several places to rent a knee walker. You can even choose to rent it from a colleague, friend, or family member. However, RENT A KNEE WALKER is one of the cheapest, convenient, and easily accessible, and strategic places to rent a knee scooter. They have a wide variety of commodities to choose from. With Just 25$ a week, you can rent any model of a scooter from this place.
Final Recap
For speedy recovery, it's vital to get the right knee scooter for your injured leg/ knee. Follow our guide above and get your knee scooter of choice. You can as well select one from our list above. All the best as you recuperate!