Nursing as a profession comes with a lot of demands. Let's call a spade a spade, this profession is challenging because you are always on your toes. However, getting the right shoes is a lifesaver and comes with substantial benefits to your career. Proper shoes accommodate foot imbalances, save you from fatigue, discomfort, and other foot health problems like hammertoe, foot arthritis, and bunions among others. This is where comfortable white leather nursing shoes come into play. These shoes are the most ideal for nurses since they are comfortable, light on foot, and offer great support.
However, note that color doesn't play any role when it comes to comfort. Instead, its design does. Therefore, always consider the right design and fitting when buying leather shoes for nurses. In this guide, we will help you know how to pick the right leather shoes for nurses, why nurses prefer white shoes, and some of the best models of white leather shoes in the market. Follow us closely and heal your curiosity.
Why Do Nurses Wear White Shoes?
As much as color does not matter when it comes to effectiveness and comfort of the shoes, you will still find that most nurses wear white shoes. Ever wondered why? Here is why:
Nurses or medics are basically entitled to our bodies. They handle delicate drugs that are given to us for consumption. Also, they are among the team that conducts human body surgery in a theatre. Therefore, nurses should be clean and hygienic all through. As it's obvious, white color typically stands for cleanliness and neatness. That's why most nurses wear both white clothes and shoes.
What Is Considered A Nursing Shoe?
Discomfort is a common trait among nurses. Due to various attributes, nurses tire a lot in their line of duty. Nurses spend a lot of time standing or moving up and down. Therefore, uncomfortable shoes are their greatest enemies.
So, nursing shoes should always be comfortable. Nevertheless, not all comfortable shoes are ideal for nurses. So, what exactly is considered a nursing shoe?
A good question comes with a good answer. Below are traits and examples of perfect nursing shoes:
1. Nursing shoes should be light
Since nurses are always on the run, light shoes are not only comfortable but also easier to use. These types of shoes enhance mobility and flexibility for nurses. They also minimize exertion even if you work all day long.
2. Nursing shoes should have excellent arch support and grip
As you walk or run to attend to patients, your shoe should have excellent arch support to ensure your foot is comfortable and safe from shock. The shoe should also have an excellent grip to prevent slipping or falling.
Below are models of shoes that are specially considered as nursing shoes.
Slippers: They are light, easy to wear, and change to maintain sterility
Sneakers: They are stable, breathable, effective in shock absorption, high in traction to ensure you do not slip
Clogs: They are light, comfortable, and slip-resistant.
Best White Leather Nursing Shoes
1. New Balance Women's 577 V1 Lace-Up White Leather Nursing Shoes
As a nurse, your time at work is now simplified thanks to this shoe from new balance. The shoe exhibits a very innovative shock absorption feature. This is the modern ABZORB cushioning found around the heel area. The cushioning provides good stability as well as maximum absorption of impact. This ensures your legs are well protected from leg hazards such as ankle sprains.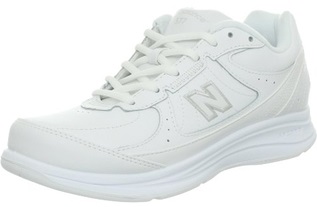 Besides that, they come with a cushioned polyurethane midsole. This gives you exceptional comfort all day long. More also, these shoes come with a very amicable closure. In fact, their hook and loop nature ensures that you have an easy time to wear and take them off. It also allows you to adjust the shoe on your leg in order for a perfect fit.
Durability is also greatly considered in the making of this shoe. It has a strong stylish leather upper that is very tough and durable. Their outsoles are also very tough and strong for great longevity. Another advantage is that they are versatile wear on any other occasion.
Special Features
They are very comfortable in nature.
They have a convenient closure that allows for adjustability.
Very versatile.
Quality materials hence lasting longer.
Available in white and other variety of colors.
2. Sketchers For Work White Leather Nursing Shoes Lace Up
Basically, this is one of the best shoes for nursing that allows you to hit your work place in style. They have an excellent appearance and versatile to complement all outfits.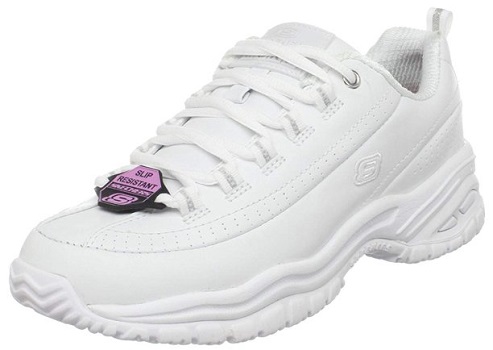 Apart from that, they come with an athletic cushion for additional comfort. They also feature a removable PU comfort insole. In the outsoles, it comprises of flexible leather with extra perforations on its sides. This gives your feet the room to breathe hence providing extra comfort all day long.
In addition, the shoe boasts of a thick slip resistant outsole. The outsole has deep treads for good traction. They are also thick for guaranteed durability. A 1.5 inch heel is employed on the sole for greater stability. It also has a padded tongue and collar for better comfort. Lastly, it comes with a lace up closure type which is very convenient on custom fit.
Special Features
Has a very versatile outlook.
Durable, quality materials.
Comfortable interior.
3. REEBOK Women's White Leather Nursing Shoes
Nothing makes your shift more tiresome than wearing uncomfortable shoe. However, if you are experiencing this challenge, the shoes above will blur that problem. In fact, the manufacturer clearly States that they are excellent for professional use. This makes them super reliable for nurses.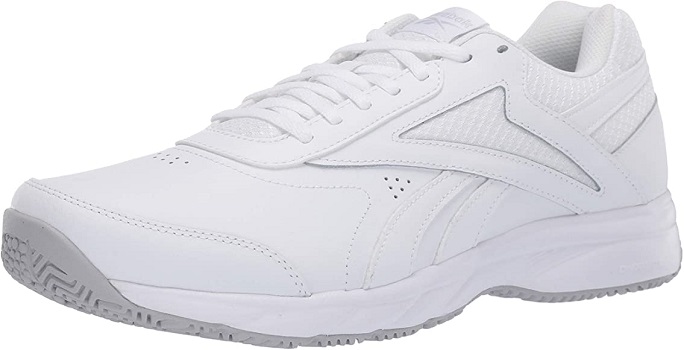 You will love the subtle synthetic leather upper of this pair of shoes. This exterior gives it a very attractive outlook and also improves its versatility. The material is also super breathable, giving your feet an easy time all through your long shifts.
Moreover, they come with a very durable outsole with deep treads for maximum traction. As a matter of fact, it is an oil-resistant rubber outsole hence keeping you very stable even across wet surfaces.
Also, it has a short heel on its outsole to enhance your walking stride. Just like most nursing shoes, it has a lace-up closure system to enhance perfect fit. A MemoryTech foam sock liner is on the inside to give users extra cushioning across every step.
Special Features
Exhibit a versatile outlook that goes well with most outfits.
They are very comfortable and breathable.
Made from quality materials thus durable.
They come with an oil-resistant outsole.
4. Fila Women Memory Workshift Slip Resistant Work Shoes
Although the shoes are bulky in appearance, their light nature will intrigue you. The shoe boasts of a durable leather uppers and synthetic overlays. Therefore, it gives nurses a very comfortable experience at work.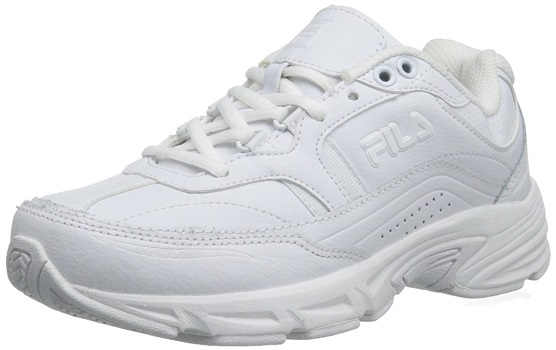 In addition, it has some perforations on the side to ensure maximum breathability to your feet. You can also adjust the shoe to get that perfect fit, as it comes with a lace-up closure system. Apart from its great adjustability, this shoe features a very stylish outlook that compliments almost all other outfits.
Also, its comfort is unquestionable as it comes with a memory sock liner and a midsole. The sock liner is very cardinal as it gives you an air-cushioned feel any time you make a step. With these shoes, slipping hazards won't be a threat to you. This is because they boast of solid rubber slip-resistant outsoles. These outsoles are well treaded for excellent traction, even when walking along soft surfaces.
Special Features
These shoes exhibit a very stylish exterior.
They are very versatile.
Have perforations on the sides for increased foot breathability.
They are very durable.
Boasts of a comfortable interior.
5. Sketchers Women's Work Relaxed Fit Sure Track Erath Slip Resistant Shoes
Getting this shoe for your nursing career is a great idea. The shoe is super reliable and rated under AH footwear. Basically, this means that has the ability to protect users against electrical hazards. In fact, it meets ASTM F24132011 EH requirements. It can also resist disruptive discharge to the ground under the potential of 18kV 60Jz AC for up to one minute.

In addition, it features a lace-up closure that helps you adjust to your perfect fit. On top of that, it has a well-serrated outsole hence highly recommended for use along soft surfaces. Also, they are exemplary light as they utilize ultra-light and high-grade materials in their making.
Their exterior design is also very attractive and versatile. The subtle outlook ensures it blends exceptionally well with most outfits. Nonetheless, it comes with a steel safety toe for additional protection. Therefore, if your work environment puts you at risk arising from sudden compressions, this is the ideal shoe for you. Not to forget, the midsole is well cushioned to give you maximum comfort across every stride.
Special Features
It comes with a steel safety toe for additional comfort.
It is very comfortable in nature.
Has a very attractive design.
It's very versatile.
It is fully tested and capable of protecting users against sudden electrical hazards.
Made from quality materials hence lasting longer.
It is a very light shoe.
It is super protective and guarantees safety.
6. Nurse Mates Women's Slingback
An extremely lightweight nature is one amazing feature you'll love about this shoe. As a nurse, this makes it very easy to run around and handle patients. The shoe features a super light EVA rapid bottom which promotes its comfort. A removable pillow top insole is also employed for optimal comfort.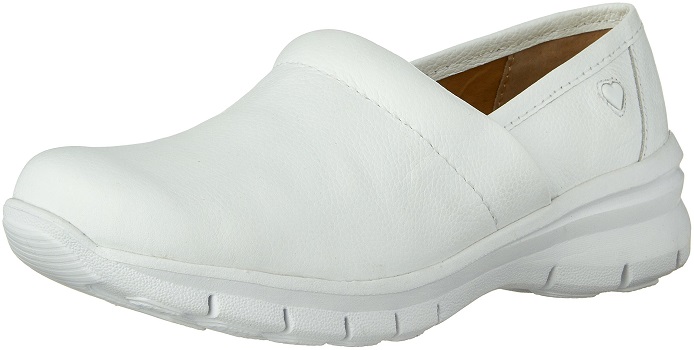 On the interior part of the shoe, there is a padded leather lining. This ensures your feet and toe breathe well, feels cools and fresh all day long. Its outsoles have deep serration, slip-resistant shoes with a 1.75inch heel that functions to give you better stability.
Besides, a pair goes for a cheap and affordable price on Amazon and other reliable sellers.
Special Features
They come with a slip-on style closure style.
They have stylish outlook.
Exhibit a versatile nature.
They are super light and comfortable.
Have a very good quality for the price.
Designed with quality leather for utmost durability.
7. Reebok Women's Classic Renaissance Sneaker
Here is another best leather shoe for nurses with both style and functionality in one piece. First off, this pair features a low-cut construction style around the ankle. This ensures that your feet have the liberty to move easily around your ankles. Additionally, it features an innovative sneaker design that brings out a stylish look on you.

This pair has the Reebok logo on one side to add on style. Since Rebook is a renowned brand if you happen to wear this shoe to work, be sure to receive a ton of compliments from colleagues. Nevertheless, this shoe comes with a Die-Cut EVA midsole that is well cushioned to add on comfort. It also features a Memory Tech Foam sock liner. This functions to give you additional comfort all day long.
It boasts of a flexible leather material that is very durable. This material is also breathable and super easy to clean. When it comes to the lower region of the shoe, it comes with a well-treaded outsole for superior traction. The outsole is also flexible and durable allowing you to use it for long before replacement.
You can grab a pair anytime you want as they are easily available at an affordable price. In fact, with only 45$ you can grab them from Amazon. Last but not the least; it features a lace-up closure system for comfortable fitting.
Special Features
It comes with a very stylish outlook.
They are quite affordable (goes for as little as 45$.
Exhibits very breathable uppers hence being very comfortable.
Very durable shoe since it's designed with quality materials.
Has a super versatile design that complements almost every other outfit.
8. Hawkell Women's Lightweight Comfort Slip Resistant Nursing Shoes
Do you have overextended shifts in the clinic? Are you tired of feet imbalances and discomfort? Why not try this amazing pair! As a nurse, cooling your toes off will definitely boost your work morale. As a result, we have closed our list with this reliable pair of shoes that is made of super breathable synthetic leather upper that eliminates discomfort and foot odor.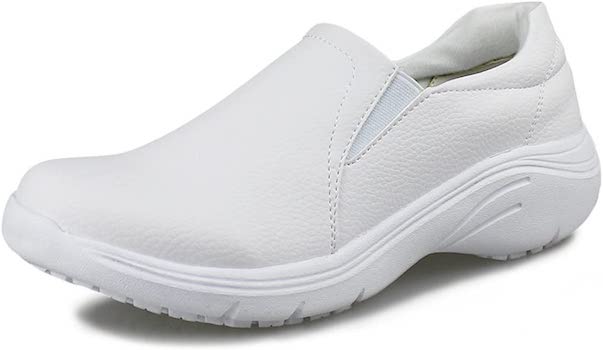 In addition, it exhibits subtle padding on the interior for optimal comfort. This makes your feet feel relaxed and at ease as you stride around. Its outsoles are very thick to ensure that they last for long before the need for replacement arises. Talk of its outsole; it is well serrated to provide stable traction across all surfaces. Therefore, when walking on a wet or rough surface, the shoe provides adequate stability. It's also durable and promising.
Besides, the shoes are very cheap hence affordable to every nurse out there. As a matter of fact, it will cost you nothing above 35$ to acquire a new pair. Just like most work shoes, it is versatile and also exhibits a very alluring and outlook.
Special Features
They are very stylish.
Boasts of a very comfortable interior.
They are very durable.
Very affordable to acquire.
They are very easy to clean.
Features To Look At Before Buying Leather Nursing Shoes
As a nurse, getting the right pair of shoes requires some keys consideration. Among many, your workplace environment and night shift duration should be key when selecting the right pair. Since there are plenty of models in the market, selecting the right pair can also be confusing. To make work easier, we came up with the following features that you should consider when buying your ideal pair. These features are;
Comfort: Comfort is the most essential feature to consider when buying the right leather shoes for nurses. Since your carrier involves a lot of locomotion, getting a comfortable shoe will not only ease your movement but also improve your work performance. A comfortable shoe means proper fitting. Avoid getting an oversized shoe as it will throw off the foot as u walk or run. On the other hand, don't get an undersized shoe as it will press and strain your toes hindering your movement. For optimal comfort, get a properly fitting shoe.
Breathing ability: Nothing irritates like sweaty and odor feet/ toes. To avoid these, consider well breathable shoes to make your feet feel cool and fresh. This makes your day as a nurse less hectic. However, this is greatly determined by your work place setup. I mean, breathable shoes are perfect for less risky environment. If you work in hazardous environments with harmful chemicals that might split, avoid shoes that may penetrate the chemicals to your feet.
Stainless: This is another critical feature to look at before buying leather shoes for nurses. Note that some leather materials are so hectic to clean. Remember, you should always have proper hygiene and professional appearance as a nurse. Therefore, consider stain resistance shoes that are easy to clean and maintain. Also, ensure your shoes are easy to dry off.
Slip resistance outsole: As a nurse, excellent traction and grip should be prudent when buying your ideal leather shoes. Shoes that allow quick turns without slip are perfect and safe for your career. Therefore, look out for grip resistance outsole as they reduce the chances of accidental grip or fall when running around. Some of these are rubberized soles.
Flexibility: We have mentioned countless times that being a nurse entails a lot of movements. Therefore, always ensure your shoe's outsole has decent flexibility for optimal support and comfort. Flexible shoes also help to reduce fatigue during your long work shifts.
Shock absorption: This is another great feature to consider when buying leather shoes for nurses. Perhaps you work on rough hard surfaces; your ideal pair of shoes should have an excellent shock absorption ability to reduce injuries or impact on your joints, toes, or feet. A shoe with excellent shock dispersion should be made of thick, quality outsole materials and other technologies like memory foam.
Durability: You don't want to spend all your fortunes on shoes, right? If so, then ensure your ideal shoe has strong and durable leather outsole materials. Such materials never lose its shape neither do they alter the mold of your shoe. Also, with such materials, comfort is guaranteed as they don't wear out easily.
Final Recap
Are you a nurse or nursing student looking for a pair of shoes? You know have broad ideas on the best models of shoes to get. You also have a number of features to guide you when buying one. Now, the ball is on your side. We are hopeful that you will follow our guidelines well and get exactly what you are looking for. Thanks for considering us for help. All the best!
Recommended Post: