Smartwatches aren't a new technology in our midst anymore. The features coming up on these gadgets are what is wowing the public. The latest of these features is the Electrocardiogram (ECG). This is a new technology geared towards helping people keep an eye on their heart status. It can be used to diagnose Atrial fibrillation (Afib), one of the major causes of stroke.
ECG first came into the limelight through the Apple watch. From there, other manufacturers adopted it and have become more common in wearables. Previously, the optical heart rate monitors were the common heart diagnostic feature. The emergency of ECG moved the heart analysis a notch higher. Heart rate monitors use a flashing LED to detect and analyze the blood flow. This is a less accurate method of diagnosing heart problems. The Electrocardiogram works more like the Electrocardiograph. Instead of measuring the blood flow, it measures the efficiency of your heart. So, you are more likely to get accurate results about your heart using ECG.
The ECG smartwatch are low-risk devices, and it is on those grounds that are easily approved by the FDA. All the manufacturer needs to show is that their product is like ones in the market. However, not all manufacturers have been so lucky to get the FDA clearance. Some are still struggling to get approval so that they can avail the EKG feature to their customers.
How Does A Smartwatch Measure ECG?
An ECG captures the tiny electrical signals generated by the heartbeat. This is what the wearables interpret as a trace to determine whether your heart has any abnormalities. There is a slight difference between the ECG technology in hospitals and the one included in the wearables. For instance, instead of using an electrode, it requires that you place your fingers on the watch's digital crown for a certain period. The electrical activity of your heart generates a red trace on the watch's screen. From there, the algorithm inside performs its analysis to determine the health status of your heart. The heart can be normal, also known as sinus rhythm, or abnormal.
The major difference between clinical ECG and that in smartwatches is accuracy. The hospital one is a 12 lead whereas the latter is a single lead. What this means is that the former is stronger. It is capable of capturing more readings about your heart. The single lead takes only one reading which means the results are less accurate.
Is Smart Watch ECG Accurate?
No. Smartwatch ECG uses a single lead system to determine the status of your heart. Its results are based on a single view of the heart, thus are less accurate. Unlike the 12-lead hospital ECG, it cannot be relied upon to detect all heart rhythms. For example, it cannot detect rhythms that occur during a heart attack.
Smartwatch ECG Vs. Clinical ECG
There are several differences between the smartwatch ECG and the clinical ECG. To start with, the clinical Electrocardiograms are more accurate than the smartwatch ECG. The reason is that the clinical ECG uses many leads whereas the latter uses a single lead.
The other difference is the use of electrodes on the hospital ECG. The ECG smartwatches use their digital crowns to collect the electrical rhythms from the fingers. Basically, the clinical tools are more complicated than the ones used on wearables.
Trained medical professionals can only use clinal ECG. Otherwise, you cannot interpret the electrical traces. On the other hand, anyone can use the smartwatch ECG. It is simple with a user-friendly interface and interprets the heart rhythm on its own. So, it's not a must to have a medical background to use it.
The clinical ECG diagnosis can detect many heart issues than smartwatch ECG. The ECG wearables designed for home use aren't yet intelligent enough to make some interpretations.
Best 6 FDA Approved ECG Smartwatch
Our list of the best FDA approved ECG smartwatch constitute the best models using both iOS and Android OS. Instead of fumbling with the many varieties in the market, you can limit your search here. We have incredible deals, some with incredible technologies. So, without further ado, let's get down to see what makes these ECG smartwatches.
1. AliveCor KardiaMobile 6L EKG – FDA Approved ECG Smartwatch
According to our research, AliveCor KardianMobile 6L is our best FDA Approved ECG Smartwatch. It is a Wireless ECG monitor designed to diagnose your heart for atrial fibrillation. The process can take between 30 to 60 seconds meaning it very fast.


One major advantage of AliveCor KardianMobile 6L is that you can mount it on your smartwatch. If you have a smartwatch without this feature, you can buy this portable monitor. Additionally, the device allows you to perform the test on your own and send it to a doctor via mail. You can also store the same without any extra cost.
Unlike other wearables that use a single lead, AliveCor KardianMobile uses a 6L ECG. Therefore, it carries out a more detailed analysis of your heart. You can as well subscribe to Kardian Premium for a human doctor assessment. In addition to Atrial fibrillation, this device can detect other heart problems. Good examples of detectable problems are tachycardia and bradycardia.
PROS
It is small in size thus highly portable
It uses 6 leads ECG monitoring
Can work with both Android and iOS devices
It boasts of a good battery life
You can subscribe for a human doctor ECG interpretation
Allows free sharing of results or saving
CONS
Not very convenient
You must pay for the premium features
2. Fitbit Sense Advanced Smartwatch – FDA Approved ECG Smartwatch
Fitbit is globally known for the manufacture of quality smartwatches. Before Fitbit sense came, the company hadn't included ECG technology in their devices. Their smartwatches only had features like fitness trackers. This is our second-best FDA-approved ECG smartwatch.

Fitbit Sense isn't as advanced as the previous monitor we discussed earlier on. To assess your heart condition, the Wireless ECG here takes about one minute. Its results are not very accurate. So, if you feel sick and the ECG report doesn't show any problems, then see a doctor. Besides the ECG feature, the Fitbit sense comes with many other tracking features. These include the heart rate monitor, skin temperature, oxygen saturation, and calorie tracking. All these features are important to help you keep a tab on your heart health.
You also benefit from the powerful battery that tags along. Without excessive use, the battery can power your smartwatch for up to six days. Even in the instances when the charge drains, you can recharge it very easily.
PROS
It comes with a powerful battery that can take up to 6 days
Has other awesome features like temperature, calorie and oxygen saturation monitors
It is compatible with the goggle Alexa
Has a built-in GPS for location tracking
Has storage space for storage
CONS
Doesn't have emergency functions
It is expensive
Doesn't have an LTE
3. Samsung Galaxy Watch Active 2 – FDA Approved ECG Smartwatch
Want to incorporate the benefits of an ECG smartwatch with fashion and class? This is a perfect choice. Samsung Galaxy Watch active 2 is a sleeky and lightweight Android device. It's approved for home use by people who want to track their heart rhythm.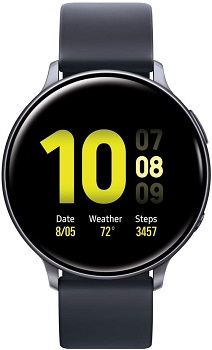 Galaxy Watch Active 2 and 3 have several similarities. They can both detect irregular heart rhythms, which could be a sign of heart problems. This could mean a potential stroke due to atrial fibrillation, cardiac arrest, among others. However, there is a possibility of an inaccurate diagnosis. So, it is important to confirm the results with a doctor.
Together with health tracking features, this FDA Approved ECG Smartwatch tracks a variety of physical activities. These include running, cycling, walking, and yoga. So, it is easy to keep a daily record of your body's behavior. In terms of battery life, Galaxy Watch Active 2 is excellent. Its battery can last for more than five days. And besides, it is very easy to boost the charge.
PROS
It has a classy design
Supports LTE/4G
It is waterproof when submerged up to 50M
Has a powerful battery
Designed to track various activities including cycling, walking and yoga
It is lightweight thus very portable
CONS
Very pricey
Not compatible with models that came before 2018
4. Samsung Galaxy Watch 3 – FDA Approved ECG Smartwatch
If you want an executive Android ECG smartwatch, you may want to have a look at this one. Everything about this smartwatch is incredibly great. You can monitor more than one aspect of your body. For example, it allows you to take ECG alongside blood pressure. The other aspects you can watch over include sleep, oxygen level, and stress levels.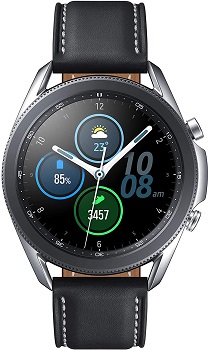 The fall detection feature is also another defining aspect of Samsung Galaxy Watch 3. These are collections of advanced sensors capable of detecting your hard fall and generating an SOS message to your emergency number. If you don't deactivate the fall alarm, it goes ahead to make an emergency call. All these sophisticated features seek to help users when in danger.
This FDA Approved ECG Smartwatch is a generic model with two versions; he 41 and 45MM. So, some capabilities will vary depending on which version you have. For example, the battery juice of the 45MM version is higher than the 41MM. But whichever version you have, the battery can go for more than five days. However, this is subject to usage.
PROS
Has a premium design with a rotating bezel
It is FDA approved
It also supports LTE/4G
The smartwatch is waterproof up to a certain depth
Easy to recharge using the wireless share feature
Has powerful health monitoring features
Has two versions so you can choose your best
CONS
Characterized by poor battery life
It is pricey
5. New Apple Watch Series 6
If you want to enjoy the powerful features of Apple ECG smartwatches, Apple Watch Series 6 is your watch. Moreover, you are able to track your heart health status. Using this smartwatch, you can detect atrial fibrillation and other irregular heart rhythms. With it, you can activate the irregular rhythm notifications in case of any in the Apple Health App.

Its use is also straightforward. To make an ECG recording, all you need to do is sit in a calm environment. Then place your finger on the digital crown for 30 seconds. After that, you can share your record with your doctor for free.
Blood oxygen monitoring is the definitive feature of this FDA Approved ECG Smartwatch. Using advanced sensors, it is able to accurately monitor blood oxygen levels. Therefore, the combination of blood monitoring and ECG guarantees you more information. Generally, Apple Watch Series 6 is a full package to keep your health in check. Besides the above functions, it will also track your indoor and outdoor activities. These include things like running and swimming.
PROS
Features blood oxygen level monitoring. Note that this is the only Apple watch with that feature.
You can make calls and text even without your smartphone nearby
Features emergency SOS functionality
In case of a hard fall, it automatically calls an emergency number
Has a built-in GPS
It has music storage
CONS
It doesn't work with Android
It is pricey
6. Apple Watch Series 5
Apple Watch Series 5 brings you a ton of features to check and monitor your health. You can use it to monitor the heart rate, sleep, calorie, and of course ECG. Having been approved by the FDA, everyone has a green light to use the ECG feature. Its use is also a breeze. You get your results within 30 seconds. The electrical and optical sensors in this smartwatch accurately detect abnormal heart rhythms.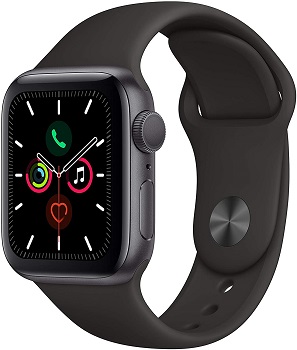 You can make use of the inbuilt compass for direction. Being swim-proof, this smartwatch can serve you for years. If properly used, it can perform an elaborate body assessment.
Like all other Apple Smartwatches, Apple Watch Series 5 also has hard fall detection. If you don't respond within one minute after a hard fall, the watch will make an emergency call with your location. It is one of the major lives saving features of Apple watches.
Its battery life depends on how you use it. With normal usage, the battery can take more than 18 hours. Note that this might change if you use GPS, Music, and other heavy apps.
PROS
It has a premium look
You can take instant ECG readings
You can also share your records with the doctor for further assistance
Has electrical and optical sensors
Its architecture includes build-in GPS and heart sensor
Has a fall detection feature
CONS
It is not compatible with android devices
Doesn't have an oxygen level monitoring
Features to Look Before Buying ECG Smartwatch
Battery life: The battery power of your ECG smartwatch is significant. The more powerful your battery is, the more results you'll get. For example, you can monitor several aspects without having to recharge. Sometimes you may also be far from a recharge point. Constant recharging also leads to unnecessary inconveniences.
The number of features: The greater number of features your smartwatch has the better. A combination of ECG with other features gives you more details about your health status. For example, some ECG smartwatches track other body behaviors like blood flow, oxygen levels, and calories. Such information helps to keep you more informed about your body healthy.
Other than health features, some features contribute to the overall wellbeing of the user. The SOS function included in some ECG watches helps to ensure that the user is always safe. In case of a hard fall, it automatically dials the emergency number with your location.
Cost: In most cases, the budget dictates the quality of any item you want to buy. Smartwatches are not as cheap, and you can get them in all brackets, from a hundred dollars to thousands. So, it's upon you to decide what kind of smartwatch you want according to your needs.
Brand: There are several smartwatch brands in the market today. You need to conduct your due diligence before you can settle on one. To better understand a brand, user reviews can be of help. Read everything about a specific brand, good and bad. Compare what's more between the negative and positive reviews. The rule of thumb is that you should go for the brand with many positive reviews.
Compatibility: There are two major technologies supporting smartwatches-the Apple and Android. Some features require connection to a smartphone for them to work. And for that reason, the two devices must be compatible. There are a few smartwatches capable of supporting both Android and iOS devices. So, before you buy a certain ECG smartwatch, ensure that it is compatible with your devices.
Closing Thoughts
If you are health conscious and want to keep a tab on your healthy, FDA approved ECG smartwatch can help you. We have presented a list of the best smartwatches from which you can pick one for yourself. Each of these products is unique in its own way. Some have superior features and other basic ones. Thus, the decision on which app to use lies with you.
In the recent past, heart complications and stroke have become one of the leading causes of death across the globe. To avoid being a statistic, it is worth doing all you can to keep your heart healthy. One of the ways you can do this ensure that you know the status of your heart. And that is what the ECG wearables offer you.