If you are a fungal nail sufferer, we know that it is really difficult to manage your daily works in front of others. Nail fungus is a very common infection that occurs frequently and changes the color and thickness of nails. Certain medications can solve this situation and among them the most effective solution is Kerasal.
Luckily, this affordable home nail treatment is discovered which reduces discolor and hydrates your nail. This is the ultimate nail repair solution that can help with a damaged nail. It is clinically proven that Kerasal improves nail damaged conditions such as toenail fungus. Though this treatment doesn't cure the nail fungus completely, its active formula can heal and restore your nail to a good presentable appearance. Kerasal is a formulated topical nail product that contains few active ingredients. Kerasal improves the nail condition by reducing nail fungus very fast. With the help of keratolytic properties of urea and lactic acid, it can deeply penetrate nails.
If you are battling with nail fungus then you are reading the right and helpful article. We are going to discuss the patented formula of Kerasal Fungal Nail Renewal, its benefits, and how it works.
What are the Causes of Nail Fall?
Your nail can separate or fall off for several reasons like injury, nail fungus, sudden hit, infection, and many more. The worst thing is you have to wait for a long time for a new nail. Though the odds of the nails are common in most cases, sometimes it is threatening to connective tissue disorder (hyperthyroidism). Nail fungus starts from a spot beneath and spreads quickly and can damages your nail completely.
The most common symptom is cracked, yellow, pale, and spotted nails. In most cases, people need medical attention to ensure the proper growth of their toenails. Getting new nails takes too long and usually, it takes more than six months to come to the perfect shape. Don't overlook the issue for too long time if your nail has fallen off. You must start treating immediately otherwise it can lead to a severe infection. Sometimes we deny treating noticeable thicker yellowish, dry, and brittle nails. Untreated damaged nails suddenly fall off. Diabetics and poor circulation is also a common reason of nail fall.
Does Kerasal Fungal Nail Renewal Work?
Though nail fungus treatment is rare and complex, the most common treatment of nail fungus is Kerasal. It is specially formulated to improve the damaged nails. People follow some effective home remedies like tree oil, baking soda, salt, apple cider vinegar but unfortunately, those are not as effective as Kerasal. A recent study shows that 90% of people find visible results after using Kerasal. It can effectively treat your nail without any severe side effects.
This topical, clear and odorless liquid formula fight with nail fungus deeply and improve the condition quickly. For the restoration of healthy nails, Kerasal works like magic because of its formulation. The ingredients including sodium hydroxide, glycerin, lactic acid, and disodium EDTA are highly active in Kerasal. For the highly effective formulation, Kerasal can inhibit the growth of fungus. Sometimes it can take longer to recover but keep patience for the full recovery. For active lactic acid can help the intensive damage.
How Does Kerasal Fungal Nail Renewal Work?
The Kerasal Fungal Nail Renewal is a topical nail product generally known to restore the damaged nails affected by fungal infections. The clinically proven ingredients of Kerasal Fungal Nail Renewal are usually formulated as a deep penetrating solution. The chemical formulation of propylene glycol and lactic acid reacts with urea to penetrate deeply into the nail plate. Then this combination kills the fungus and improves the appearance of damaged nails. The formula hydrates and exfoliates the damaged area and helps to loosen and soften the damaged layer of your nails. Its breathable solution provides visible results by going deep into the damaged area to improve the thickness and color. Applying this formula for two days helps to show the results like revealing healthier nails.
Kerasal Fungal Nail Renewal Features
To treat nail fungus or other fungal infections you may rely on Kerasal fungal nail renewal. This topical cream is recommended by many dermatologists around the world. To get effective treatment consider this cream that kills the fungus with active ingredients including lactic acids. For the best result apply it regularly on dry and clean nails. Those ingredients combine to prevent fungus from spreading. It improves the appearance of the damaged nails by a fungal infection. The keratolytic properties of urea along with lactic acid penetrate nails. It also reduces discoloration and thickness gradually. It hydrates as well as exfoliates so your brittle nail can live again. You will notice a big difference after two days. Before use, you should clean your nail. You must use it once a day and continue the application around 2 to 8 weeks.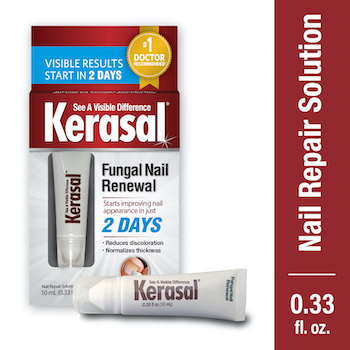 Features
0.33 Fluid ounce package
Urea
Glycerin
Lactic acid
Sodium hydroxide
Propylene glycol
Disodium EDTA
Water
Non-prescription brand
The clinically proven visible result
Benefits of Kerasal Fungal Nail Renewal
Kerasal Fungal Nail Renewal has numerous positive effects on damaged nails. As it helps to restore the nail in good appearance, people use it considering the benefits.
Highly active ingredients: The ingredients used in the Kerasal Fungal Nail Renewal are formulated so specifically to work faster and restore the damaged nails within a couple of weeks. These hydrating and exfoliating ingredients are called magical components. The ingredients are propylene glycol, lactic acid, and urea.
Odorless: The cream comes odorless so that you can apply without hesitation of any smells. They don't use any preservatives as well.
Easy to Apply: The tube is designed to help apply the solution to the exact and specific area precisely. Since the source of the damaged nail is usually found small, the tube has the silicone tip applier so that the cream reaches the area. You can apply the cream yourself easily.
Tested and Approved: Kerasal Fungal nail Removal comes in the market after a strict trial run by the manufacturer. A recent study says that 90% of the fungal nail sufferers got the restored nail after using it for two months. Most of the doctors recommend Kerasal Fungal Nail Removal for its effectiveness and fewer side effects. Even the American Podiatric medical association approved this cream as a seal of approval.
See More: Does Kerasal Intensive Foot Repair Work For Cracked Heels and Dry Feet?
Side Effects Of Kerasal Fungal Nail Renewal
In most cases, Kerasal has no side effects or there is not that much report about any extreme side effects. You may feel a warm sensation while applying Kerasal Fungal Nail Renewal to the damaged area but it could be mild. Most people can easily overcome it as the warming sensation is mild. But if you feel bad then apply the cream as a thinner layer. Remember that the intensity of your application should vary with your sensational level. If you don't bother then apply as per instructions. If it feels odd then reduce the amount and frequency of your application.
Frequently Asked Questions
Does Kerasal cure nail fungus?
No, Kerasal doesn't cure nail fungus or other fungus conditions and infections. It is a simple home solution that is easy to apply like other topical creams. It helps to reduce nail damage, discoloration, thickness, and brittle condition. Usually, fungal nail treatment needs medical attention including prescription treatment to cure damaged nails completely. To cure properly you should take topical nail fungus prescribed treatment.
Does Kerasal penetrate nails?
Without a doubt, Kerasal penetrates nails. It is already testified that the active ingredients on Kerasal are effective to penetrate nails. Besides penetration, it will improve the thickness and provides more hydration, and heal your nail properly. It brings surprising changes between few days.
Does Kerasal make your nail fall off?
It is a common case that Kerasal makes your nail fall off. You don't need to worry while your nail falls off and the good thing is your new nail will grow. It is a great product to reduce the problem associated with fungus. If there is severe nail damaged then it is quite possible to nail fall off. After falling off it takes few weeks to regrow healthy nails. You will get radiant and healthy nails soon without any side effects.
Can I use nail polish while using Kerasal® Fungal Nail Renewal™?
Fungal nail sufferers tend to apply nail polish to hide pail and yellow nails. But many times we are confused when we use Kerasal along with nail polish. Surprisingly you can use both nail polish and Kerasal nail renewal. You should follow a process. First, you have to remove nail polish and then apply Kerasal. Once your Kerasal cream dries then you can apply nail polish again.
How long does it takes before I see improvement with Kerasal® Fungal Nail Renewal™?
Fortunately, maximum users get visible results within two weeks. Recovery time depends on the severity of your recent fungal condition. If it is severe then it will take more time than regular. To achieve your target level you should continue 3 to 6 months of application this fungal nail renewal. Studies show that 90% of users get satisfactory results within 2 to 8 weeks.
Where can I purchase Kerasal® Fungal Nail Renewal™?
Kerasal is the most famous topical nail product that you can buy from various online markets. But the most trusted source is Amazon where you find multiple Kerasal products. There are thousands of amazon customer reviewed this product. For healthy-looking nails, people trust it rather than other products. Take a cue from customer reviews and do shopping from amazon to get the best one.
Final Verdict
It is clinically proven that Kerasal Fungal Nail Renewal is effective for around 92% of users. You will see a noticeable difference in two weeks. One of the main ingredients is urea that softens nails and another active ingredient is lactic acid that reduces fungus. Dermatologists recommend this product because it can be highly beneficial for any type of common nail fungus condition.
Especially athletes and gym-oriented people always look for a great solution to heal unhealthy nails. For the unique blend of ingredients, Kerasal prevents fungus and helps to penetrate underneath the nail bed. This product is recommended by doctors, dermatologists, and beauty experts. Besides nail treatment, Kerasal as well as ensures your nail look great and encouraging new nails. Say goodbye to your untreated yellow-spotted nail by Kerasal. It is never too late to start your pampering!