Earlier on, lifestyle diseases such as high blood pressure were countable. However, as we speak, the number of people suffering from high blood pressure is rising. Statistically, high blood pressure has affected more than 45% of the USA population alone. Therefore, there is a need to be concerned about this lifestyle modification as it can check well. Ideally, it should be identified at its earliest stage and then be managed effectively to avert risks of getting a heart attack or even stroke. Fortunately, devices such as a smartwatch can help you monitor your blood pressure even from the comfort of your home. This article will outline some of the best smartwatches that you can consider so that you can monitor your blood pressure from time to time.
How Does Blood Pressure Smartwatch Work
When it comes to measuring blood pressure, the smartwatch basically uses two types of technology. For instance, the Omron Smartwatch normally uses its straps as a B.P cuff. If you check your blood pressure using this smartwatch, the cuff usually inflates to measure your blood pressure.
On the other hand, smartwatches such as those possible by Samsung use advanced sensors to measure blood pressure. They use Pulse Transit Time to measure your blood pressure using two sets of sensors. These are:
Electrocardiogram (ECG)
Optical Heart Rate(PPG Technology)
Using the above-mentioned sensors, this watch usually calculates Pulse Transit Time, which is essentially the time it takes for a pulse to travel from the heart to the wrist. You will note that pulse normally travels faster if the blood pressure is higher and is consequently slower if the blood pressure is lower.
To obtain the exact blood pressure value, a calibration with a validated blood pressure monitor is needed. Remember that transit time and its corresponding blood pressure value are quite different from one individual to another. Therefore, as mentioned above, there will be a need for calibration to ensure that blood pressure measurements are more accurate.
You will note that blood pressure measurements start when you place your finger on the ECG sensor. Thereafter, a one-lead ECG signal will start recording and each R-peak large spike on the ECG normally signals a contraction of the heart. Technically, this is when a pulse leaves the heart.
Once the pulse leaves the heart, it travels down the arm where it meets the PPG sensor on the backside of the watch. This, in turn, creates a pulse wave in the PPG waveform. Remember that Pulse Transit Time is normally measured as the time between the R-peak of the ECG and the pulse wave of the PPG waveform, which in essence, is the period that the pulse took to travel from the heart to the wrist. Although smartwatches might be different in the way they work, the good news is that all these devices will enable you to get an accurate reading of your blood pressure.
How Accurate Are Smartwatches For Blood Pressure?
First, the accuracy of the smartwatches will be affected by how it is used. If you use it as directed, you can be sure that you will get accurate measurements. Since wrist blood pressure monitors are susceptible to the body, your arm and wrist should be at the heart level.
Remember that the pressure measurement taken at the wrist; will be slightly higher and less accurate than if you took them at your upper arm. This is usually the case because wrist arteries are usually narrower than and not as deep under your skin as those of the upper arm.
However, if you have a large upper arm, measuring blood pressure at that point might be painful. If this is the case, measuring blood pressure at the wrist is acceptable. Since smartwatches for blood pressure might give varied results, it is important that you take your results to the doctor for comparison purposes.
The good news is that the doctor has a standard upper arm monitor and wristwatches that will enable you to get accurate measurements as far as your blood pressure is concerned. For optimal results, always use a validated device.
Benefits of Blood Pressure Smartwatches
There are many advantages of investing in a blood pressure smartwatch. Earlier on, most people used to visit their nearest doctor in order to determine their blood pressure measurements. Although this was practical back then, most people used to get inconvenienced as you had to incur logistical costs such as travel costs and so on.
Also, you would not have your blood pressure measured the moment you please. You had to book an appointment and so on. Nowadays, you can buy a blood pressure watch and take blood pressure measurements from your home or workplace's comfort. The following are some of the advantages of investing in these devices:
It is portable and more convenient
We all like convenience. By buying a blood pressure watch, you will not have to book an appointment with your doctor every now and then. Here, you will be able to take your blood pressure details anytime you, please. This goes a long way in enabling you to enjoy more convenience.
Besides convenience, these devices are very portable. You can carry them to your workplace, your next vacation destination, and so on. All this has eliminated the hassle of having to visit your doctor every now and then in order to measure your blood pressure.
They can record and store your blood pressure data
These devices not only measure your blood pressure but can also help record and store your blood pressure data. This way, you will be able to review these measurements with your doctor so that you can take appropriate action.
Routine taking blood pressure measurements
By buying this device, you will be able to normalize the habit of taking your blood pressure measurements from time to time. Here, you will know if your blood pressure is too high, too low, or just within the normal range. This way, you will be able to eliminate future problems which might result as a result of having high blood pressure and so on.
Enables you to know how your lifestyle affects your BP
By taking blood pressure measurements from time to time, you will be able to know how your lifestyle affects your blood pressure. Generally, you will be in charge of your overall health as you will be able to monitor changes in your blood pressure with regard to your lifestyle. This has actually worked well for many people out there.
8 Best Smartwatch For Blood Pressure
1. Samsung Galaxy Watch Active 2
Basically, the Samsung Galaxy Watch active 2 design helps its users have the best fitness experience possible. The watch is designed to keep you in check wherever you go. Whether you are going to the gym or the pool, you can take your watch with you. This is so since the latter employs very subtle engineering in its making to be functional across all environmental conditions.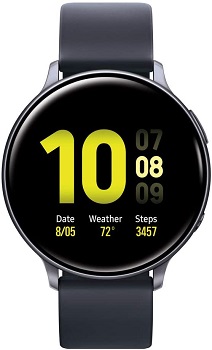 Moreover, it features a built-in pace coaching that readily helps you to access your fitness goals. Advanced sensors are also inscribed on it to help you maintain your pace and also better your running goals.
This watch's functionality doesn't end there. It features a sleep tracker that not only monitors your sleep but also offers you great insights on how to improve your sleep. Plus, it helps in monitoring the user's stress level. On top of that, this device blends together both style and functionality as it features a very fashionable outlook. Moreover, the watch is available in two versions based on its making, there is the aluminum version and the stainless steel version. Albeit this watch helps in improving various health issues, the manufacturer strictly stipulates that it cannot be used in the diagnosis of a disease or other conditions. With only a single charge, this device can keep you going for up to five days. Besides that, your heart rate will always be under scrutiny and in case your heart rate changes the watch will alert you immediately.
PROS
Has a good battery life.
It comes with a sleep monitor.
Has a lovely exterior design.
It is very versatile working with both iphone and android phones.
2. Samsung Galaxy Watch 3
It is very limpid that humans become more prone to lifestyle diseases as they advance in years. However, getting an advanced watch just like this latter will help you monitor all these health issues. First of all, this watch comes with a built-in blood pressure monitor that keeps updated when it comes to hypertension concerns Moreover, this blood pressure monitor keeps you fully alerted in the event your blood rate deviates. To blot further on that, the latter is able to gauge your blood pressure rate through an app dubbed My B.P Lab 2.0. But, to achieve this, you need to ensure that you have installed this app on both your smartwatch as well as your smartphone too. It also monitors other things like your heart rate and body temperature which are key factors when it comes to detecting lifestyle diseases.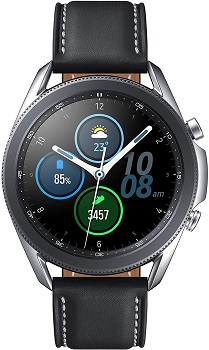 Both functionality and style are also employed on the latter as it has a very sleek modern design. Actually, users all over the world say that this smartwatch feels very comfortable and light on your hand. Pairing this device with gadgets is very easy as it is supported on both android and IOS.. Besides that, it has passed military specification testing against more than five conditions. They include dust, shock, high pressure, extreme, and temperature, and water resistance up to 50 meters deep.
With this device, it's like you simply have your phone on your hands. This is so since it exhibits an integrated Bixby voice functionality which enables it to read texts and even make calls. When fully charged, this smartwatch will keep you going for a whole day and in case you run out of charge you can charge it wirelessly.
PROS
It comes with a voice control feature.
It has a tough military approved exterior design.
Exhibits heart rate monitoring
It works with both android and iPhone.
CONS
It is expensive to acquire.
3. Peakfun Blood Pressure Monitor Smartwatch
This is yet another very advanced smartwatch that will help you monitor a wide range of things regarding your body. Irrespective of fitness or health matters, this gadget has got you covered. Just like the previous smartwatch, this one too comes with a blood pressure monitor. Therefore, your blood flow rate is always monitored, and in case it changes, the watch notifies you immediately. A heart rate monitor is also in place to ensure that you can know your heart rate at any time, provided you have the watch on. You will have limitless fun with the latter as it features a military-grade design that gives it the ability to withstand tough conditions.

If you have issues with your sleep, this device will help you ameliorate that through its built-in sleep monitor. Also, it comes with up to eight sports modes thus being a very suitable watch for people who love working out. A 200 mAh battery is inscribed on the latter giving it a very long battery life. As a matter of fact, this device can be used for up to seven days when fully charged and it also allows for a 14 days standby time. Both calls and messages can be accessed through the smartwatch too.
PROS
Very effective for fitness.
It comes with a blood pressure monitor.
It has an excellent battery life.
Has a tough exterior design
It is compatible with both android and iOS devices.
CONS
Not everyone can afford it since its costly.
4. FITVII Blood Pressure Monitor Smartwatch
If affordability is what you are in pursuit of in a smartwatch for blood pressure, kindly let me introduce the latter to you. This device features a long-lasting TPU strap that doesn't tear easily. Booting further on that, it is equipped with a crystal clear anti-scratch screen, hence serving you for a lifetime without any need for a replacement. A powerful battery inscribed on it always ensures that the watch is always on your service. To be more precise, this device can serve you for up to seven days before needing to get recharged again. Moreover, it requires only two hours for its battery to get fully charged.

In addition, the watch is inscribed with a heart rate and blood pressure monitor. Even though smartwatches come with tiny screens, that won't be a problem for you as it exhibits 11-level brightness which makes the contents on the screen very defined and legible. Unlike other brands, this smartwatch is available in a variety of colors. Thus, complementing any type of outfit you have on. To spice up things further, the smartwatch is IP68 waterproof, meaning you can take a jog with it even on a rainy day. Nevertheless, it has other interesting features like a sleep monitor, menstrual reminder, sedentary reminder, etc.
PROS
Exhibits an excellent battery life.
It comes with a blood pressure monitor.
It is a very durable watch.
Waterproof.
It is available in a variety of colors
It is not expensive.
CONS
Claims have it that this watch is not very durable.
5. Heart Guide Wearable Blood Pressure Monitor Smartwatch
In a more direct format, the above wristwatch is a simple medical-grade blood pressure monitor disguised as a wristwatch. To record your blood pressure, just place the latter over your heart, and in 30 seconds your results will be out. In addition to that, it works hand in hand with its mother app known as HeartAdvisor to help manage your blood pressure. It also boasts of an inbuilt sleep monitor, which abets you in monitoring as well as improve your sleeping habits. The watch can also be used to set daily reminders, calls, texts, and even emails. Apart from that, you can use a device when it comes to working out. This is so since the smartwatch analyzes all your daily activities as well as reminds you of the specific goals you have set.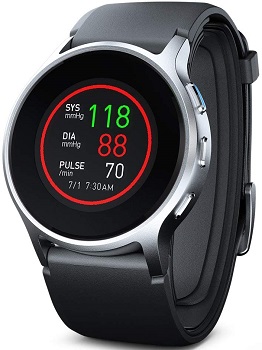 Also, it exhibits a good battery life ensuring that it is always at your service whenever you need it. On the downside, this device lacks a military-grade exterior design, and therefore, its functionality might be comprised when exposed to tough environmental conditions.
PROS
It comes with a blood pressure monitor.
Quite easy to use.
It is not expensive to acquire.
Great battery life.
CONS
It is not available in a variety of colors.
6. Halfsun Fitness Tracker
Built with a 1.3 inch IPS HD full-color screen, the above smartwatch ensures that all its users get nothing short of high-definition images. In addition to that, this device comes with an updated blood pressure monitor, which is always on standby to establish your current blood rate whenever the need arises. A Sleep monitor for analyzing your sleeping patterns is also included. If you love working out, this watch will do you a lot of justice thanks to its numerous sports modes. You can record all your daily activities, including the number of steps, calories burned, and even the distance covered. Plus, you can connect your smartwatch to the GPS of your phone whenever you need to. Hence, it makes an excellent fitness guide.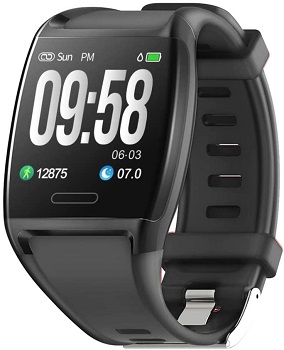 When it comes to its design, the latter boasts of very comfortable and durable materials that don't get damaged easily. As if not enough, this smartwatch allows for heart rate automatic monitoring which is very cardinal especially for people with underlying conditions like hypertension and even pregnant women.
Further, you can wear it to the shower or even to the swimming pool without any worries. However, you should ensure that the V2 doesn't come into contact with hot water. For calls, texts, and reminders, you just need to connect your smartwatch with your smartphone and you'll be good to go. When connecting both devices, you should do it via the App "H band" and not via Bluetooth.
PROS
Great quality for price.
It comes with a blood pressure monitor.
It is waterproof.
Available in a variety of colors.
CONS
People say it's quite big on arms
7. DoSmarter Fitness Watch
DoSmarter is another very effective wristwatch when it comes to blood pressure monitoring. First off, a smart heart rate monitor and a blood pressure monitor are employed on the latter to ensure that you can track your heart rate at any given time. The heart rate monitor brings in more convenience especially when one is working out. This is through ensuring that they can clearly track how their heart rate changes over time.

In addition, it has a sleep monitor which is very essential when it comes to monitoring your sleeping habits. Through it, you can get to improve your sleeping habits as well. Its long battery life ensures that it records all your daily activities without any sort of power deficiency. As a matter of fact, this watch takes between five to seven days to completely exhaust its power when fully charged.
More to that, the watch is completely waterproof, and once connected with your smartphone, this device lets you receive all the notifications from WhatsApp messages to emails, etc. On the upside, the above device readily pairs with all smartphones regardless of whether they are android or iOS operated.
PROS
It is compatible with both android and iOS devices.
It has up to ten different sports mode.
Great quality for price.
It is waterproof.
CONS
Most people say that it gets spoilt quite easily.
8. 2021 Version Fitness Tracker
With top five star ratings, this smartwatch will definitely impress you with its breathtaking features. Unlike most watches of its caliber, this one comes with a large 1.14 IPS screen that ensures nothing but great quality images. In addition to that, research shows that a screen of that size is 60% bigger than the common 0.96″ screen. Besides that, it features the latest Bluetooth technology (Bluetooth 5.0). Hence, it has super stable wireless connectivity ability.

You can hit the gym with your watch as it boasts of up to six works outmodes. Furthermore, it comes with a skin and body temperature monitor. Plus, it comes with three different ways of monitoring your heart rate. This is achieved through its always-on standby heart sensors. A sedentary reminder is employed as well; the V19, that frequently vibrates to remind you of your activities. Nevertheless, whenever you sleep with this device, it automatically records the times of your deep and light stages of sleep. You can also wear your watch to the pool or the shower as it is an IP68 waterproof watch.
PROS
It is a water proof smart watch.
It has very advanced Bluetooth technology
Very easy to use.
It is not very expensive to acquire.
CONS
It does not have numerous sport modes.
Key Features to Look Before Buying Smartwatch for Blood Pressure
When buying a smartwatch for blood pressure, the chances are that you might come across a myriad of them out there. With so many brands out there in the market, the chances of being spoilt for choice are very high. Unless you are well informed about these devices, you might buy a smartwatch that might not meet your needs wholesomely. Since these devices come with different features, you need to know the exact features you should pay attention to get the value for your hard-earned money. These include:
1. Compatibility
One of those critical factors that you should consider is how compatible your smartwatch is with your smartphone. Ideally, they should be compatible. This way, you will enjoy a lot of conveniences as you will be able to enjoy seamless operations whenever you are taking blood pressure measurements.
In most cases, most of these devices are compatible with Ios and Android operating systems. You can also pair them through the Bluetooth feature of your phone and you will be good to go. The more devices your smartwatch can pair with, the better.
2. Interface
Besides compatibility, you should be keen to check the interface of the smartwatch. Ideally, it should come with a user-friendly interface so that you can have an easy time utilizing it. Whether you choose a touch-operated device or opt to take a battery-operated device, the choice is solely yours. More importantly, choose a device that will be easy to operate. It should meet your needs and preferences.
3. Display
Your smartwatch of choice should come with a color LCD screen or AMOLED display. Such displays are known to allow HD view. In addition, this feature makes the smartwatch more appealing.
4. Notifications
Does the smartwatch send notifications related to call and SMS? Well, a good one should be able to send you these notifications for convenience purposes. This way, you will not have to keep on checking your phone for these notifications. In fact, you will have an easy time answering important calls in a hands-free manner.
5. Battery life
There are certain smartwatches that drain their battery fast moments after they are fully charged. Such smartwatches can be inconvenient as you have to charge them now and then. To be on the safe side, your smartwatch of choice should have an impressive battery lifespan. The longer the batter can last while the smartphone is used, the better.
6. Is it comfortable to wear?
The smartwatch you prefer to buy should be comfortable to wear. Although these watches come in different sizes and designs, you should choose one that is less bulky and more comfortable to wear. After all, you should enjoy wearing this smartwatch for longer hours.
7. Is it water-resistant?
Some smartwatches are water-resistant. Such smartwatches are ideal as you can use them even when you are in a swimming pool. Also, you will be able to use it on a rainy day. Therefore, you should check this feature on the specifications of your smartwatch of choice.
8. Charging system
Some smartwatches usually come with convenient wireless chargers. However, others come with snap-on docks for charging. Besides this, others require a cable that plugs on the watch itself. If you want to enjoy more convenience, you can choose the one charged using a wireless charger.
9. Cost
When looking for a smartwatch for blood pressure, the chances are that you will come across different models with different prices. Some will cost a high price, while others will cost a low price, depending on the smartwatch brand and its features.
For optimal results, you can shop around and compare the different prices offered. Ideally, you should aim at going for the model that comes with a reasonable price so that you can save more. Better still, you can go for the one that comes with a discount. This way, you will be able to save a dime in the long run. However, you should not compromise on quality in an attempt to save more money.
10. Warranty
Your smartwatch of choice should come with a warranty from the manufacturer. Ideally, it should have a longer warranty so that you can enjoy the advantage of free repair services in case it develops issues, days or weeks after purchase. Generally, the longer the warranty, the better the smartwatch for blood pressure.
Closing Thoughts
Measuring blood pressure should no longer be an issue for you. With a smartwatch for blood pressure, you will be able to take these measurements anytime you, please. Also, you will be able to take these measurements from any location. With a smartwatch for blood pressure, you will be able to track your health metrics 24/7 along with your various health metrics such as heart rate, ECG, blood oxygen level, and so on. Invest in the above-mentioned smartwatches today and you will lead a healthy lifestyle.
Recommended Article