A new baby is a lot of newness and a matter of happiness. New parents get confused about using Diapers.  There are two types of diapers, a cloth diaper and another is a disposable diaper. Parents choose disposable diapers most of the time but some parents prefer cloth diapers.  Cloth diapering is just as much of a financial decision for a newborn and there are no chemicals in them. Newborns go through 10-15 diapers per day usually.
A disposable diaper is ready to be changed when it is messy but Bamboo or cotton needs to be washed with a cold rinse with or without detergent and you can replace it with a fresh one. Newborns and infants wet more frequently, check the coast if it is clear you are ready for an easy change. When you are getting to wash it treat your diapers as your own clothing; after staining, hang them in the sun, the sun naturally kills bacteria and yeast. If you want to save money, avoid chemicals then have to opt for cloth diapers.
Top Cloth Diapers for Newborns
| Product Name | Picture | Price |
| --- | --- | --- |
| 1. Mama Koala One Size Baby Washable Reusable Pocket Cloth Diapers | | |
| 2. ALVABABY Baby Cloth Diapers | | |
| 3. "Anmababy" Cloth Diapers 4 Pack Adjustable Size | | |
| 4. Wegreeco Washable Reusable Baby Cloth Pocket Diapers | | |
| 5. LBB Baby Diapers Reusable Cloth Pocket Diapers | | |
| 6. OsoCozy – Prefolds Unbleached Cloth Diapers | | |
Types of Cloth Diapers for Newborns
There are many types of cloth diapers because the diaper industry is growing. The market is saturated with dozens of options no matter your baby's body type. You can try different styles and brands.
Prefold: Traditional cloth diapers usually come pre-folded. This diaper is a non-reinforced cloth diaper to add a waterproof layer.
All-in-one cloth diapers: In this system, there has only one part. This diaper is the closest in form and function to a disposable diaper.
Flat Cloth Diapers: It is the oldest style of cloth diapers. The process can be simple and very easy to use.
A diaper cover: it has a waterproof layer needed to keep your child's clothing dry.
One-size cloth Diaper: It is designed to fit babies from birth through potty training.
Advantages of Cloth Diapers for Newborns
Cheaper: They're much less expensive than disposables. Cloth diapers are reusable will save you a lot of money. You can buy a couple of sets at once, you won't have to spend on diapers again if are still in good condition.
Cotton: They are made from cotton and so that you can see less skin irritation and rashes.
Natural: cloth diapers are more environmentally friendly and natural. Cloth diapers help limit your child from chemicals. The cloth diaper is made from natural materials and can be reused, so they have less of a harmful impact.
Easy to use: it is easier to use the cloth.
Soft and comfortable: guaranteed to glide smoothly on baby's skin and baby cozy for extra softness.
Does not smell: these diapers do not smell.
Disadvantages of Cloth Diapers for Newborns
Messy: It is really dirty cloth and you will feel a hurry to wash.
Rashes: You may notice some rashes by using a diaper.
Not sanitary: need to be sterile to ensure that they are clean and ready for use.
Not perfect for traveling: you need to change diaper more often, this can be quite a hassle for a long trip.
Waste water & electricity: For recycling purposes, you need more energy to wash like huge water and electricity.
Best Cloth Diapers for Newborns
1. Mama Koala One Size Baby Washable Reusable Pocket Cloth Diapers
Features: Mama Koala cloth diapers are designed to save your baby's skin. There is insert a pocket diaper to be one-size that fits most babies 8-35lbs. it's ultra-soft and super absorbent, also Adjustable the snaps to fit your baby. They are simple, economical and eco-friendly.

PROS
SAVE MONEY AND REDUCE WASTE
Waterproof and breathable TPU outer
Ultra-soft and super absorbent
Super absorbent insert gets hidden in pocket opening
CONS
Pocket is bigger
Totally usable for newborn baby
2. ALVABABY Baby Cloth Diapers
Features: It is very popular because of reusable, washable super-absorbent and comfortable cloth nappies/diapers, which are also called modern cloth nappies (MCNs) or pocket nappies. It will last for a much longer period of time. There is a 1-year guarantee if you have any problems you can solve it by this time.

PROS
Reusable, washable super-absorbent and comfortable
Polyester with waterproof and breathable TPU
Inserts 3-layer microfiber
1-year guarantee
CONS
Very expensive
Does not hold moisture itself
3. "Anmababy" Cloth Diapers 4 Pack Adjustable Size
Features: You can pick it with durable premium products for a natural lifestyle. There are a set with high quality, super soft and comfortable. You can get the largest waist setting up to 18-19 inches, depends on the size of your baby.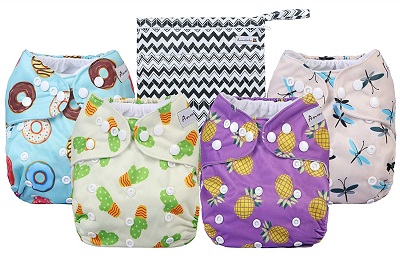 PROS
In this edition cloth diaper cover is waterproof.
The extra layer of microfiber sewn into the shell.
Gentle elastic prevents leaks too.
Wicks away moisture & keeps baby dry.
CONS
Fewer chemicals used
Very similar to alvas, some get confused about the brand.
4. Wegreeco Washable Reusable Baby Cloth Pocket Diapers
Features: Wegreeco reusable washable baby diapers are made with high-quality material Including 6 packs of diapers + 6 inserts + 1 wet bag per pack, which strong water absorption and breathable. It is designed to keep the moisture inside the diaper to avoid any leaks from spilling out the sides.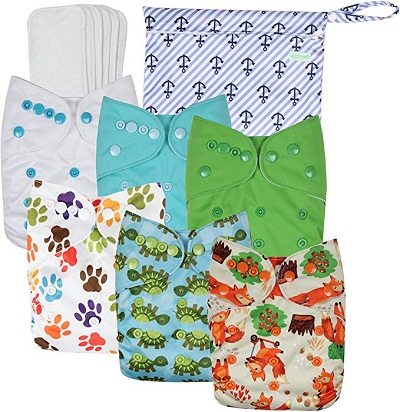 PROS
Pocket style cloth diapers
Absorbent and Soft Insert
Reusable & Washable
6 diapers and 6 inserts including flexible thin waterproof lining.
CONS
Looks bulky
Look boyish, the "boy print"
5. LBB Baby Diapers Reusable Cloth Pocket Diapers
Features: These cloth diapers by LBB feature easily customized to the size of your baby Including 6pcs of diapers + 6 inserts. The inside has a pocket for a thick insert (each diaper comes with a free insert). You can put an insert directly on the baby's skin and on the inside.

PROS
Anti-leak exterior (TPU)
Including 6pcs of diapers + 6 inserts
Various printed and elastin design.
The outside of these diapers is waterproof
CONS
Wetness coming through few times.
Similar to disposable diapers
6. OsoCozy – Prefolds Unbleached Cloth Diapers
Features: OsoCozy Cloth Diapers are designed for babies comfort, the softest, most absorbent and durable natural diapers for infant's cloth diaper. You can wash and dry these unbleached diapers 2-3 times prior to use to remove natural cotton oils and ensure optimal feel and absorbency.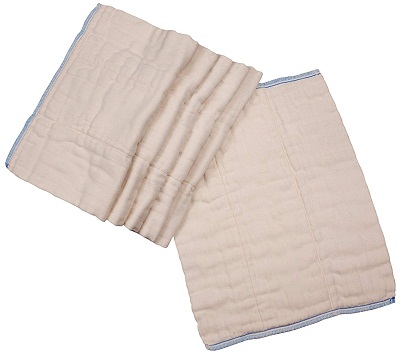 PROS
HIGHLY ABSORBENT
100% unbleached Indian cotton in a lint-free thick gauze weave
soCozyPrefolds Unbleached Cloth Diapers are Diaper Service Quality (DSQ), give the best quality.
CONS
Works best for infants not for the toddler.
Sometimes size cannot adjust.
How to Cloth Diaper a Newborn Baby
Size: Make sure the perfect size, do not give a good fit for your newborn baby. There is one size diaper that can fit smaller babies, this diaper is adjustable through adjustable elastic. Sometimes it looks bulky. You need to know how to measure your own baby for a perfect fit.
The Laundry: The used diaper, they require special care to get them clean and avoid ammonia build-up. They contain PUL and TPU laminates for waterproofing and stretchy elastic. These fabrics include microfiber, cotton, bamboo, etc. So the instructions of laundry vary among manufacturers.
When: you can wash those dirty diapers every two days if possible, three days maximum. If ammonia lock-in, they are harder to remove.
How to wash cloth Diaper: There are so many options for washing cloth diaper you should maintain a routine. You can use a spray to remove poop from the diaper. Keeping the diaper sopping wet it will help poop wash out more easily. Wash it with the highest water level. Use regular warm water and detergent that rinses clean and cleans well. Dry diapers in the dryer or you can hang it, some recommend air-drying. Avoid using chlorine bleach, it will break down fibers.
The Umbilical Cord: You need to change a lot of diapers and it is important to learn. Try and plan on changing your little one after when it is wet. When the cord is attached that time you have to use notch-cutout diapers (or fold down a regular one). You have to Take care of your baby's umbilical cord stump until it falls off on its own usually it takes time for 7 to 10 days.
Additional Resources: Best Pacifier For Breastfeeding Baby With Advantages & Disadvantages
Frequently Ask Questions on Cloth Diapers For Newborns
How many diapers need for my newborn?
You need proper knowledge to master for a newborn's. Newborn diapers vary on the size of the infant. Newborn babies go through 8 to 10 diapers per day. Breastfed babies will go through more. Babies go through about 700 diapers for the first three months.
How do I prepare my newborn diapers?
It's important to choose the right size for your baby. Wash your hands before to change, Put your baby on a flat surface, Keep one hand on your baby, Wipe the diaper area, and allow it to air dry and wipe it from front to back.
I plan to cloth diaper starting at the hospital. What should I do?
A newborn can go through 10 diapers a day, you pack a minimum of 24 diapers with you. You can also carry 4 Covers, 24 Cloth Wipes, Large Pail Liner or Wet Bags, Cloth Safe Diaper Cream.
Does the black, tarry meconium poop ruin the cloth diapers?
Meconium poop can wash easily from the cloth. There is no special process to follow, you can want to use a liner to prevent it.
Do I have to spray my newborn's poop off the diapers or use a flushable liner?
For breastfeeding, newborns need not do anything to remove the poop from the cloth diaper because poop is water-soluble and very easy to clean.
My newborn's diapers are all stained bright yellow from newborn poop. What can I do?
The easiest way to get the stains out, keep them in the sun so that stains come out easily. Try to avoid any laundry stain treatments.
How do I wash my newborn's diapers?
Start with a cold rinse and wash without detergent. Then warm wash with detergent with an extra rinse.
Newborn diapers seem like they can be so expensive for being worn such a short time. Is it worth it?
It depends on your baby's size and weight. A baby going through 12-15 diapers per day, it can cost between $250 and $450 usually, depends on the amount.
What are some lesser expensive newborn diaper options?
Prefold and flat diapers are called economic cloth diapers for a newborn. You can simply fold your prefold diaper covering it with a diaper cover that can be folded in many different ways but needs to be covered with a waterproof diaper cover.
What is better, using a Snappi/diaper pins or tri-folding my prefolds on my newborn?
You can choose anything that suits your baby's lifestyle. Some people fold into thirds, cover and wrapping it on their baby. You can also fold angel wing, bikini twist, and jelly roll by using a Snappi to the diaper cover
My newborn looks distressed with the bulk between their legs. Is it harming them?
The bulk of the cloth diapers don't hurt your baby at all, sometimes it helps for healthy hip development, you don't need to worry but try to comfort your baby if any other problem creates.
Will a one-size diaper fit my newborn?
One-size diapers begin fitting babies close to 10 pounds in most of the cases. You can choose an ultra-trim diaper for your newborn. If you want to use a one-size diaper then you must select an option like a Best Bottom Diaper.
We are determined to have our son circumcised. How do we deal with the care of the circumcision in cloth diapers?
Talk to your doctor and he will understand your baby's situation. Before start using a cloth diaper, you must need to know details. You will need to use a barrier to protect your cloth diapers from any type or cream or ointment. The doctor may suggest adopting a fleece liner as it will inhibit the wound from sticking.
What diapers fit under a newborn's umbilical cord stump?
There has a specific newborn size commonly used by each brand. They will have a gathering of elastic in the front of the diaper to fit under the belly button, try for folding it down to fit.
Final Verdict
Eventually, you will get into a rhythm with cloth diapers. Diapering is so personal, there are so many choices, you have to take your own decision for your baby, and it is your choice to use the diapers that you choose to use. People who use cloth are conscious so that choose cloth for environmental or health safety reason.