Almost all of us love riding bicycles as exercise, hobby, or profession. Whatever the reason behind riding, we know the huge physical advantages of this mind refreshing exercise. But to gain such confidence, everyone must wear proper shorts. By proper shorts, we mean padded shorts. While cycling as women, you should wear shorts with padding to get the ultimate comfort and make the performance better. The materials offer quick-drying facilities which are helpful for women especially. The padding is added to keep the pressures off the contact points with the bike saddle and to absorb the vibrations created from the wheels. They are made craftily, maintaining the shape of the body and the bike saddle.
So as a woman cyclist, you should replace your normal shorts with the new padded shorts to ride longer and faster with more safety. Here in this informative article, we will help you to understand the merits of cycling shorts with padding for women. We will also mention some of the best brands and their details for you. So that you can order online with trust and confidence.
Why Should You Wear Proper Padded Cycling Shorts?
Cycling shorts are specially designed for frequent cyclists. But the padded shorts are more helpful. The chamois (padding inside the shorts) helps to sit against the crotch properly. The cushioning protects the body from saddle sores. The chamois pad is made with soft fabric, gel padding, or cushioned foam. For the antimicrobial properties, the pad offers more thickness and ensures support and comfort. During the ride, women usually tend to sweat a lot around the sitting area. But here the padding works great as it dries them quickly and helps to avoid any infections.
There are different densities and thicknesses depending on the materials. Consider good quality cycling shorts with padding. Unfortunately, regular shorts will not provide enough support for what women look for. The cycling shorts should be stretchy, supportive, and featured with a chamois pad.
8 Best Cycling Shorts With Padding For Women
To get better cycling comfort a good pair of cycling shorts are necessary. These high-tech apparel come with multiple features and make your ride more comfortable. There are a variety of cycling shorts available. We decided to make a list of the best cycling shorts with padding for women. We think one of them is going to be your next favorite cycling shorts.
1. Beroy Women's Bike & Cycling Shorts With Padding
If you are looking for the best cycling shorts even if you are a beginner at cycling then you need to choose beroy women's bike and cycling shorts. These pants come with 3D gel padding inside and 3 breathable and comfortable foam.

It brings high-quality materials and makes the shorts more comfortable with high performance. It is made with 80% polyester and 20% Spandex and comes with good elasticity. The fabric has the quality of moisture absorption. The thickness of the padding is comfortable enough especially for long distances. For smooth sewing, it can reduce friction.
They can be perfect cycling shorts and can improve the persistence of the movement. You will love Hem with silicon, because it is more close to the skin, reduces the lactic acid, and dries quickly. Seamlessly engineered can eliminate chafing and is flexible to move.
However, if you are seeking shorts that offer high performance then that can be a great choice.
PROS
Good elasticity
The function of moisture absorption
3D gel padding; 3 Foam inside
Super comfortable and flexible
Smooth sewing; seamlessly engineered
CONS
Bit bulky
Less compression
2. DEALYORK Women's Cycling Underwear With Padding
You will be surprised to get these premium cycling shorts with wonderful design, high-quality materials, and high performance. They are breathable, comfortable, and lightweight. The ergonomic 3D protection pad reduces friction. Elastic closure and anti-slip function are quite helpful and quick-dry and moisture absorption allows you to get comfortable cycling.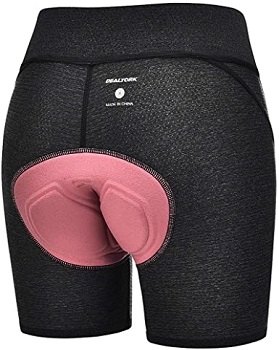 It fits all types of women with its five standard sizes. No more getting hurt while cycling. Because they are the best with premium, comfortable, high-quality moisture-wicking materials. You don't have to worry about sweat because they have excellent sweat absorption quality.
The wide waistband reduces restriction and increases comfort. The ergonomic stitching allows for perfect body fitting and provides a smart look. Seamless glue prevents slipping and creates a grip for adjustable fitting. 4-way stretching materials ensure comfort for long-distance cycling. The good design and comfortable materials are suitable for all types of skin.
Say Hello to this comfortable short because it never compromises comfort and breathability.
PROS
Ergonomic 3D Pad
Anti-slip leg grip
4- way stretchy
Wide waistband
Body fit tailoring
3. EcoDaily Women Cycling Shorts With Padding
Are you looking to add something different and special to your cycling kit? Eco-Daily can help you to get the perfect one. It performs well with the good construction of nylon/spandex blend fabric. With the excellent moisture-wicking properties it will keep you dry while cycling. For long-distance rides, the shorts will fit around your curves like a second skin.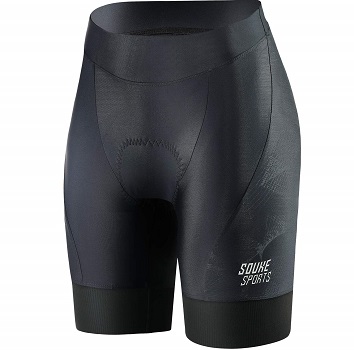 The 8-panel anatomic design offers you muscle support and grip. The moderate compression with a 4D cushion pad provides maximum protection and support. These versatile shorts come with both fashion and function. The multi-density padding provides unrivaled comfort without chafing. The four-way stretch increases breathability while cycling. A wide waistband and elastic silicon leg bands keep your shorts secure and free of pinching.
The silicone grippers help for greater freedom of movement. A pocket offers safe storage which is necessary for long distances. You can keep small items like keys, a tiny bottle, sunscreen, mobile, headphones, etc. The excellent stitching ensures durability and supports a proper fit.
This brand has a variety of color ranges, why don't you choose black -blue or black -purple?
PROS
Four-way stretch
Constructed with nylon-spandex blend fabric
Keep you cool and dry
Anatomic and having compression
4 D cushioned Pad; premium comfort
Breathable and moisture-wicking
CONS
Too wide; creates rubbing
Not transparent
4. NOOYME Women Cycling Shorts With Padding
Nooyme shorts assure a comfortable ride whether you are cycling or doing another type of riding. The design, print, and materials are well-constructed and ensure professional cycling clothing. For a comfortable cycling experience, Nooyme is great. 80% polyamide and 20% Spandex, both blended fabrics are comfortable, breathable, and moisture-wicking. The design is perfect for preventing muscle strain and reducing chafing.

These shorts will provide the feeling of vacation with the great design, bright color, and relaxing properties. Flatlock seams help to avoid friction or any type of skin irritation. The non-slip silicone helps to get a proper grip and keep the shorts in place. The 3D structure, multi-layer, the breathable pad is designed for long-distance cycling.
The fabric is constructed with flatlock seams. The super softness of the fabric provides easy stretching and flexibility. The gel pad offers extra comfort and helps for long rides. And the pad comes with high-density foam and thickness that provides enough support. A reflective tab on the hem of the leg ensures active visibility.
We think Nooyme is going to accompany you and make your ride more fun and joyful.
PROS
Prevents muscle strain
Avoid friction and skin irritation
Breathable and comfortable
Well-constructed, high-quality materials
Gel padded; extra comfort and support
CONS
Bit expensive
Incorrect sizes
5. Louis Garneau Women's Cycling Shorts With Padding
Louis Garneau assures comfort, affordability, design, and much more especially for the women who love cycling. It comes with high-quality materials, dynamic style, and premium comfort. This stylish pair of shorts is now getting popular for its high-quality design. Not only style but also it comes with plenty of performance. The 9-panel anatomic fit provides awesome comfort and allows you to wear it for a long time.

There is no chance of friction and the thickness reduces lower leg pressure. The efficient compression level keeps your muscles operating smoothly. The perfect fit allows for increased mobility. An elastic waist comes with an elasticated drawstring that offers a secure fit, reduces skin irritation and chafing. You will love the compressive cuffs that provide ultimate support and eliminate all types of leg pressure. You will get support without restricting circulation. The powerful reflective accents enhance visibility.
You can buy these shorts, they can be your favorite pair of cycling shorts.
PROS
Drawstring Closure
Anatomic fit; 9 panel
Elastic waist; secure fit
Compressive cuffs; reduces leg pressure
Ultimate comfort
CONS
Sensitivity issues; check the reaction
Too thick padding
6. BALEAF Women's Cycling Shorts With Padding
BALEAF is the name of professional cycling apparel. They provide premium quality shorts with excellent design and quality. The materials are a blend of nylon and spandex and come with stretching properties. Breathable and comfortable fabrics provide compression, keep you dry and ensure premium comfort. The 3D Gel padding is perfect for long-distance riding, ensuring decent protection and full-time comfort.

The multi-density 3D Gel chamois inserts provide stability on your bike saddle. There is no chance of rolling down because it features a wide waistband with silicon. A wide waistband with an arch shape avoids rides up and ensures support. Women also love these shorts because they get exactly what they want. Not only the gel padding but also the non-slip silicone gripper design helps to stay in place with lots of support.
The multifunctional 9" long inseam can be perfect for cycling, spinning, or other types of riding. Don't worry about the sunlight, because the materials are highly stretchy and contain UPF 50+ protection. A handy phone pocket is helpful while riding for a long time.
Let cycling with BALEAF Women's Cycling shorts make your cycling more enjoyable.
PROS
Breathable and comfortable fabric
3D GEL Padding
9" long inseam
Non-slip silicone gripper
Wide waistband
CONS
Incorrect sizes
Too long for little legs
7. ODODOS Women's Cycling Shorts With Padding
If you want to decide on buying shorts then ODODOS can be a great choice. These ODODOS dual pocket shorts are made with high-quality fabric and offer a combination of fashion, function, and performance. The four-way stretch is perfect for running, cycling, workout, yoga, and other activities. The fabrics are more breathable and comfortable even if they remove moisture and ensure premium comfort.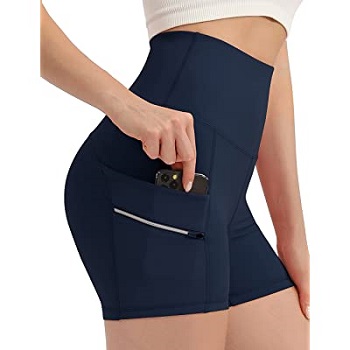 To provide activewear this brand offers the types of shorts that are attractive, effective, and helpful. A wise elastic waistband will not roll down and you will get a secure fit. The pockets and zippers are quite helpful to carry all types of necessary small items such as keys, mobile, tissue, etc. 8" dual pockets come with enough firmness and stretch. This longer inseam prevents rubbing and provides ample coverage.
This stylish activewear has luxuriously soft padding and elastic waistband, pockets, zipper pockets, 4-way stretch all functions make these shorts more useful for cycling.
There is a 100% full money-back guarantee, so if you choose these shorts can be the best decision.
PROS
Elastic and drawstring closure
100% full money-back guarantee
4-way stretch
Two side pockets; 2 zipper pockets
Highest quality fabrics
CONS
Incorrect sizing
Too Tight in legs
8. Pearl Izumi Sugar Cycling Shorts With Padding
Among various women's cycling shorts, Pearl Izumi is the most famous name. It is an ideal option for cycling, yoga, running, or other activities. The most unique feature is that you will find the perfect temperature. The clothing system of the shorts helps to maintain the exact temperature that you need. It will adjust with your weather condition either hot or cold both and allow you to stay comfortable the whole day.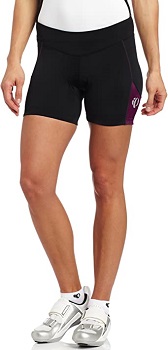 The performance-engineered materials provide an anatomic fit, ensure super comfort, and give enough breathability. They feature a 5 ½ " inseam and 3D chamois both make superior comfort for making the ride more enjoyable. They fit well and chamois is perfect for most of the women riders. There is no slip down and the leg will stay in place. The rubber grip is much better for long-distance riding.
These shorts not only prevent chafe but also support the leg muscle. You will feel a bit of compression and that will be helpful for your leg muscles.
For getting more cycle rides Pearl Izumi can be your favorite.
PROS
High-quality materials; machine washable
Supremely comfortable; ideal for cycling
Performance engineered materials
Anatomic fit
The clothing system maintains a perfect temperature
CONS
Too small size
Skin irritation
Recommended Post: Best Indoor Cycling Shoes For Women's
Is There Any Bad Impact Using These Types Of Shorts
The padded shorts offer lots of benefits to women with scientific and practical proof. It has barely any bad impact if bought the proper one. Every material used in the shorts is tested to be helpful in every way. As cycling is a physically vibrant exercise on the road, you need to take every possible advantage while riding.
Women are sensitive to sweat around their lower part. So they need to block or make the sweat dry while riding. Here the manufacturers design the padding in the shorts as moisture-wicking and quick drying. So it is far from any bad thing and there is nothing inherent.
Why Are The Above-mentioned Cycling Shorts Are Best?
Before making the above selection, we have researched the top-listed products available in the market. In this process, we considered the most popular brands and their performances. We evaluated cycling shorts with padding for women based on the top essential criteria like fabric, breathability, durability, and padding. We emphasized women's body shape and their skin reaction while riding. Also, we have also considered the drying times and mentioned the top fast-drying shorts in our list above. We compiled all these findings and metrics and carefully scrutinized them to make them in the shortlist stated above.
Buying Guide For Cycling Shorts With Padding For Women
There are some facts we think you should know before ordering cycling shorts with padding for women. Here are the facts are given below.
Proper Padding: Before ordering any product we make a checklist of facts. For women's cycling shorts the padding is the key material that should be at the top of the checklist. The padding is a soft insert also known as the chamois. It should be sufficient for your type, not too much, not too thin depending on the kind of riding. If you are just a quick commuter or ride on and off then you need simple padding. But if you are a frequent rider who rides more often like a pro, then you need much padding in your cycling shorts.
Padding Material: As padding is used for shock absorption, they might come in different materials like foam, gel, or both to perform as shock and pressure absorbers. But to compare both, we should mention that gel padding makes the shorts heavier though they work as shock absorbers sufficiently. On the other hand, being a bit less performer, foam-made padding is lighter and a bit harder. So whatever the paddling is made of, try to measure your riding volume and then decide as per the information we mentioned.
Right Fit: Cycling shorts with padding are designed to bring down the discomfort and physical tiredness to nearly zero. Here experts suggest a snugger fit to get the overtime slightly and to get it tight against your skin. The manufacturers use silicone-coated fabric around the thighs so that the garments can constantly get attached to the area. They cut the panels into specific numbers and shapes to take the cyclist's body shape into account. Hence the leg muscles get extra support. So give attention to padding placement and the overall size of the padding area.
Breathability and fabric: Cotton fabric-made shorts can become wet and cause discomfort against your skin. That's why manufacturers use synthetic fabric so that they can dry quickly and wick the sweat away. Nylon, spandex, and lycra are the trusted names of synthetic cotton that allow you to perform in favor of your riding like a woman. The blend of these fabrics is soft and friendly to the skin. It is proven that the sweat created during a long ride is absorbed by the synthetic fabric because of its breathability. So get confirmed before your order whether the fabric is breathable and soft.
Durability: While cycling your hips and thigh get in contact with the saddle making hard friction. As a frequent cyclist, you should pick a long-lasting product to get maximum performance with comfort. The cycling shorts with padding for women have many materials inside to maintain the shapes and sizes. The fabric materials and stretch, the seam quality, the padding material everything should be taken into account while following the checklist.
Why Will You Buy Cycling Shorts From Amazon?
Amazon is the tech giant ecommerce retailer. There are several reasons you should buy from amazon. Here are some key reasons.
Since the pandemic situation Amazon is delivering products on time. No matter how hard the time is passing. They are still delivering products and services during the pandemic.
Amazon has 200 million prime members. They can meet all the demands of consumers and members. They are the most trustable as long-term services.
Amazon offers discounts frequently on thousands of products where people find cheaper options than other retailers.
The efficient customer services are helpful for many people who find problems. They solve any issue quickly and friendly.
Fortunately, Amazon offers free shipping at many places.
Return Policy of amazon
Amazon has a specific return policy for each type of deal you make with them. Usually, products delivered from Amazon.com or Amazon warehouse should be within the next 30 days. But it varies based on the product types as they have different policies.
For products from the Amazon global store, Amazon has UPS drop-off points across the US. They will provide a prepaid UPS return label which you can use during the return. After returning, Amazon will get it within 25 days and within the next 7 business days, you will get the refund amount in your account.
But specifically for cycling shorts as clothing items, you can return them up to 30 days after the delivery.
It is good that, you can choose the refund method in the returning points.
Payment Mode of amazon
Amazon has its own customer-friendly digital payment method called Amazon Pay. Besides, Amazon accepts cards from top market names like Mastercard, Visa, American Express, Discover, JCB, and Diners Club. The Amazon.com prime store card is another option for large purchases. Basically, it is a credit card for retail deals.
In case you get the limitation in access using Visa or Mastercard, you will get options for other cards. You can also take the facility of Amazon.com gift cards while ordering from Amazon.com.
Final Thoughts
Cycling shorts are necessary if you think of compression and comfort seriously. Here added features like padding is the perfect support for frequent cyclists. Our list of best cycling shorts with padding for women is made considering the women's needs and comforts. Those designs are for a particular purpose. It's up to your body shape and types of riding.
So that you can choose either of them according to the short's designs, materials, your preference, and riding style. And last but not the least, all the names we mentioned are known for alleviating any saddle soreness.
Hope you will follow the listed reviews and choose the best one for you. Finally, Get more fun to ride! Happy rides; Happy Women!