Menstrual cramp or cramping is the most common pain and discomfort for women during their menstrual period. Mild pain is bearable, but severe pain can be annoying and affect your body badly. This pain doesn't cause any medical condition but hamper your daily activities. This uncomfortable and painful situation happens during the period because of uterus contraction. This problem may start before your period and can last for 2 to 4 days, but it is worse during the first day of your period. Sometimes it can make other symptoms such as nausea, headache, dizziness, and other health condition.
This cramping pain you will feel at lower abdomen caused by uterine contraction and this pain can interfere with your daily activities. You will find some ways to manage the cramp, but the heating pad can be most effective as medicine according to research.
Top Heating Pads For Menstrual Cramps
| Product Name | Picture | Price |
| --- | --- | --- |
| Granbest Portable Electric Heating Pad For Period Cramp | | |
| MIGHTY BLISS™ Large Electric Heating Pad for Back Pain and Cramps Relief | | |
| Menstru Heat Heating Pad for Menstrual Cramp Relief | | |
| Ambershine XXXXL King Size Heating Pad with Fast-Heating Technology | | |
| UTK Jade Back Far Infrared Heating Pad for Back Pain | | |
| Hot Pockets Back Heating Pad for Lower Back Pain Relief | | |
| Sunbeam Heating Pad for Pain Relief | | |
| Pure Enrichment Pure Relief XL (12″x24″) Electric Heating Pad for Back Pain and Cramps | | |
How Does Heat Help with Cramps?
Using heating therapy is a very traditional way to reduce pain. It has numerous medical benefits. It can ease your menstrual cramp. Heating therapy works by relaxing the muscle of the uterus and also heating process can improve uterine blood flow. Continuous low-level topical heat therapy can relieve pain from menstrual cramps.
Ways to Deal With Period Cramps?
Having cramps is the most common symptom during menstruation. There are several ways you can use to deal with period cramps.
Medicine
Exercise
Using a heating pad
Yoga
A hot bath and drinking hot water
Hormonal birth control
Adequate rest
All of them are pretty simple and easy steps, you can take during a period but the most effective method is using a heating pad which is very traditional and reliable.
Best Heating Pads For Menstrual Cramps
Heating pad can be a great device for menstrual cramps. If you are looking for the best heating pad for menstrual cramp than you can check the list of below. They all are pretty good and effective than others.
Granbest Portable Electric Heating Pad For Period Cramp
Granbest is a popular brand with some latest features. The heating chip releases thermal energy to heat your body, makes your blood flow easier. By increasing blood flow it can relax your muscle and relieve the cramp, back pain, lower belly pain, and other pain. There is an excellent heating performance, do not need to wait for warmth, just in 3 seconds you can get warmed.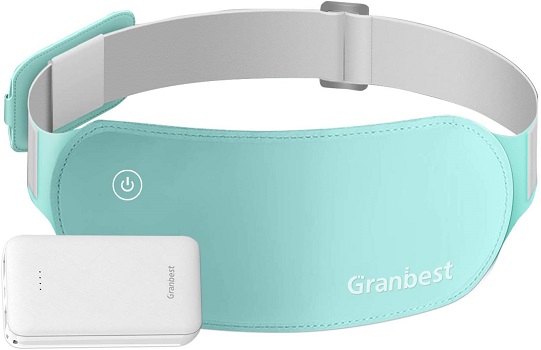 You can customize the temperature from three setting options. Just press quickly to change mode and get the most comfortable temperature and apply it to your abdomens. You will get a power bank with this heating belt. It features accurate intelligent constant power control. After 30 minutes, it will automatically turn to a low temperature.
The adjustable Velcro strap ensures a secure fit, elastic belt can stretch up to 40″. It will be perfect for waist sizes and suitable for giving heat therapy in multiple body parts.
PROS
Advanced heat therapy
Thermal energy
Three heat setting
100% safety with heat controlling system
Adjustable Velcro and elastic belt
Portable and washable
CONS
Too hard to start
Belt is too small
MIGHTY BLISS™ Large Electric Heating Pad for Back Pain and Cramps Relief
This heating pad is very useful for menstrual cramps, and also helpful for pain and sore muscle, and you can get relief from back pain and other pain. This is specially designed for cramp, just relieve pain in a second. It is super sturdy, long-lasting, and effective for cramp. It will give you the perfect heat that you need for pain relief. This extra-large heating pad comes with some features.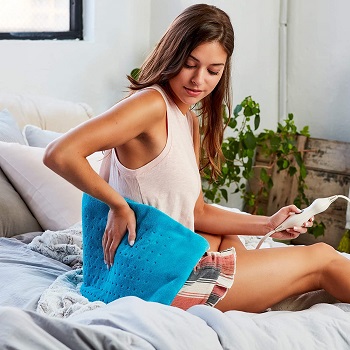 You will get a lifetime warranty, made with soft micro plush fibers which come with comfy and luxurious pajamas that ensure cozy and comfortable feeling. You can use it for multi-purpose such as neck, shoulder, leg, and other's body parts. The low, medium and high-temperature settings ensure perfect heat as your body want.
You will be happy for lifetime replacement with perfect customer service. There are both dry and moisture options which can be used for dry or moist. Any type of pain, muscle pain, cramp, soreness, and all types of discomfort can be reduced by this heating pad and you can save your day.
PROS
Pain and soreness relief
Sturdy, long-lasting and effective
Soft micro flash fibers
Customized heat setting
Extreme comfortable and cozy
Lifetime replacement
CONS
It can be melted after somedays
It can damage your skin
Menstru Heat Heating Pad for Menstrual Cramp Relief
This heat therapy is very effective for pain relief and cramp, the heat technology will ensure the highest comfort. It contains fast heating materials with a medical-grade adhesive which is effective for super-fast pain relief. This heating pad is clinically proven that it can relieve menstrual cramp and also for other's pain. It can ease your pain with real heat technology.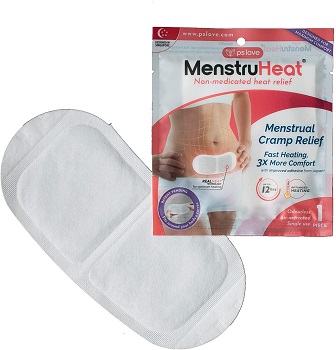 Get quick relief with this heating pad which provides optimum level of heating. It produces steady, effective, and reliable heat just within five minutes and stays for a long time and provides a productive day. You can use it anytime for long-lasting heat. Bands are easy to use and give you a perfect fit with maximum comfort.
Menstru have created to solve the problem of cramp, it helps thousands of females every month. It allows you to continue your busy lifestyle by providing great support during the toughest time. Say goodbye to your painful period with Menstru heat.
PROS
Real Heat technology
Fast relief pain and cramp
Medical grade adhesive
Effective and reliable
Convenient and easy to use
Ergonomic design
CONS
Can be harmful to your skin
Too warm
Ambershine XXXXL King Size Heating Pad with Fast-Heating Technology
It can be your perfect purchase and can heat up quickly with 45cm x 85cm XXXXL King Size. This heating pad is so effective and designed for increasing blood flow, it can relieve your pain, cramp, and any types of discomfort very quickly. The auto shut off system will give you mental peace. It can relax your muscle and relief pain of leg, shoulder, abdomen, back even full-body support.

This extra-large heating pad is enough to cover your body and provide consistent heat. You will impress by its size it can cover your entire body with special soothing therapy which is effective for pain relief. It is easy to use and maintain with a removable controller and washable plush. This washable heating pad is very soft and cozy.
The flannel provides maximum comfort to your body. This heating pad is more user friendly for fast heat technology which can warm up within a few seconds and it will automatically turn off within 120 minutes. You will love the 6 temperature setting for better and safer use.
PROS
XXXXL King large Size
Fast heating technology
6 temperature setting
120 minutes Auto Shut off
Increase blood flow and reduce pain
Removal controller and washable plush
CONS
Can fall apart easily
Thermostat issue
UTK Jade Back Far Infrared Heating Pad for Back Pain
UTK back far infrared heating pad is a great product, the far-infrared ray therapy works for inner regions of tissue and provides relief from back pain, cramp, stress, joint pain, sore muscle, and discomfort. It comes with a long cord so that you can walk while wearing it. The natural stone takes away o negative ion and promote oxygen level to your brain and soothe your all of pain.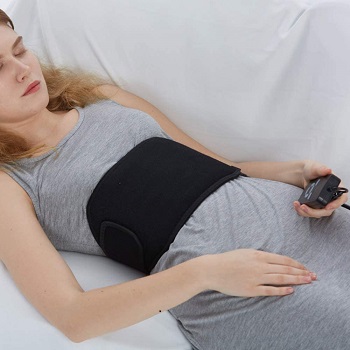 The heat of this pad is very consistent, stone heats up more gently than metal and keep the heat for longer. This heating belt features DC and specialized in health care and solve EMF all the time. It also features with time and temperature setting, memory function, and auto shut off, and more. It comes with a great carry bag.
The waist belt is super comfortable and effective for knee relaxation and thigh pain, the materials are great for penetrating relief of aches. This portable heating pad you can use in the office or can walk around in a small area.
PROS
Far Infrared Heating Pad
Relief from any types of pain and cramps
Natural stone
Promote oxygen level
Time and temperature setting
Auto shut off and memory function
CONS
A little hard to use
Bit Pricy
Hot Pockets Back Heating Pad for Lower Back Pain Relief
This heating pad is perfect for lower back, and any types of pain relief, it works both hot and cold, keep it in the microwave for heat and keep it in the fridge for cold therapy. The full waist wrap allows you to move fast and keep you comfortable. This heating pad can relieve your lower back pain quickly and help to get you a good sleep. It can secure you a perfect fit with body strap.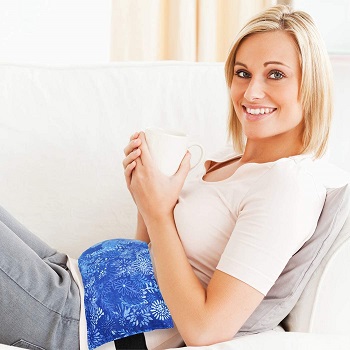 It can relief abdomen pain, sore muscle, menstrual cramp, and other pain, also helpful for tendonitis, joint pain, even recovery process. This lightweight and comfortable heating pad features with removal heating insert and machine washable fabric, it is from natural resources so do not to think about materials. Just place the heating insert and apply it.
It is smartly designed to give you relaxation and relief from pain and discomfort and give you a perfect body and mind. The elastic strap is more secure and comfortable to apply any of your body parts. Keep active at your work with this heating or cold pad.
PROS
Washable and microwavable
Body strap with a secure fit
Hot and cold therapy both
Reusable, natural and simple
Relaxation, relief, and refreshment
CONS
Doesn't hold heat for longer
Intensive heat
Sunbeam Heating Pad for Pain Relief
This heating pad is made of ultra-heat technology which increases blood flow, relaxes your muscle, and can heal your pain. You can keep it for how long you want. It is specially designed for arthritis patients, also helpful for tendonitis and other intensive pain. It can reduce your pain by soothing heat therapy and an easy side controller is flexible to change the movement.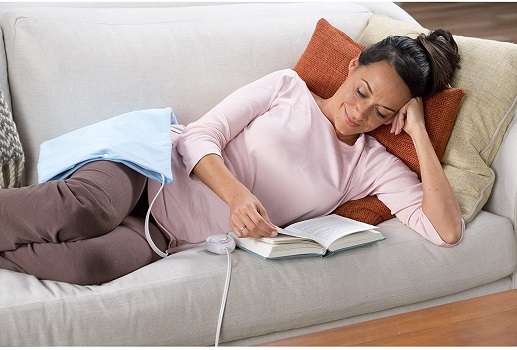 There are three customized heat setting those are really helpful to set targeted heat to your affected area. You can easily change the motion and can control heating. The auto shut off system can peace your mind, no need to worry if you forget after two hours it will auto shut off then you can reset it by unplugging it.
It is super easy to use and care with the comfortable, soft, and washable cover. You can relax where you want in your room, office, and short-area because it has an extra-large cord around 9 fit which allows you to work where you want. There is an attractive warranty policy of 5 years.
PROS
Pain relief and for sore muscle
Three heat setting
Ultra-heat technology
Easy slide controller
Auto shut off
Soft, washable and comfortable cover
CONS
Poor customer service
Less durable
Pure Enrichment Pure Relief XL (12″x24″) Electric Heating Pad for Back Pain and Cramps
This heating pad is perfect for pain relief and sore muscle. It can be used in leg, sore muscle, abdomen, arms shoulder where you want. The super soft and thick micro flash fabric offers the highest comfort and provides you relaxation and relief to your body and mind. The fast heating technology ensures quick heating just within a few seconds.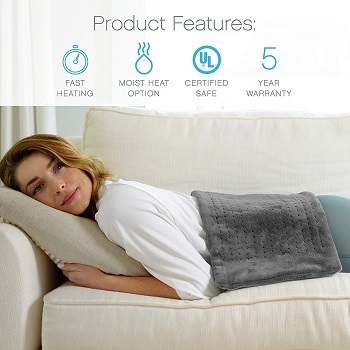 The fast temporary pain relief can soothe your aching muscle within a short time. Just put it and get fast relief and make your day perfect. There are six temperature settings with moist and dry heat therapy. So that you can change and get the heating level what you want. Moist heat option ensures safety use.
There is an option of auto shut off, it will turn off after 120 minutes automatically. Even you can select the heat level by the LCD controller and get the adjustable heat level. It will provide ultimate relaxation to your entire body.
PROS
For pain relief and cramp
Ultra-soft and thick micro flash fabric
6 temperature settings
Auto Shut off and moist heat option
Fast heating technology
5-year warranty
CONS
Doesn't hold heat for longer
Inconsistence temperature
Key Considerations Before Buying Heating Pad For Menstrual Cramps
A heating pad works as heat therapy, which helps provide constant comfort during period days. There are so many heating pads in the market, you should consider some factors before buying a heating pad for menstrual cramp.
Sizes: The main factor is size, make sure the proper size. It comes with all types of sizes but you should check which size can adjust to your body. You can use them for other body parts also so it should cover a large area.
Durability: Another important factor is durability, the better quality heating pad is more long-lasting than others pad. Choose the high quality durable and strong heating pad.
Thermal Condition: Check the thermal condition, which holds heat for a long time with multiple heat level options. A customized Heating option will be helpful to choose the level as you want. Check temperature setting, cooling method, and plugin option.
Warranty: Make sure about the warranty, choose the long time warranty with the card so that you can change time with policy.
Materials: Try to buy good quality materials that will be comfortable and washable with perfect interior and exterior and easier to use.
How Long Should I Use a Heating Pad to Relieve Cramps?
You can any heating pad use for four hours, studies show that using a heating pad for four hours can reduce 79% pain, four hours is significant for pain relief. But you shouldn't use the pad for a long time or the whole day and do not use excessive heat while using. Intensive heat can be harmful to your skin.
Final Recap
Heating pad is very effective and helpful for period cramps. It is a very quick and simple way to remove your pain. It is well known for relaxing the muscle and to ease muscle contraction. Choosing the right heating pad is not easy.
We have researched and found some of the effective heating pad including lots of features. Those not only treat cramps but also provide pain relief to your whole body. You can take any of them when you need to deal with menstrual cramps.