Maybe you come home every day complaining about your leg pain or swelling. A long time standing or long time running can affect your calves, ankles, and feet, especially after a long shift your leg needs proper rest. You probably know that leg massager can help you to get relief from muscle tension, rejuvenate tired feet, swollen leg, and improve your overall health sometimes it can improve your sleep cycle also. After heavy work or exercise, a soothing leg massage can reduce painful swelling and muscle soreness, and tiredness by increasing blood circulation.
This worse painful situation can occur for excessive use of leg and vitamin deficiency. A leg massager is designed to increase your blood flow and relax your ankle, calve, feet, and overall leg. Keep reading to know more about leg massager.
Benefits of Leg Massager
If you are a runner or athlete then you appreciate the benefits of physical therapy especially leg massage. There are huge benefits of leg massager which can make your life better. We will discuss some benefits of leg massager.
Improve blood circulation: Circulatory system of the leg massager can increase your flow and physician recommend the Massager for better health and heart condition. This proper circulation this circulation can relieve all types of pain with the pressure of the massage. Good blood flow increase oxygenation throughout the body and it can boost your overall health in every moment.
Relaxation: Leg massage is the easiest and inexpensive way to relax your leg even the whole body. This process is the most ancient practice which can benefit your entire body, this process is effective because you take all of the pressure on your feet for the whole day. Your muscle will be relaxed and you can get relief from all types of stress and anxiety.
Reduce stress: Leg massage is the therapeutic process of recovery of your mental health. Expert says leg massage can reduce your stress level by increasing blood flow. It can boost up your mood, alleviate depression, and allow you to feel better.
Pain Relief: Leg massage can reduce chronic leg pain related to plantar fasciitis. This type of massage could help you not only for leg pain but also overall pain management even migraine, shoulder pain, neck pain, others pain who are associated with poor circulation. You can get relief from all types of pain and swelling by regular massages.
High Performance: You take huge pressure on your leg for the whole day by using it too much so that your ankle, calve, feet get tired and painful, this situation can affect your daily performance badly. Sometimes you get poor performance during activities. Perfect leg massage can boost your mobility and your calves can be free of tension and you can ensure high performance.
Better Sleep: Your sleep cycle can be affected by a high level of stress and anxiety. A regular leg massage can reduce stress and ensure the quality of sleep by relaxing your muscle and release tension. You can get a better sleep cycle with better health.
How Does a Leg Massager Work?
Leg massager work as health treatment, this process is very popular in Fitness World. It is an ancient process of healing, the gentle pressure of massager especially leg massage makes your health better. Leg massager can provide relief from stress, many diseases, and all types of leg pain. It works squeezing to your muscle and promotes blood flow so that you will find many improvements especially all types of leg pain like plantar fasciitis.
This circulation can help to treat your other chronic pain condition and if you are a very active person or athlete you will find improvements day by day. It put pressure to squeeze your legs and allows you to enter more fresh blood and oxygen and release endorphins. There are different types of leg massager with exclusive features, those allow effortless leg massage at your home.
Top 10 Best Leg Massager Review
You will find the most popular leg massager in the below. Those can be perfect purchase as best leg massager because they are highly effective for athletes and super active people. They all are renowned brands in the fitness industry.
1. Amzdeal Leg Massager for Circulation Calf Massager
This Leg massager offers a highly comfortable massage experience with a built-in rechargeable battery which is really convenient and you can use it at your home or office, traveling, and wherever you want. It can be a great gift for you or your family because people like its effectiveness. This massager really can help you to improve circulation and relax muscles.

It can give a perfect fit with Velcro which ensures security and you will get a perfect fit of ankle, calves, or feet. The suitable mode option can meet your need, there are three intensities and two modes are helpful to get a better massage effect. It offers 2 hours of massage experience so that it can be used all day.
You will find differences from traditional leg massager because they are more powerful with superpower pressure and can deliver deep and relaxing massage. Amzdeal provides excellent customer service so that you can buy it with 100% satisfaction.
PROS
Excellent customer service
Powerful and adjustable pressure
Built-in rechargeable battery
2 modes and 3 intensities for a better massage effect
Adjustable Velcro for a perfect fit
CONS
Cheap materials
Less durable
2. Foot and Leg Massager for Circulation by MagicMakers
MagicMaker foot and leg massager is the best self-recovery tool. It is very powerful with six-speed and ensures a suitable massage. The ergonomic design is perfect to reach the point. There are 3 + 3 big airbags inside, those three modes allow you to find your targeted massage. There is a remote control display which is very simple and convenient so anyone can use and see the massage pattern.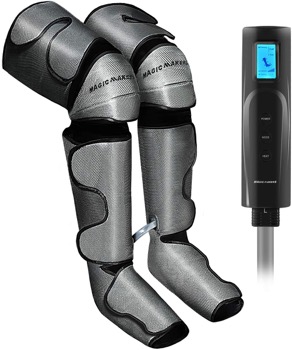 MagicMakers are great for deep tissue massage which releases muscle tension and provides different types of massage, you will feel completely soothing and relaxation not only your leg but also your whole body. Just say goodbye to your leg pain because this massager reduces swelling, pain, and any type of discomfort by enhancing blood circulation. This compression massager delivers 360-degree massage and improves your muscle pain.
It can be suitable for an athlete, nurse, teacher, receptionist, office worker, pregnant, or old person because this massager is highly recommended by the doctor and trainer. That is Highly Effective for promoting blood flow and oxygen level so your whole body gets relief.
PROS
Ergonomic design with 6 speeds
Three modes for different types of massage
Deep tissue massage for pain relief
Enhance blood circulation with 360-degree massage
3-year warranty and 30 days full money back guaranty
3. Human Touch Reflex5s Foot and Calf Massager
This massager works like a human hand, you will like this powerful and comfortable massage. It promotes blood circulation by forcing blood back towards the heart so that you will get relief from all types of pain. The targeted massage is effective for quick recovery and rejuvenates muscle. It delivers deeply penetrating foot massage so that you will instant relief.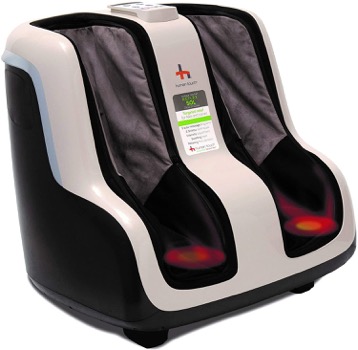 These massages are engineered with CirQlation figure-eight Technology which allows reaching nutrients to re-enter the calves and feet and ensures super comfort. That is reinforced with an adjustable intensity setting so that it helps you to meet your need. There is an option of removal sleeves, you can clean anytime quickly.
This powerful massage promotes the body's natural healing by offering proper circulation. It circulates blood from the feet toward the body and keeps your body healthy. Underfoot massage rollers can help to get relief from heel pain. This powerful massage can be perfect after a stressful day.
PROS
Promotes the body's natural healing
Targeted relief; quick recovery and rejuvenate muscle
Adjustable 2 intensity setting
Perfect relaxation and stress relief
Underfoot massage roller
CirQlation figure-eight Technology
4. Foot and Calf Massager with Heat by MUCHOO
This Foot and Calf massager comes with 6 massage modes so you can choose the setting as your need to get optimal relaxation. Auto, pinch, leg, press, foot, relax all those options will relax your sore and tired legs. There are three levels of heating functions, that provide suitable warmth to your leg and this effective warm reduce tiredness by promoting blood circulation.

2 + 2 airbags inside of this massager that stimulate kneading and stroking of tissue, tired and sore muscle can get relief and ensure whole-body relaxation. You can change size and intensity very easily with a convenient control unit. The 2 extra extenders including to match with different sizes of feet. The Velcro allows getting an adjustable fit.
Anyone can use with easier controller function via a handheld controller. It can be a great gift for your friend or family member because it is lightweight and portable, you can use this massager at home or wherever you want.
PROS
6 massage mode with 3 intensity level
Three-level of the heating function
Handheld controller
Portable and lightweight
Adjustable size with 2 extenders
2 + 2 airbag Inside
CONS
Bit uncomfortable
They are bulky
5. Giantex Shiatsu – Kneading – Rolling -Vibration and Heating Foot Calf Leg Massager
Giantex foot Massager features with high-quality kneading and rolling. It helps to relieve tension and fatigue of feet. This multifunctional massager allows you to choose among Shiatsu, kneading, vibration rolling, and heating. The ergonomic design provides targeted massage to the area of your calves, foot, ankle, and leg.

They target accurately your sensitive area and provide pressure separately. You are getting 3 custom modes, 3 intensities of massage, and 3levels of heating. 8 massage discs with 360-degree massage are really effective. You can control it by a Handy touch panel. After 15 minutes it gets auto shut off and you can adjust the Speed low, Medium, High as you want.
The smart control panel allows you to check properly. The massager is very easy to clean with a cotton cloth. Get 15 minutes massage before sleeping to get a night of sound sleep and it can be the best gift for your friend and family.
PROS
Smart control panel
8 massage discs; 360-degree massage
Ergonomic design
Multifunctional; Shiatsu, kneading, vibration rolling, and heating
High-quality kneading and rolling
CONS
Makes sound
Too large and heavy
6. Leg Massager for Circulation by Silvox
Silvox leg massager equips with a USB charger and ensures upgraded massage with high intensity. This leg massager increased by 50% then others massager and fully FDA approved. You can charge for 2 hours and in these 2 others, you can relax not only the leg but also the whole body. No matter how fat you are, this one size fits almost everyone.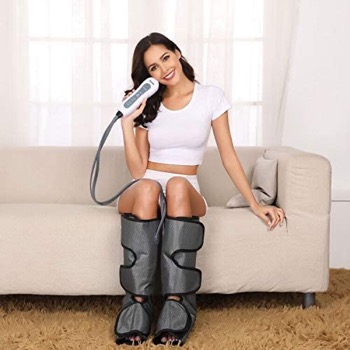 The airbag and Velcro make massager strong and secure. You do not need to go to any spa center, this super lightweight massager allows you to relax at your home, office, or travel. There are 3 settings of pressure level (low, medium, and high) you can choose as you need.
It is convenient to use with two types of mode (manual and auto) you can get 100% excellent experience by selecting a suitable level. The adjustable Velcro allows getting a more secure fit. There are 12 months of warranty so purchase it without hesitation.
PROS
FDA cleared
Equipped with USB Charger
Lightweight; convenient
Promote blood circulation; pain relief
2 Modes; 3 Intensities
CONS
Not enough compression
Too squeeze
7. Miko Foot Massager Reflexology Machine
Miko Foot Massager is very simple to use, just adjust the bar to your targeted position and place at leg and enjoy the relaxation. You can use it while watching TV or reading a book, or working in the office. They are very easy to use and easy to wash with removable covers. It can specifically target the pressure point as your demand.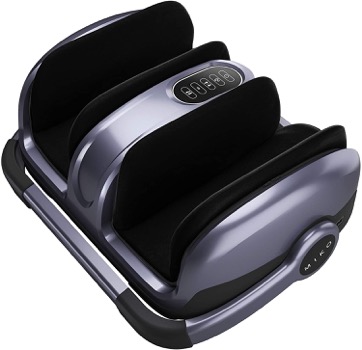 The vibration system can help to relax your muscle and joints. This type of vibration also effective to improve blood flow and oxygen levels. There are 5 strong pressure levels, three different modes so you can get customized massage styles.
You can get a full range of motion with 40 deep-kneading massage nodes, those are helpful for improving blood flow and relaxing your body. You can get a great Spa type massage at your home, office, or wherever you want. Strong targeted heat rejuvenates muscle and recovers muscle and joints.
PROS
Strong targeted heat
Adjustable air pressure
Active vibration
Customized setting
360-degree rotation
5 strong pressure levels; 3 different modes
CONS
Bit uncomfortable
Expensive
8. CINCOM Leg Massager for Circulation
Enjoy wonderful massage every day with CINCOM Leg Massager, Young or old people anyone can use this massager. There are 2 plus 2 larger airbags to massage more area, 2 massage mode, 3 intensities total 7 massage technique provide accurate pressure at the targeted area. The auto shut off function is very effective for older, after 20 minutes it shut off automatically. This different massage relief chronic pain, edema, or plantar fasciitis and reduce stress. It can be adjusted with Velcro and ensure a secure fit. Wrap size up to 21 inches which is convenient for the circumference of any calf. They are super convenient to use with a handheld controller.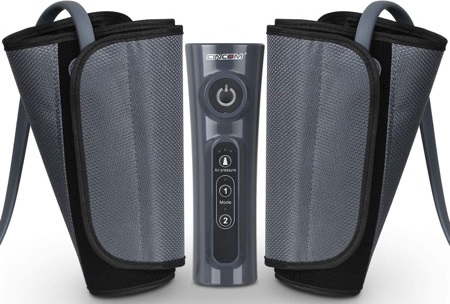 This leg massager can relax a muscle, improve circulation, and reduce swelling and relief for all types of leg pain and soothe your whole body. There are only four buttons so this machine is very easy to control. The portable mesh storage bag is convenient to carry, you can take it home, office, travel.
PROS
2+2 Large Airbags
7 Massage Technique; 2 massage modes; 3 intensities
20 minutes auto shut-off
Pain relief; helpful for edema
Adjustable size with Velcro
Easy to use via a handheld controller
9. Cloud Massage Shiatsu Foot Massager Machine
This electric foot massager provides a deep shiatsu massage with an easily adjustable bar to provide premium comfort. There are multiple settings for heat and this customized heat put pressure in accurate place, air compression pressure and vibration can help for pain relief. This portable foot massager can be a great gift for your friend or family.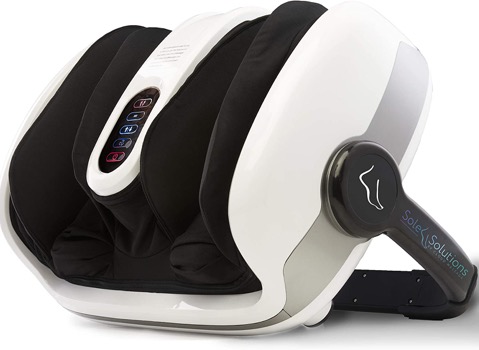 It comes with a perfect size of 5" wide calf area and 11″long open-toe fit any size man and woman easily. The 3 high intensities are really effective but initially, you can start with the lowest and you can increase gradually. There is a full refund policy with excellent customer service so don't hesitate to buy.
This machine increases blood circulation instantly and provides heat with deep kneading. They relieve aches and pain, stimulate muscle recovery by providing ultimate physical therapy. The 5 setting allows for providing healing relaxation. They are lightweight and portable, you can use them in your office, home, sofa, bed, car wherever you want.
PROS
A deep Shiatsu massage
Adjustable bar
Lightweight and portable
3 High Intensities
Full refund policy
Ultimate physical therapy
CONS
Noisy (makes sound)
Expensive
10. FIT KING Foot and Leg Massager for Circulation
FIT King is well known in the fitness world. This foot and leg massager comes with 2+2 airbags and reduces pain by improving blood circulation. It can be a great gift for you and your family member. This highest quality product is portable and perfect to use at your home, office, car, traveling, or anytime anywhere.

There are 2 heat levels, those you can turn off separately. Three massage modes and ten types of massage techniques provide different types of massage to soothe your whole body. If you are an athlete, nurse, doctor, trainer, or anyone who use leg excessively then this compression Leg and Foot Massager is perfect for you.
They increase blood circulation and relief all types of pain, swelling, soreness, and extremely helps to reduce edema, varicose veins, muscle fatigue. You can get perfect whole-body relaxation after heavy workouts such as cycling, gym, biking, dancing, climbing, and other hard work. You can get easily adjustable wrap via Velcro.
PROS
2+2 Big Airbags Inside
2 knee heating massage levels
3 Massage Modes; 10 kinds of massage techniques
2 Free Extensions
High-quality construction
CONS
Less pressure
Not for short people
Key Considerations Before Buying Leg Massager
If you are suffering from restless leg syndrome then you need to consider buying a leg massager with lots of features. Buying a leg Massager is not so easy, we're going to provide some potential facts that will help you to find the best leg massager.
Types: You will find many types of foot and leg massagers in the market. A more traditional way of massaging is manual foot massage, it can soothe your swollen leg. Electric foot massage is also great for a better relaxing experience. Most of the electric massagers are powered by rotating rollers. They are also helpful to alleviate pain. You will find another massager is very useful which is handheld, you can control the system, this massager is very convenient to use especially for older. You will find another effective leg massager is a chair with Thermal Properties and different programs.
Power: Electric massager is powered by a reliable power supply, the machine should be safe to use with high-quality construction. You should check the leakage protection system and the protection function of overheating. There is an auto shut off system including a leg massager which is really helpful. After fully charged you should off it immediately. Never use a leg massager if you think this device is not working properly.
Auto Shut Off Function: Automatically shut off function is very useful especially for older. Think, you are very tired and after taking a relaxing massage suddenly you got to sleep, this time is very risky if there is no auto shut-off function. Most of the leg massager features auto shut off function for a maximum of 20 minutes or a safer user experience.
Rechargeable battery: Try to buy with leg massager features with a built-in rechargeable battery. The rechargeable battery system is very convenient to use the massager anywhere, at your home, office, car, train, gym. You can get massage experience around 2 hours after fully charged, So there is no tension if you are the outside of your home.
Separate thigh wrap: Try to select thigh wraps that are detached from each other and very convenient to use. Separated thigh wrap is helpful to cover more specific massage area.
Sometimes this separated thigh wrap can be used at arms also.
Massage Techniques: Leg massager offers multiple massage technic options, so you can get therapeutic and customized massage depending on your need by choosing mode. Vibration mode, kneading mode, oscillation massage mode, rolling mode, shiatsu mode, compression, all of the modes are very soothing and Powerful. You can use them to get a targeted massage as your requirement. The most popular mode is Shiatsu massage mode for deep tissue massage. Vibration motion is very helpful to improve blood circulation and kneading is very effective for treating an area of tension.
Portability: Consider portability when you will buy leg massager, it should be lightweight, convenient to use, and easy to store. Sometimes this device is very helpful when it can be folded up and takes minimum space. A portable massager is easy to carry anywhere you want, your office, car, travel, home, sofa. Open designing leg massager is very easy to carry when you travel. Try to avoid heavier massager, they are less portable.
Pressure Intensity Levels: Heavy-duty leg massager have powerful Motors, they provide strong and deep massage with high intensity. Intensive and deep massage can help to increase circulation to pain relief. Most of the leg massager has three intensities, low, medium, and high. Initially, you can try low intensity, and gradually you can use high intensity and enjoy a different massage experience from low to high. High-intensity massage provides too heat, sometimes it can be harmful, try to select intensity level as your need.
Handheld Controller: Handheld controller can be an effective consideration to get a hassle-free and comfortable massage experience. You can easily control the massages by a handheld controller. You can choose the mode by the handheld controller, this process is very easy to operate, doesn't provide any hassle, and suitable especially for the elder.
Durability: Durability terms are very important to consider. Check also warranty policy which is quite related to durability, try to avoid the product which doesn't have any warranty policy. High-quality materials and construction ensure durability, Check the duration of the warranty, longer duration will give you peace.
Size: Choosing the right size is also important for buying leg massager. Before buying, you should check the proper size. Most of the massagers are specially designed to accommodate. Avoid purchasing too large size which can not possible to accommodate at your home. You have to choose the size depending on your preference. Make sure you have enough space to store massager properly.
Ease of use: Choose easy functions and controls before buying leg massager. A complex operation can be annoying for you. An easy operation can be controlled by the older. Remote control functionality is easy to operate. The automatic operation mode function can minimize your time and effort. Easy operation allows getting a more comfortable massage experience. A lightweight device is more convenient to carry and use.
Price: Before buying a leg massager you should determine your budget, select a suitable model that can relate to your budget. Higher price massagers offer some unique features and functions. Price varies depending on its features and Technology. Low price leg massager has fewer functions. You need to spend a minimum of $50-$200 on buying high-quality leg massager.
Reviews: Read reviews, you can get to an idea before spending your money. You can get some valuable guidance from reviews. This process will allow you to buy easily without any hesitation. Highly recommended products have a higher value in the market.
FAQ – Frequently Ask Questions
Will a leg massager help my muscles recover more quickly after jogging or running?
Research shows that Leg massage can be beneficial for runners. Leg massage relaxes muscle tension, increase your motion by increasing blood flow. Physiotherapist always highly recommends leg massager to runner or athletes for muscle recovery. It can reduce pain soreness and swelling. It promotes more circulation which is effective for the recovery process.
Expert says Leg massage or foot massage can help you to become a better Runner. Deep tissue massage is very common for a runner because this type of massage more focuses on your muscle. So think about massage after jogging or running.
How long can I use a leg massager?
Doctor recommends using a leg massager in a particular area, not more than 30 minutes. Initially, you can start for 10 minutes. The appropriate time is taking leg massage around 20 to 30 minutes several times a day. Long time massage can irritate your body function. Try to avoid overheating for a long time, sometimes it can be harmful.
Recap
Decision of using a leg massager depends on your physical condition or medical problems. There are different types of leg massagers in the market, hopefully, our list will encourage you to choose the perfect leg massager.
Leg massager is the best option to increase blood flow at your lower leg portion. It will reduce pain and swelling, helps for muscle relaxation and recovery. Try to focus on consideration to ensure a great purchase. Before using any leg massagers must need to consult with your doctor or physiotherapist.