We are spending more hours at our desks or standing too long at work. These are everyday scenarios around us, and these result in pain in various parts of our body, especially the neck and back. So what will get rid of the pain as we cannot get leave our job? Getting an excellent neck massager is one of the superb selections you'll consider for this.
There are many massage companies that have designed to deliver you relaxation and save your neck, shoulder, waist, back from the unbearable pain you often encounter. But the question is which model and company we trust for the choice? Thus, I present you with the best shoulder, back, waist and neck massagers that you can get hold of for optimum results, great functionality, and also genuine reliability. Our necks are in constant movement throughout the day and the fatigue results in pain and uncomforting. One of the finest pleasures one can have in life is a relaxing neck massage now and then. Go through their features before purchasing.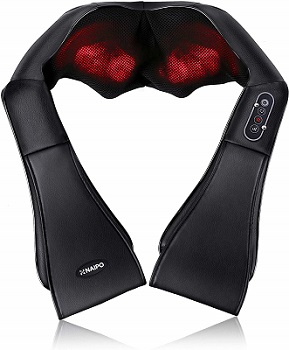 The Naipo Shiatsu Back and Neck Massager are here to look into this matter and reward you with a soothing massage every time you need one. It works as per your need because the adjustable intensity feature will provide you with a massage on low, medium, and high speeds. You get three adjustable speeds, which may ease different levels of discomfort.
The ergonomic U design ensures you the finest comfort while the 3D rotation massage understands your demands in a good way. The #D rotation is the key to this massager's success. Rather than move passively across, the massager causes the pressure nodes to press into your back and knead out tension and knots.
At a Glance Key Features of the Naipo Shiatsu Back and Neck Massager with Heat
The massager comes with 8 shiatsu massage nodes for perfect relaxation against pain and fatigue.
The heating function offers you a warm sensation to ligaments and muscles, thus enhancing blood circulation.
It's automatically shutting down after 20 minutes.
Brief Features and Benefits Naipo Shiatsu Back and Neck Massager
The first thing we will do is look under the hood and highlight the features that make this massager worth considering.
Multiple Speeds for Multiple Experiences
Sometimes you'll need a light massage, and sometimes you may want something a little more vigorous. The Naipo has three separate settings that enable you to customize; However, you receive a massage. The more intense the setting, the more quickly and firmly the roller node rotates in the mesh pouch to press on your back and shoulders. The eight roller nodes are of medium size, well suited for working on a variety of muscle groups.
Even if you don't want to use it on your neck and shoulders, you can position the pillow on, for example, your calf and probably get the same benefit.
You can control the three intensity settings by using the controls on the upper left of the unit next to where the left shoulder is. When starting, we think it's best to pick the lowest setting to warm up before moving to more intense ones. The intense massage will be nice for promoting healthy blood flow throughout the muscles.
Deep-Tissue Rolling Nodes
If you look inside the massager's main body, you can see the rolling nodes that do the actual work of the massage. They're connected to the motor that moves the nodes in a preset, circular pattern that can be reversed as you wish.
The rotation and pressure of the eight balls in succession will produce a soothing, relaxing effect. They work best on your neck, back, and shoulders, but lower settings can help smaller muscle groups.
It usually makes the nodes on these massagers of hardened plastics, which can produce and offputting sensation but one to which you'll gradually get accustomed. Once the deep tissue massage happens, all your troubles will seem to melt away. Deep tissue massage such as from shiatsu helps to recover from fatigue and muscle soreness and promotes general relaxation.
Heating Element
The Naipo includes a discrete heating element. It can activate and soothe your body both with and independent from the massager's main function. The heat controls, like the speed and intensity ones, are located on the top left side of the pad. By pressing the button, you can raise or lower the amount of heat. This unit doesn't seem to put out a great deal of heat, but there's the possibility it will help.
For safety, this unit has a built-in automatic shutoff function that cuts power to the heat after 20 minutes of use. You can operate it for longer, but it isn't advised because it could create burns on your skin. If you notice burns, you need to stop using the Naipo and ask your doctor if it's safe to continue. Otherwise, you could end up doing permanent harm.
The heating element benefits the body by dilating blood vessels and drawing oxygenated blood to the surface of the skin and expanding muscle tissue so it will relax. The pressure from the massage nodes stimulates enhanced blood flow.
Ergonomic Design
The Naipo is intended for optimum comfort and ergonomics. It comprises a U-shaped pillow that fits over the neck and shoulders, plus two shoulder straps that help to weigh it down and act as handholds.
If you wish to possess a massage lower on your back, you can grip the straps and gently lower the massager down your back to the spot that needs attention, or you can lie face down and simply put it in place and hold it, so you don't have to deal with the extra weight.
The Naipo this model is only 4 pounds, but holding it constant can be difficult for long periods. You can further change the straps for the right length to create the Naipo easier to use.
Durable Construction
They make the Naipo of leather, mesh cloth, and flexible mesh fabric. These materials are durable and ensure that your Naipo will stand up to wear and tear for years to come. It is easy to clean; Just wipe it down with a damp cloth and allow air dry. Just keep water away from the internal components.
Travel-Friendly
The modest size of the Naipo gives you to hang it over your shoulders while relaxing at home, but you can also wear it while you're driving or on a commute. The sound of this Naipo Shiatsu massager is soft enough that it will not disturb other passengers. It also makes easier to get a massage whereas you drive, the Naipo comes with both an AC wall charger and a car charger.

The biggest factor we'll note is that the Naipo has more ergonomic manufacturing than other brands. We further look for high-quality materials like leather. Not merely does this form looks good, but it is a durable material.
Cons of Naipo Shiatsu Back and Neck Massager
From what we could tell, the Naipo has decent overall performance, but it lags in a few areas.
First, its wall cord is merely about 3 feet long. This isn't enough to allow freedom of movement, so you have to sit in a chair that's right next to a wall outlet. You could use an extension cord, but the safety of that is debatable.
The heating element doesn't put out as much heat as we'd like. For safety, this unit has a built-in automatic shutoff function that cuts power to the heat after 20 minutes of use.
Some customers complained that the massager's fabric felt a little rough on their skin. If this is the case, wrap the massager in a soft cloth or a T-shirt.
Final Outline
This is an almost standard massager. It has a better sturdy structure than others seem to. The variable intensities and the mild heat can help you relax, but we're concerned that the massager doesn't work on smaller muscle groups. Overall, Naipo is a satisfactory product. It's good at what it does, but other products are just as good. You will find a hugely positive review on Amazon that nearly 3300 reviews. The particular selling point is durability and ergonomics.