When you look in the mirror, do you wonder, "Why don't I have more hair?" It's a common struggle that many faces. There is one ingredient that helps people grow more hair naturally. And it's not B vitamins and hair transplants, it's collagen. Collagen is a protein that helps your body grow and repair tissue. It's naturally found in skin, hair, nails, and joints. The collagen level in your body decreases as you age. As a result, the effects are more visible on your body. Collagen supplements are popular among people who want to improve their health from both inside and outside.
Our focus today will be on the question, "Does Collagen Help Hair Growth?" There are several reasons for hair loss, but collagen slows down the aging process so your body isn't trying to prevent you from growing new hair. Keratin is the main protein found in your hair. The human body needs several amino acids to produce keratin. One of them is proline, a protein found in collagen. As a result, consuming proline-rich collagen may help hair growth and overall health. Also, Collagen has antioxidants that protect hair follicles from damage caused by free radicals. That being said, let's dive in deeper into how collagen helps to grow hair with more details.
How Collagen Works On Hair?
Collagen has many beneficial properties to improve your hair's overall health. Using it regularly can make your hair stronger, softer, spicier, thicker, and luscious. Collagen can improve keratin production by providing amino acids and proteins. The powerful antioxidants in it fight free radical and increase blood circulation, making it great for growing new hair and repairing damaged or thinning hair. There are several ways to get collagen into your hair, like taking a collagen peptide supplement, eating collagen-rich foods like bone broth, and using products with collagen in them. Let's talk about the major hair benefits that come from using Collagen.
1. Moisturizes
The best way to ensure that your hair looks healthy is by keeping it moisturized from the inside out. The proteins in hair are called keratin, and they need a lot of moisture to keep your hair strong and shiny. Keratin and collagen are both composed of amino acids and have a very similar structure. As amino acids are the foundation for keratin, collagen supplements can help supply these nutrients your hair needs.
Collagen is a protein that can help restore moisture to your hair. When you use moisturizing hair products that contain collagen, it can help plump your hair and smooth out the cuticle layer, which can make your hair look and feel healthier.
2. Increases Elasticity
No matter what your hair type or length, it's important to treat it with products that build up its strength and elasticity. The easiest way to do this is by adding collagen to your diet. Collagen is a protein that's found in your hair follicles and handles the hair's elasticity. It also can help make hair look fuller and thicker.
With age, our skin loses its elasticity as our collagen production slows. Therefore, lack of collagen in the skin may be the factor causing hair loss in some individuals. By adding collagen to your diet, your dermis will remain healthy and you can prevent hair loss.
3. Promotes Hair Growth
To grow hair, you need to have a sufficient supply of the amino acid known as proline. Proline is used to make collagen, and collagen is used to make elastin, which is a protein that keeps your hair strong. The collagen you take will repair your hair and promote hair growth so you can look younger again.
Collagen is like the glue that holds your hair together. It's the key component of hair, so if you have a deficiency of collagen, you'll start to see thinning and breakage. If you're looking for a natural way to boost your hair growth, try adding collagen protein to your diet.
4. Helps Fight Damage to Hair Follicles & Regenerates Follicle
Collagen helps fight damage to hair follicles by providing the building blocks for new hair. It also helps regenerate hair follicles that are damaged by the sun, chemicals or other factors. That is important because follicles are the root of hair growth.
Antioxidants help promote healthy hair and fight off free radicals. Collagen can be that antioxidant for you. Older people have a less defense against free radical damage because their body's defenses weaken with age. Proper collagen intake will help you with this problem.
6. Slowing Down Gray Hair
Several factors play a role in graying hair, including genetics and lifestyle. Stress, pollution and diet can make free radicals run wild on our hair health that can turn your hair gray. The best way to slow down the graying process and keep your hair looking healthy is to eat foods or take supplements that are rich in collagen.
For those who are trying to slow down the graying process and maintain healthy hair, collagen injections are a smart idea. Whenever you inject collagen into a hair follicle, it improves melanin production and the color of your hair.
Best Collagen Supplements For Hair Growth
Finding the right supplement can be challenging. There is a wide range of collagen supplements available, and they vary widely in their effectiveness, safety, and price. Here we've researched the most popular brands of collagen supplements to determine which are best for hair growth.
1. Nutrafol Women Hair Growth Supplement For Thicker, Stronger Hair
Nutrafol, a hair growth supplement designed specifically for women, contains Ashwagandha, Tocotrienol Complex, Marine Collagen, and Curcumin, as well as 21 micro-ingredients. As it contains Collagen type 1 and 3, it can help reduce hair loss and thinning. The ingredients in it come in a low molecular weight, so they're easy to absorb. This product's bioactive ingredients support a wide range of body functions. The aim of the treatment is to deal with the root causes of thinning like stress and nutrition. Taking these products regularly helps balance your estrogen levels, improves your sleep, and makes you more energetic, calmer, and looks better on the outside.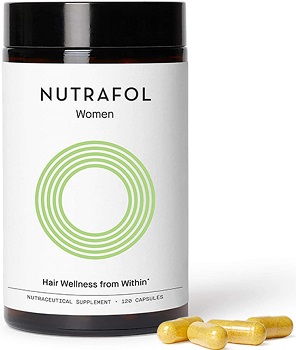 Adults should take four capsules a day for straight six months to get the best result. This product has shown to work really well for people with hair loss, shedding, thinning hair, brittle, wiry hair, and ear infections.
All hair types have the same growth cycle and once you understand it, it's easier to stop hair loss. Growing your hair is a simple matter of giving your follicles the right nutrients at the right time. Nutrafol offers a natural hair loss supplement that's clinically proven to help women regrow their hair.
PROS
Natural ingredient
Includes two types of Collagen (1 & 3)
Reduces hair loss and thinning
Keeps estrogen level balanced
Improves sleep and gives energy
CONS
Bit overpriced
Unsatisfactory customer support
2. NeoCell Super Collagen Peptides Powder
NeoCell Super Collagen Peptides Powder is a high quality, unflavored protein powder made from pharmaceutical grade bovine collagen. It is a great natural supplement for a variety of uses. It comes from grass-fed cows in the USA. Collagen peptides are easy to digest, so they are an excellent protein for people with digestive issues. They are also great for any other time you need to get extra protein into your diet. It's also Paleo friendly and gluten-free, making it a perfectly healthy choice for many people.

It's got two kinds of collagen- type 1 and 3 combined into one convenient, bioavailable powder. It helps support all five signs of aging: wrinkles, cellulite, joint pain, and hair loss and skin elasticity. It also promotes sleep and improves cognitive function. Super Collagen Peptides Powder is unflavored so you can add it to your favorite smoothie, coffee or tea for a healthy kick of protein!
Neocell super collagen peptides powder contains 6600 mg of collagen. To add this to your diet, simply dissolve 1 scoop of Super Collagen Powder in your favorite beverage or smoothie or add to a recipe and consume daily.
PROS
Unflavored
Easy to digest
Easy to mix
Paleo friendly, Gluten-free
Prevents five signs of aging
Improves cognitive function
CONS
Some people felt sick (potential side-effects)
3. Vital Proteins Collagen Peptides Powder
Vital Proteins Collagen Peptides Powder is a high-quality, grass-fed, pasture-raised collagen protein powder. A natural collagen made from pasture-raised cows, free from growth hormones and antibiotics. This is a whole-body protein that has a molecular weight similar to your body's connective tissues, which makes it naturally bioavailable. Also, it is Paleo Friendly, Whole30 Approved, and contains no added sugars or artificial ingredients. It helps to keep your hair, skin, nails, joints, ligaments, and tendons healthy.

It is naturally rich in hydrolyzed collagen peptides, hyaluronic acid and vitamin C. Positively charged amino acids in hydrolyzed collagen easily absorb into the body, so you'll feel it right away. Since it's unflavored, you can use it with your favorite drink, on food, or as a protein shake. It mixes and dissolves easily. This Vital Proteins Collagen Peptides Powder is also great for baking and cooking and is very smooth.
It dissolves in warm or cold liquids and 1-2 scoops a day is all you need. You can take it in the morning, afternoon, or evening. As our bodies produce less collagen as we age, vital proteins collagen peptide powder can be your go-to supplement.
PROS
Free of growth hormones and antibiotics
Paleo Friendly, no added sugars or artificial ingredients
Rich in vitamin C
Easy to absorb
It mixes and dissolves easily
Great for baking and cooking
4. Garden of Life Grass Fed Collagen Peptides Powder
Collagen Peptides by Garden of Life is a great way to support the health and wellness of your body. Made from bovine collagen, it's proven to be beneficial for joint mobility, skin elasticity, strong nails, & healthy hair. Garden of Life's Grass Fed Collagen Peptides provides the body with an easily digestible collagen peptide that contains all the amino acids. Garden of Life Collagen Peptides is a pure protein powder made with organic and Non-GMO ingredients. It's free of dairy, soy, additives, preservatives, added sugars, artificial colors or preservatives.

Collagen Peptides are easy to use, so they're great anytime protein. They fit on nearly any diet. You can add it to coffee, smoothies, or any other drink that you enjoy with its great taste. Because of their high glycine content, collagen peptides may also help with gut health.
An adult can mix 1-2 scoops in 8oz of liquid (scoop included). Make sure you don't take these supplements if you're a kid. Those who are looking for hair solutions can trust this collagen-rich supplement as a solution. Within 6 months, you will see a noticeable difference in you both from inside and outside.
PROS
Prevents five signs of aging
Easily digestible collagen
Organic, Non-GMO ingredients, no antibiotics or hormones
Free of dairy, soy, additives
Helps with gut health
Gluten Free, Certified Keto & Paleo
CONS
Strong acid taste
Misleading advertising
5. Viviscal Hair growth supplement for women
Viviscal Hair Growth Supplement for Women is a vitamin and supplement designed to promote hair growth in women with thinning or fine hair. The Viviscal formula contains clinically proven nutrients that strengthen and nourish the existing hair, and thicken it in appearance. This supplement makes you grow back your hair faster and reduces shedding, making it the perfect product to take on those long summer days. Viviscal tablets contain active ingredients that boost hair growth and strengthen existing follicles.

Taking this supplement will keep your hair smooth, healthy and shiny. It's high in Zinc, Biotin, Iron, and Niacin, which helps make hair strong and healthy by supporting protein production. Additionally, it has Vitamin C, which strengthens hair from the inside out. Recommended for all hair types. It is Sulfate Free, Paraben Free and prescribed by doctors & stylists. You can take Viviscal every day with no side effects since it is gentle on your stomach.
Take two pills a day for 3 to 6 months straight to get the best results out of this product. After using this product for at least three months, many found drastic changes in their hair.
PROS
Rich in Zinc & vitamin C
Suitable for all hair types
Sulfate free, Paraben free
Prescribed by many doctors
No side effect
Very good reputation
CONS
Misleading information
No consistency
Collagen Hair Growth Before and After
A good dose of collagen is the most powerful tool for restoring your hair. Collagen nourishes our hair, so it's the most abundant protein in our body. See it for yourself. Don't just take our word for it. Here you can see some before and after pictures of people taking collagen for hair growth.
What Other Supplements Help for Hair Growth?
The best supplement for hair growth is definitely Collagen, but other supplements are also effective. Biotin, which is also known as vitamin B7, is one of the best. Proper usage of Vitamin C, Vitamin D, Vitamin E, Iron, Zinc pyrithione, Minoxidil, selenium, Omega-3 fatty acids etc substances can also elevate hair growth. At your local market, you will find a variety of supplements made with these ingredients.
FAQs – Frequently Asked Questions
How much collagen should I take daily for hair growth?
The recommended amount of collagen to take every day for optimal hair growth is 5 to 15 grams. Adding that much protein to your diet is enough to help your hair grow, but it's not so much that you get too much collagen. If you're interested in taking collagen supplements for hair growth, you'll want to find a quality brand with a minimum of 5 grams of collagen per day.
How long does it take for collagen to work for hair growth?
Hair growth depends on several things: the quality of the collagen, the dosage, and the frequency of applications. It's hard to give a specific time frame because everyone's hair growth cycles are different. It takes between three to six months for collagen to work on hair, and the results are long-lasting. Because hair loss happens gradually, so do the effects of collagen treatment. You may need to take multiple treatments, but the results are worth it.
Does collagen help with hair loss or growth when used topically?
Collagen topical treatments claim to hydrate and strengthen the scalp by nourishing it. However, some research found that the molecules of Collagen were too large to penetrate the skin. Because of this, any topical collagen booster may just go to fill up the skin on top with the collagen molecules. It may not penetrate your scalp and will not make any impact on collagen production.
What type of collagen is best for hair loss?
There are two types of collagen that are commonly used for hair loss. Hydrolyzed collagen and collagen peptides are present in those products. Hydrolyzed collagen is the most effective, but this is a more expensive form of collagen. Often included in hair mask products, hydrolyzed collagen is water-soluble and found in hair products. Hydrolyzed collagen helps nourish the hair roots and provides nutrients to the growth process.
Is Biotin the same as collagen?
Biotin and collagen are two different things. Biotin is a B vitamin that is often paired with shampoo and other hair care products. Collagen is a protein that is naturally produced in your body and is the building block of connective tissues like your skin, hair, and nails. Even though Collagen and Biotin are really different, they can work in synergy within the body to produce similar results.
Final Recap
Collagen plays an important role in the structure of many parts of the body. It's interesting that your foods and nutrients can help make this protein in your body. Although as we get older, we need supplements to help with collagen deficiency. It's not just your collagen that prevents hair loss, but how well it is absorbed by your body that counts too. No matter how much collagen we take, if our bodies can't use the amino acids or antioxidants they contain, it's no good for us.
If you're still wondering, "Does Collagen Help Hair Growth?" then you're not alone". Try some of those supplements if you want actual results and a solution to hair loss. However, in conclusion, the best type of collagen is hydrolyzed collagen. The size of the molecules makes hydrolyzed collagen so effective. By hydrolyzing collagen, the molecules become smaller and smaller and make it easier to digest. Our bodies get the most benefit from the collagen supplement when it is more bioavailable. If you like, you can try one of these products to get the hair you have always dreamed of.
Recommended Post: