Laser hair removal treatment for dark skin at home is one effective and painless method to get silky smooth hair-free skin. It may sound painful and scary but trust me. These cosmetic procedures are less painful than waxing or epilating.
A few years back, people were primarily afraid of going under any cosmetic procedures, and also, it was not so effective. But now, laser hair removal devices are equipped with Intense Pulsed Light (IPL) technology to damage hair glands and decrease the ability for hair regrowth.
Laser hair removal device targets all sensitive body areas, including the face, leg, chin, back, underarm, and bikini line. Multiple laser hair removal treatments and 3-4 weeks are enough to relieve unwanted body hair. Though it's easy to do the procedure on a light skin tone yet, the treatment can be beautifully done on all skin tones.
So, what are the best laser hair removal devices? What are the risks of this robust cosmetic procedure? Well, this article has all these questions answered.
Why Most Home Devices Are Aren't Safe For Dark Skin?
Well, dark-skinned people might indeed face problems during laser treatments. The laser hair removal device is not entirely safe for dark skin toned people. It's because each device has different light energy behavior.
Dark people have dark pigment (called melanin) in their skin. If the level of melanin is high, the skin color and hair will be dark. That's why dark people have dark skin tones and dark-colored hair. So, it has a specific limitation to absorb light energy.
When light converts into heat energy, it goes deep under your skin. Since dark people have more melanin than light-skinned people, it might hamper their melanin-rich skin cells.
When melanin skin cells absorb heat, it becomes too hot and causes pain, blisters, and discomfort. Even there is a slight chance of getting your dark skin burned. That's why IPL or laser hair removal devices are safe for light to medium skin tones with dark hair.
How Does Laser Hair Removal Work?
The laser hair removal procedure has become very popular nowadays. People now don't have to deal with time-consuming and high-maintenance hair removal processes like shaving, waxing, and tweezing.
Due to advanced light-based treatments, this cosmetic procedure is faster to permanently remove the body and facial hair. But, How Does Laser Hair Removal Work? Well, the device produces a beam of light to reduce hair.
When the device is placed on the body's skin, the light is absorbed by the hair gland. The light energy converted into heat energy, and it started to heat the hair gland. In this way, it makes the hair growth process useless by damaging the hair glands.
The human hair growth cycle is completed in three phases. Those are anagen phase, catagen phase, and telogen phase. Among all anagen phases, it is the most active, and the laser treatment only works during this phase. That means you need to go under several laser treatments to remove hair permanently.
Important Factors For Treating Dark Skin With Laser Hair Removal
The laser hair removal procedure uses intense light energy to stop hair growth on the human body and face. This cosmetic procedure is promised to provide enduring, smooth results. But, there are some crucial factors to notice before the laser hair removal procedure for dark skin.
Check your skin melanin
The most vital factor to check is your skin melanin before start the laser treatment. As we already discussed, laser treatment is quite unsafe for dark skin toned people. Yet, few laser hair removal devices are available on the market that provides hair reduction without any damage.
Therefore check your skin melanin whether it is suitable for the device or not. Grab a qualified laser hair removal device according to your skin color.
Pick a suitable laser
Well, laser hair removal treatment is a permanent cosmetic procedure. But if you don't pick the suitable laser according to your needs and skin texture, it might create a problem.
Laser hair removal procedures are pretty problematic for dark skin toned people. Therefore check the characteristics and features of the IPL device before using it.
Do your research
Before going under this effective cosmetic procedure, do your research on the laser home kit device. Consult with the dermatologist and gather necessary information about this advanced cosmetic procedure.
On the other side, if you want to take clinical treatments, do research on the clinic and the practitioner. If your skin color is dark, then consult with the doctors before taking the laser treatments. It prevents the risk of having skin irritation and inflammation.
Best Laser Hair Removal At Home For Dark Skin
Laser home kits will help you to get silky-smooth skin by removing hair permanently. This pain-free procedure is much more reliable and affordable than clinical laser sessions and waxing. After fruitful research, we detailed the best laser hair removal at home for dark skin. Have a look!
1. Philips Lumea SC1998/00 IPL Hair Remover for Body
Well, who doesn't want beautiful hair-free skin in less time? Our first recommended product Philips Lumea hair removal will help you to get hair-free flawless skin only in 6 months. The product is manufactured with IPL technology to avert hair regrowth eventually.

Various curved attachments are there to help customers to remove everybody's hair without any damage. For the user's benefit, makers provide both corded and cordless functions. Also, it will allow you to measure your skin tone after every use with its SmartSkin sensor functionality.
Most dermatologists recommend this product to their patients. Globally it is the most used permanent hair removal machine for laser treatments. Millions of girls rely on it because of its affirmative feedback and easy functionality.
On the face, it can be used for 1 minute. However, very dark-skinned people should use the product carefully. Though it works perfectly for dark-toned people.
PROS
Comfortable
92% hair reduction
Life-long effects
4 different body parts attachment
SmartSkin sensor functionality
Easy to use
CONS
Not handy
Risky for extremely black people
2. Mē Smooth Permanent Hair Reduction Device with FDA Cleared elōs Technology
If you want a quick solution to the unwanted body and facial hair on a tight budget, then try our next product "mē Smooth Permanent Hair Reduction Device". This particular product is made with FDA Cleared elōs Technology to show you the fastest result.

Bi-polar radio frequency (RF) and optical energy's combined powers remove hair from the roots and make your skin vibrant and smooth. In just 6 weeks, it will remove all unwanted hairs from your body permanently.
This particular device is capable of removing different-colored hair including red and blonde hair. It works like magic for those who are suffering from darker skin tone or discoloration. Also, radio waves will reduce the risk of having burned or discolor skin tone.
Now you don't have to bear the regular hassles of shaving and waxing. 2 weeks of use is enough to get a 42% hair reduction. This corded hair removal machine works more efficiently and safely than most other hair removal technologies.
PROS
Affordable
Sturdy applicator
Super comfortable
Ideal for all toned skin
Easy to operate
1 year guarantee
CONS
Not applicable for under 18
Prohibited for sick people
3. MyM Newest Model Hair Removal Device Permanent Light-Based Face and Body
MyM is a reliable name in the laser industry. Today we will review the newest model of MyM. Compared to other hair removal devices, the MyM hair removal device works more effectively. In just 7 weeks you can experience smooth and impeccable hair-free skin.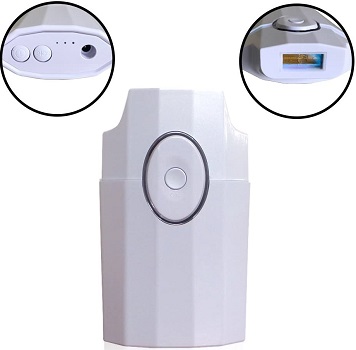 You can easily use it on all different skin tones and colored hair. It has a record of providing 97% hair reduction. Also, most dermatologists recommend this device due to its easy functionality and quick results.
It removes hair from the root and makes the skin area disable to grow new hair. If you follow the application rules properly and treat the targeted area once a week, you can see your expected result in just 7 weeks.
You can also use it to remove facial hairs. This amazing device comes with a 30 days money-back guarantee, a user manual, and a power supply. Read the protocol properly to protect the skin from burning or discoloration.
PROS
Lightweight
Flexible and reliable
Quick result
Perfect for all skin tones
Easy to operate
Clinically approved device
CONS
Time consuming process
Not ideal for gifts
4. Silk'n Flash&Go Express, IPL Laser Hair Removal System
Another FDA-registered product that we are going to review is the Silk'n Flash&Go Express hair removal machine. This powerful laser hair removal system allows users to remove hair from all sensitive body parts including underarms, bikini lines, and the underarm.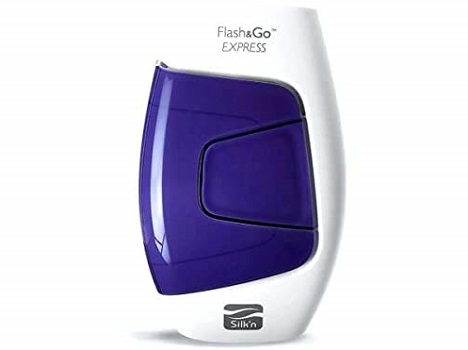 Visually it looks more like a scanner than a laser machine which will reduce your fears a lot. For full body laser treatments and longtime use, it is the ideal option to choose. It includes Home Pulsed Light Technology that fights against undesirable hair on the face, arms, legs, upper lip & bikini areas.
Makers made this machine in such a way that anyone could use it easily at home or in a clinic. Within 3 to 4 weeks you can experience noticeable results. The result lasts for 15 years after 3-4 treatments. This painless procedure works for all skin types and hair colors.
The quartz bulb feature will allow you to get faster pulses and pain-free hair removal. Before using the machine make sure your eyes are fully protected.
PROS
Lightweight
Compact size
Painless hair reduction
Ideal for sensitive body parts
Easy to operate
Long-time result
CONS
Quite expensive
Not safe for darker skin tone
5. Remington IPL6000Q iLight Pro plus Quartz At-Home IPL Hair Removal System
After much searching, I found one effective laser hair removal system that can give results after only three treatments. Remington IPL6000Q iLight Pro Plus hair removal machine can reduce 94% of the hair from the human body.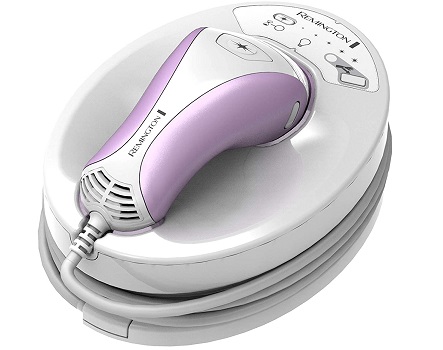 Also, the 30000 flashes bulbs are comfortable and replaceable. This razor looks like a hair removal system with a skin tone sensor, five intensity settings, and a surface detector. Light and ergonomic hand unit will help you to get a firm grip during the treatments.
Users will get 2 seconds within each flash. They were made with Professional Intense Pulsed Light Technology which helps to remove the hair from the roots. This intense pulsed light is used frequently in clinics to treat skin pigmentation, sun damage, and thread veins.
No matter light or dark, it works flawlessly on every skin color. Its automatic sensor features have the power to detect every skin and hair color. By far, this is the best hair removal system for body hair reduction. However, the device is safe for facial hair reduction.
PROS
Safe and comfortable
Full body coverage
Ergonomic hand unit
Easy to use
Permanent hair reduction
90 day money back guarantee
CONS
Uncomfortable bulbs
Can't remove facial hair
6. Braun IPL Hair Removal for Women, Silk Expert Pro 3 PL3111 with Venus Smooth Razor
The final product that we are going to review is Braun IPL Hair Removal. This particular product comes with a Venus smooth razor and SensoAdapt feature. This feature can detect and adjust the force of light based on skin color.

In just 28 minutes, you can do the treatment on your body. Intense pulsed light energy (IPL) is there to treat skin damage and prevent hair regrowth. One and only IPL device can automatically detect your skin tone and provide quicker service than other competitors.
This clinically approved device will make your skin light, smooth and hair-free. Only in 8 minutes can you remove all the hairs of a leg or arm. Regular electric razor looks and size will help you to hold it tight during the laser treatments.
This 2 in 1 device provides pain-free service so that you can use it in every part of your body. However, you may feel pain like a light pinch while sensitive areas treat underarms and bikini lines.
Even sensitive-skinned people can use it regularly. So, without any further delay, grab it today to get flawless hair-free skin.
PROS
Lightweight
Lifetime lamp
Prevent hair regrowth
Stubble-free procedure
Easy to use in sensitive areas
CONS
Not safe for man
Not safe got light hair
Risks Of Laser Hair Removal On Dark Skin
Like every good thing, the laser hair removal system also has minimal side effects and risks on dark skins. Although, the side effects are temporary and vanish after taking good care of it. The most common side effects of laser hair removal systems are skin irritation and pigmentation.
Inflammation and irritation
Well, the laser hair removal process can cause temporary inflammation and skin irritation. After 1-2 laser treatments, you may experience slight redness and puffiness at the treated area. However, all these reactions are impermanent.
Most dermatologists and doctors apply a topical anesthetic before starting the laser treatments. It will minimize these annoying reactions.
To sum up, these reactions don't last more than 1-2 hours of the procedure. To reduce the pain and irritation, you can apply ice packs.
Pigmentation
Most people suffer from this reaction after every laser treatment session. People who have light skin tone may have darker skin tags from laser hair removal. On the contrary, If you have a dark skin tone, then you are more likely to have darker spots.
Eyes Irritation
As we already know, laser treatment is a robust cosmetic procedure. So when you use it to remove facial hair, your eyes might get hurt. Therefore, it's mandatory to wear specific FDA-approved eye-protective equipment before starting the procedure. It will protect your eyes from injury.
Some rare side-effects
Severe side-effects are infrequent in the case of the laser hair removal process. If you use at-home laser kits, then the risk of having side effects increases slightly.
Sometimes its effect is so hostile that excessive hair begins to grow in treated areas. Some people's skin texture will change after the laser procedure. Rare but authentic, some face severe skin burns when they step out in the sun after laser treatment.
Although all these reactions are temporary, consult a doctor or skin specialist if you experience any of these reactions.
Key Features To Look At Before Buying Laser Hair Removal At Home For Dark Skin
Who doesn't want relaxing laser treatment at home? Getting a laser home kit is the best option to get relief from unnecessary hairs and discomfort. Now you may be asking, How to choose the suitable laser home kit? What are the principles to check before buying a laser home kit?
Here we detailed some of the primary considerations that one should remember before buying a laser hair removal system.
Safety measures
The most crucial norm to check is the safety of laser hair removal equipment. Especially if you have kids at home, keep the device away from them. Hence, most of the machines are made with a security code and key.
Some of them are also manufactured with a built-in sensor that detects skin tone and hair color. Read the user manual carefully before starting the laser hair removal system.
Operational Power
We've always heard that the effectiveness of a device depends on its power. Well, a laser hair removal system is no exception. A powerful laser system can give you a noticeable result.
If your purchased laser system is not powerful enough, it will take longer to remove all hairs permanently. Therefore, invest in a powerful laser system to experience the best result.
Corded or Cordless
There are two types of laser epilators. One is mains-powered, and others that are battery-powered. Both corded and cordless are effective in removing hairs permanently.
But battery-powered laser epilators are good to remove hairs from sensitive and delicate areas. Therefore, before each session, you need to recharge them accurately.
On the other hand, mains-powered laser epilators have no hassles of charging. Also, these types of laser kits are more powerful and effective.
Diverse modes of the device
Well, Laser home kits are equipped with different modes. It can be a scan or a single function. The single position will provide more effective results in removing hairs from sensitive areas such as the face, armpits, or bikini area.
On the other hand, if you want to remove hair from the back or larger areas of your body, go for the scan function device. It is more flexible and efficient to remove several inches at once.
Price
A convenient laser hair removal device's prices are budget-friendly. It starts from 100 to 500 Dollars. The prices of these devices depend on the brand and features of the device.
However, check the features and characteristics of the model correctly. Don't just rely on the prices and brands of the device.
Spot size
Larger sport-sized devices are the best for hair reduction. Because these devices will allow users to get deeper infiltration into the tissue, also, you will get faster treatments than others.
Most of the systems are equipped with 10-18 mm spot size. Although, now some new models have been launched that have even bigger spot sizes.
LED Display
Another vital consideration is to check if the visual alerts are available or not. The LED display is necessary to check the power, pulse duration, and other important information. These features will make your device convenient to use.
FAQs – Frequently Asked Questions
Does at-home laser hair removal work permanently?
Yes, it works permanently. Laser hair removal systems diminish your skin hair gland. So that, your skin stopped growing hair. However, it will not work magically. You have to go under 3-4 treatments to damage the cycle of hair growth. Still, it is not effective for some people's skin tone.
How much does laser hair removal cost?
If you want to take a clinical laser hair removal procedure, it will take around $150- $400 per session. 4-8 treatments are enough to get a long-lasting skin result.
On the other hand, a laser hair removal device costs around $200- $450. With the help of these devices, you can permanently remove hair at home.
Is YAG laser safe for dark skin?
There are two types of laser hair removal treatments. One is YAG, and the other one is the diode. Both types work efficiently on dark skins.
But, in recent years, YAG has become so popular. It goes more profound on the skin gland than the diode. Also, it has more ability to bypass the skin melanin. Therefore, YAG is the most reliable laser treatment option for medium to dark skin-toned people.
What happens if you don't shave before laser hair removal?
Well, shaving is mandatory in terms of laser hair removal treatment. If you don't shave your body or affected area, then it may have a chance of getting burned.
Also, the result will not be effective and long-lasting. Hence the treatments leave minor temporary scrapes on the front layer of the skin. Therefore, shave every part of your body before starting the laser treatment.
Can I do laser hair removal every week?
Well, you can do laser hair removal treatment every week. But, it will be safe if you keep the 2-week gap between each laser treatment session.
With proper laser treatment, it takes only 4-5 weeks to remove hair permanently. So after four weeks you only need to come for maintenance.
Final Recap
Overall, the laser hair removal system is the most effective and affordable procedure for silky-smooth hair-free skin texture. Back in the day, people with light skin tone and less hair only had the opportunity to remove hair permanently.
However, modern laser light technology advancements allow dark skin people to grab the opportunity and damage the hair growth process.
Although, do your good research before using a home laser kit or taking a laser session from an expert practitioner. Under-aged and pregnant women should stay away from it.
To sum up, a tremendous investment to change your life! If you are suffering from unwanted body hair, then grab a product from our recommended list. I don't think it will disappoint you.
We end our review here. Have healthy, hair-free skin!
Recommended Post: