Knee pain is a common complaint that affects individuals of all ages. Knee pain could result from excessive use, trauma, or injuries like a ruptured ligament or torn cartilage. Medical conditions like arthritis, osteoarthritis, gout, and infections may also cause knee pain. Physical therapy, knee braces, and using a TENS unit for knee pain may also help to ease your pain.
Top TENS Unit for Home Use
| Product Name | Picture | Price |
| --- | --- | --- |
| TENS 7000 2nd Edition Digital TENS Unit | | |
| HealthmateForever Tens Unit & Muscle Stimulator | | |
What is TENS unit?
TENS, or transcutaneous electrical nerve stimulation, uses a low-voltage current to ease the pain. A TENS unit is a small, battery-operated, portable device that sends electrical signals to the sight of the pain and helps to manage that pain.
TENS delivers mild electrical impulses to electrode pads that are placed directly on your skin that travel to the nerves. Once TENS stimulates the nerve endings, it blocks the pain signal from traveling to the brain. This creates a pleasantly relieving, tingling sensation within the place of pain. Then the electrical signals of the TENS may also produce endorphins.
TENS unit used for managing pain such as knee pain, neck pain, shoulder pain, back pain, post-surgery recovery, and different chronic or acute pain.
How Does TENS Unit Work?
A TENS Unit works to ease pain in two ways. It refers to the first theory of TENS that inhibits pain signals as the gate control theory. The non-painful signals from TENS "close the gate" and stop the pain signals from reaching the brain.
The other evidence for the potency of electrotherapy as a pain reliever, is that the TENS treatment released endorphins, the body's natural opiate-like painkiller. TENS helps with acute and chronic pain. It is shown that TENS alleviates osteoarthritis (OA) pain and reduces the requirement for pain medications.
How to Use a TENS Unit for Knee Pain
TENS unit to provide proper pain relief; It should place the device within the appropriate location. Determining precisely where the pain in the knee is located is crucial, as this is the placement where the pads need to be placed.
Tens Machine Pad Placement for Knee Pain
You also need to confirm how many pads you need to put on the localized area of knee pain. Two or four pads are most frequently applied to treat pain. It typically uses two pads, while four electrode pads can cover a wider area. The spot where you may place the pads of your portable TENS unit depends on where the source of your pain is found. You place the pads where the source of your pain in the center position. Pace the electrode pad for knee pain, as pictured below:
Typically, for placing the pads, avoid the kneecap. Once using the TENS pads, you want to surround the kneecap by putting a pad on both sides. If needed, you'll place four pads encompassing the knee. Once using four pads attach both lead wires and place the electrodes in a 'square pattern' close the area of pain. That looks like a criss-cross pattern.
The pad placement appears like a big "X" with the middle of the "X" being the center of your pain. If you're experiencing pain within the back of your knee, you'll place the pads in a criss-cross pattern there.
If you want to use two pads, 1 on either side of the knee, as pictured below:
Once you have positioned the pads, then turn on the TENS unit and set it to the desired level. You can use the TENS unit 2-3 times a day and about 30 minutes for each session. The TENS unit therapy with the home exercises and stretching helped the pain subsided and can provide some increased range of motion and flexibility.
Recommended Post
Best TENS Unit for Home Use
Using a TENS unit can improve your muscles' flexibility and elasticity. Here I detailed the latest buying guide, highlighting the top two picks for you. Once you go through TENS unit reviews, you'll get a clear view of what these units can do and how it can help you.
TENS 7000 2nd Edition Digital TENS Unit
The TENS 7000 is a highly versatile, personal TENS unit for home, work, or travel. These TENS unit therapy machines are a leading over-the-counter (otc) tens unit and are effective in providing pain relief. Now you can get the same electrotherapy equipment used by doctors and physical therapists without a prescription.
Channels
With dual channel functionality, the TENS 7000 provides you with your pain with two or four electrode pads.
Adjustable Timing, Pulse, and Intensity
The pulse amplitude, or intensity level, is adjustable from 0-100mA in 10mA increments, which you will control by the respective knobs located at the top of the device, for both channels. With the TENS 7000, you will control time, pulse, intensity, and more.

For Pain Relief
The TENS 7000 2nd Edition Digital TENS Unit works for neck pain, shoulder pain, back pain, knee pain, and almost any pain. The flexible electrode pads that you can place almost anywhere to relieve aches and pains in your body. The adjustable settings are sufficient for chronic pain or indeed mild discomfort. These TENS unit devices help enhance blood circulation with no side effects.
HealthmateForever Tens Unit & Muscle Stimulator
The YK15AB is one of the most powerful TENS & Muscle Stimulators. Specifically designed mode buttons make pain management quick and easy.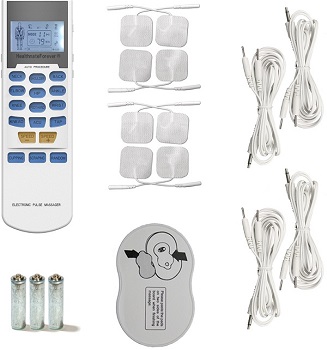 Features:
It is one of the most powerful TENS & Muscle Stimulators with 20 levels of adjustable intensity.
It's having operated buttons for each intended body pain relief & Massage-like Mechanisms.
Additional adjustable speed provides you with the most comfortable pain relief experience.
Belt Clip for non-stop pain relief wherever you are with just one clip.
More than 180,000 Units are sold each year. Simple and easy to use! Safe, Non-Invasive,- Natural, and Drug-free.